---
UPDATE: Follow this Link to see the 2015 Edition of this post.
---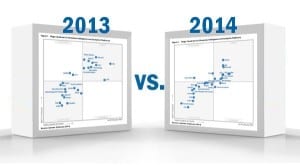 Gartner has released another Business Intelligence Magic Quadrant. Most recently they have segmented Business Intelligence (BI) solutions providers into 4 "distinct" categories – Niche Players, Visionaries, Challengers and Leaders. It has been about 6 months since Gartner's last release of their 2013 BI Magic Quadrant so Solutions Review wanted to take a quick look at what has changed since July.
+ Check Out a Free 2015 Business Intelligence Tools Buyers Guide
Our biggest take away from this year's BI Magic Quadrant release is the impact the cloud and "big data" is having on BI. For the most part the dots in the 4 squares stayed relatively stagnant since Gartner's last report. Although it does appears that some of the largest best know tech players seemed to move in a negative direction either in completeness of vision or ability to execute. The handful that moved in a positive direction (UP and to the RIGHT) seemed to have two things in common: A cloud offering and Big Data features.
For a more in-depth look at the winners and the losers in the Gartner Magic Quadrant for Business Intelligence and Analytics Platforms see our detailed post on solution movers here.
Up and coming solutions Birst, Tableau, GoodData, Jaspersoft, Prognoz, Panorama, Pentaho and Qlik all took the largest steps towards the upper right quadrant of Leaders since July. These younger, well-funded solutions are taking hold of the market as buyers appear to be looking for technology innovation as an advantage over competitors sticking with the larger established old-line solutions like IBM, SAS, SAP, and Oracle. This trend is something that Solutions Review sees carrying over into 2015, that is until these younger, fast growing solutions are inevitably consumed by the Old Guard who's grades might not have been as favorable in Gartner's 2014 BI Magic Quadrant.
One of the key considerations we propose in our Solutions Review 2014 Business Intelligence Buyers Guide is asking yourself, who will your BI users be? This question is one that we feel is driving the BI landscape. Organizations are beginning to put data and the solutions to analyze that data into the hands of the end user allowing them to make real time decisions based on the information directly impacting their performance. The BI solutions that empower the non-technical users will continue to see growth over the coming year.
And don't forget mobility. Enterprise mobility and all of the consumer data being captured through hand-held devices and tablets continues to have a major impact on Business Intelligence solutions moving forward.
So who made the cut in this year's BI Magic Quadrant?
Everyone with a few additions. Infor, offering BI as part of an end-to-end platform that encompasses BI and performance management capabilities. Pyramid Analytics, a Web-based BI platform based on the Microsoft BI stack which focuses on more complex, in-memory and OLAP-based analysis and data visualization. Yellowfin, an end-to-end, business-user-friendly BI and data integration platform.
What are key takeaways from Gartner's 2014 BI market overview?
The "Internet of Things" will have a major impact on BI and Data Analytics over the next 10 years.
The integration of BI and performance management linking planning and execution is another trend driving BI value and use
BI and analytics platforms will remain one of the fastest growing software markets.
Thinking we will begin an office "Acquisition Pool" here at Solutions Review. Everyone bets on who will be the first BI company to be snapped up by one of the big dogs.