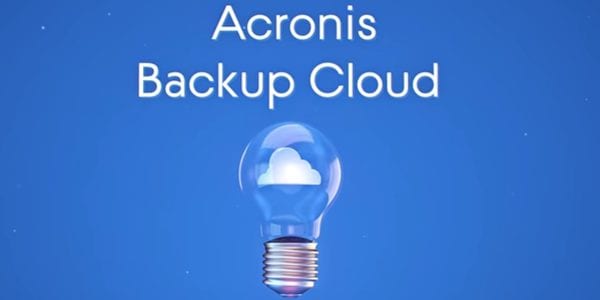 Yesterday, Acronis, one of our top-24 backup and disaster recovery vendors announced the release of their new product, the Data Protection Platform. This new platform "transforms the way data protection is delivered to end user customers by service providers, resellers and distributors." The new offering delivers a complete set of solutions for backup, disaster recovery, and secure file sync and share. This allows Acronis partners to tap into the growing cloud data protection services market and supports a broad range of deployment models, business models, and IT environments.
In addition, Acronis also made several other new product and update announcements. First, the company plans to release an updated version of Backup Cloud, their cloud backup solution. On top of that, Acronis will also introduce Acronis Files Cloud, its new file sync and sharing solution. Finally, the company will announce the general availability of Acronis Disaster Recovery Service, an all-in-one solution for backup and disaster recovery.
Acronis was included in Gartner's first ever Magic Quadrant for Disaster Recovery as a Service, or DRaaS, being named a Challenger.
The Acronis Data Protection Platform is powered by the company's AnyData Engine, a set of powerful data protection technologies that capture, store, recover, control, and access any data no matter where it is located. The solution was developed in order to meet the needs of service provider environments and support a wide range of systems that are in use by today's organizations. The platform includes built-in automation, allowing users to quickly and easily scale out the solution to support growing businesses.
Updates to the Acronis Backup Cloud include:
Expanded support for Microsoft SQL, Microsoft Exchange, and Mac OS X environments
User ability to move large data sets to the cloud via initial seeding capabilities
Local backup recovery directly from within a centralized management console
With the new release of Acronis Files Cloud, users will gain safe file access, sync, and share in an easy-to-use and secure cloud service. Acronis explains: "The solution helps service providers and partners quickly address the growing need for businesses to securely support BYOD and the rise of mobile workers. Unlike consumer-grade solutions including Box, Dropbox®, and less secure FSS products, Acronis Files Cloud provides the ability to store documents and business files in a private cloud, while offering comprehensive security and controls – including encryption, audit trails, and user management."
Acronis Disaster Recovery Service is an all-in-one hybrid cloud solution that protects files, servers, and entire data centers. The offering is designed for companies with a very low tolerance for data loss or downtime via focusing on recovery point objectives and recovery time objectives.