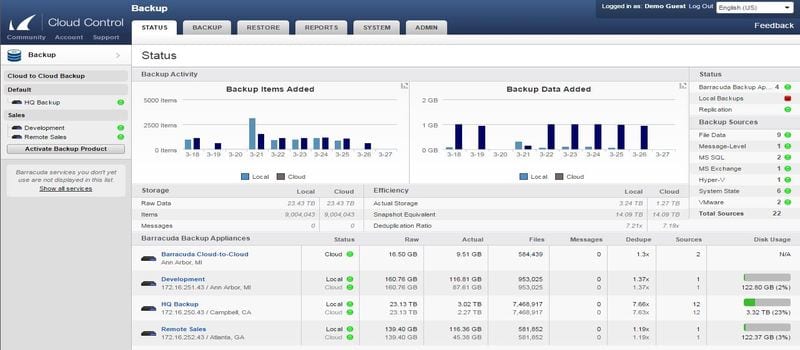 Barracuda recently announced multiple updates to its line of backup products, including new cloud storage and subscription pricing and two new backup models. The company's new pricing for Barracuda Backup Vx and cloud-to-cloud backup provides integrated backup functionality at competitive prices. Barracuda Backup 790 and 895 currently offer 12 TB and 24 TB of usable capacity. These product updates offer flexibility for Data Protection and Disaster Recovery for organizations transitioning to cloud, hybrid, and virtual network configurations.
Barracuda's GM of Storage Rod Mathews adds: "Many businesses deploying backup software for virtualization are forced to deal with the headaches of licensing, deploying, and maintaining a 'build-it-yourself' solution with multiple point products. Barracuda Backup Vx delivers the same integrated functionality and quick setup experience as Barracuda physical appliances. Barracuda offers a cost effective integrated backup solution – regardless of how customers want to deploy. Today's announcement reinforces our commitment to helping customers simplify their data protection needs."
Barracuda Vx can be initiated as a purpose-built virtual appliance to protect virtualized and physical environments within existing storage infrastructures. New additions to Barracuda Backup models offer users expanded flexibility and existing customers now have additional upgrade options when more storage capacity is added. Barracuda's tools include inline source and target-based global deduplication and compression, as well as redundancy within the company's diverse geographical enterprise-grade data centers.
Barracuda Backup Vx is a software tool that is deployed as a virtual machine in VMware and Microsft Hyper-V. The solution can be purchased immediately, as a per-socket subscription for virtual hosts, which includes replication. Physical server backup can be licensed on a per-server basis. Backup Vx also includes a new, metered Barracuda Cloud Storage plan that is competitively priced. It now includes built-in data redundancy and the ability to move data out of the cloud without added bandwidth charges.
In late 2015, Barracuda was included in Gartner's annual Magic Quadrant report for Enterprise Backup and Integrated Appliances, and are a vendor Solutions Review regularly tracks in our Backup and Disaster Recovery Solutions Directory.
Click here to read Barracuda's full press release.

Latest posts by Timothy King
(see all)