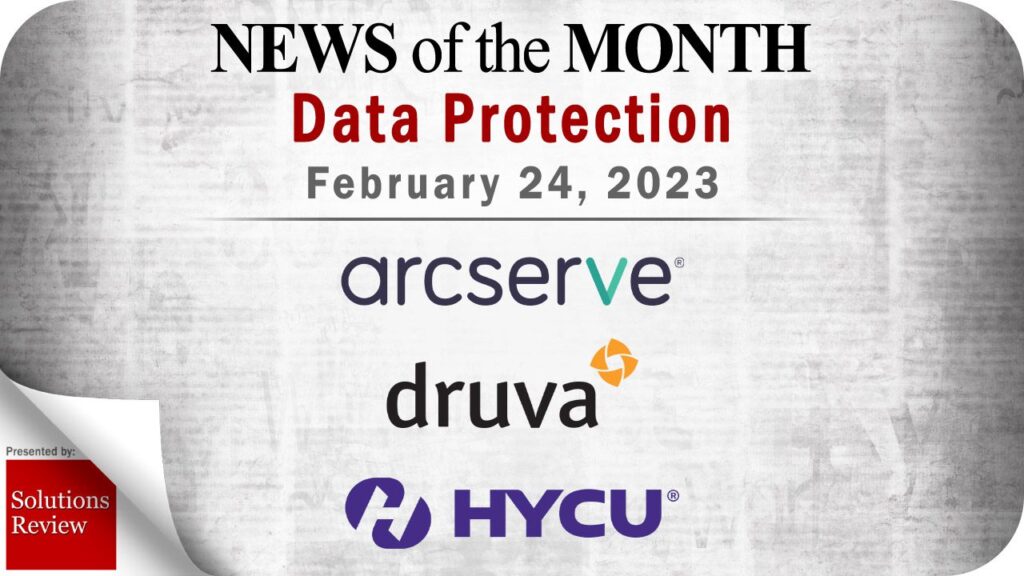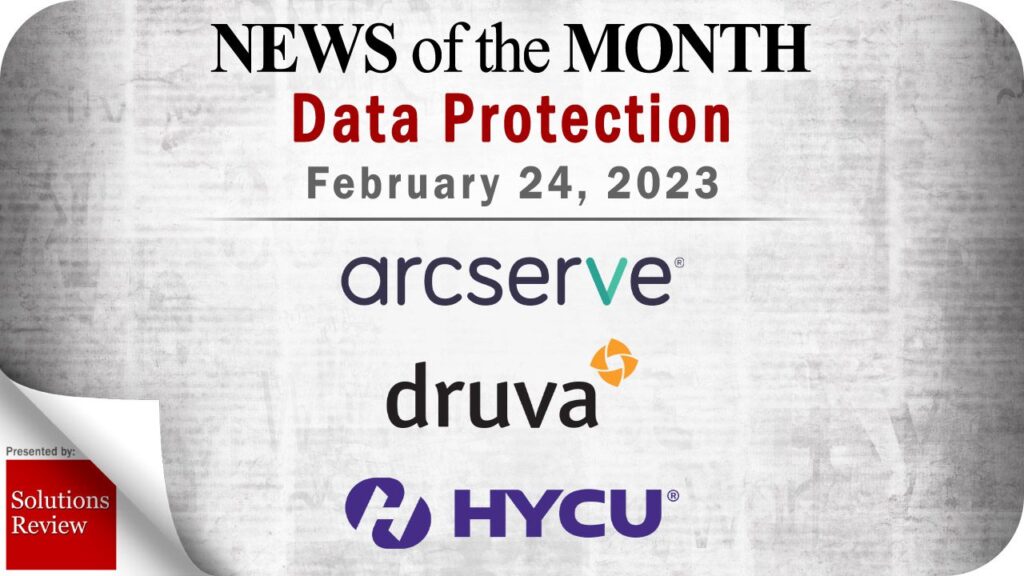 The editors at Solutions Review have curated this list of the most noteworthy storage and data protection news items for the month of February 2023.
Keeping tabs on all the most relevant storage and data protection news can be a time-consuming task. As a result, our editorial team aims to provide a summary of the top headlines from the last week, in this space. Solutions Review editors will curate vendor product news, mergers and acquisitions, venture capital funding, talent acquisition, and other noteworthy storage and data protection news items.
Top Storage and Data Protection News for the Month of February 2023
CloudCasa and Ondat Bring New Offering for Kubernetes Storage and Data Protection
Catalogic Software, announced a new bundled offering of its native back-up-as-a-service platform CloudCasa and Ondat, a leading Kubernetes-native data platform provider. This combined CloudCasa and Ondat offering provides customers with a unified solution to run their stateful applications on Kubernetes, without worrying about availability, performance, protection, or data management and recovery.
Arcserve Unified Data Protection 9.0 Boosts Enterprise Data Resilience
Arcserv, a backup data and recovery solutions provider, this week unveiled Arcserve Unified Data Protection (UDP) 9.0. Arcserve UDP 9.0 is a single platform, centrally managed backup and disaster recovery solution that future-proofs every data infrastructure with robust protection for every type of workload. It combines complete data protection, Sophos cybersecurity protection, immutable storage, tape backup, and scalable onsite or offsite business continuity.
Gartner Releases 2023 Peer Insights Voice of the Customer for Enterprise Backup and Recovery, Includes Druva
Druva is honored to be named a Customers' Choice recipient in the 2023 Gartner Peer Insights Voice of the Customer report for Enterprise Backup and Recovery Software Solutions. This distinction is awarded to vendors who meet or exceed both the market average overall experience and the market average user interest and adoption.
New Graviton3-Based General Purpose (m7g) and Memory-Optimized (r7g) Amazon EC2 Instances
We've come a long way since the launch of the m1.small instance in 2006 adding instances with additional memory, compute power, and your choice of Intel, AMD, or Graviton processors. The original general-purpose "one size fits all" instance has evolved into six families, each one optimized for specific uses cases, with over 600 generally available instances in all.
Pure Storage Introduces Energy Efficiency Guarantee for Evergreen//One as Part of Expanded SLA Offerings
Pure Storage, a company known for providing advanced data storage technology and services, has announced that it is expanding its subscription services, including the Evergreen portfolio. They are also introducing a new service level agreement (SLA) for Evergreen//One that guarantees energy efficiency.
Osano, a privacy management software, announced new business momentum milestones and upcoming product capabilities for its data privacy platform…
iXsystems Introduces TrueNAS Mini R Appliance with Linux-based TrueNAS SCALE
iXsystems today announced TrueNAS SCALE "Bluefin" 22.12.1, the latest release of its Linux-based Open Storage platform, and the availability of the new TrueNAS Mini R storage appliance. Recognized as a Digital Public Good (DPG) by the Digital Public Goods Alliance (DPGA), TrueNAS open storage solves the limitations of traditional storage and offers the choice of greater data freedom to organizations of all types and sizes around the world.
New Research on Digital Resilience Unveils Massive Opportunity for Organizations
Recent times proved the world is more resilient than we ever thought before. Despite economic and political uncertainty, and emerging from the challenges of a global pandemic, people everywhere showed they were willing to adapt and change for the future.
DataCore Acquires Object Storage Pioneer Object Matrix
DataCore Software today announced it has acquired Object Matrix. Object Matrix's appliances and cloud offerings will become part of the DataCore Perifery portfolio that specializes in delivering end-to-end, application-centric solutions for edge and high-growth markets, including media and entertainment. This acquisition reinforces the Perifery line of edge devices and solutions, while adding unparalleled talent and expertise to the Perifery team.
Public Cloud Spend Shows No Fear of Recession, According to Wasabi 2023 Global Cloud Storage Index
Enterprises are going all-in on cloud storage, with average stored capacity in the public cloud expected to reach 43% of their total storage footprint by 2024, and the vast majority (84%) are increasing their budgets to make that a reality, according to part one of Wasabi's 2023 Global Cloud Storage Index. The series, commissioned by Wasabi Technologies and conducted by Vanson Bourne…
Nasuni Surpasses $100 Million in Annual Recurring Revenue with 52% Growth in New Customers
Nasuni Corporation, announced record results for its fiscal year ending on December 31, 2022, with the company surpassing $100M in annual recurring revenue and delivering 52% growth in the number of new customers acquired in 2022 as compared to 2021. Despite the challenging economic environment since the pandemic emerged in 2020, annual recurring revenue from the Nasuni File Data Services Platform has increased by more than 140%.
Introducing Clumio's integration with AWS CloudTrail Lake
Audit logs are a vital tool in any security team's toolbox. They help track and monitor user activity across applications, systems, and networks. Not only do they help identify suspicious activity, like a user accessing a privileged system they don't have access to, but also are a key piece in forensically looking at the history and timelines of an event to determine everything that happened.
SaaS Data Protection Leader Keepit Launches Cutting-Edge Solution: Keepit for Power BI 
Keepit, today announced the launch of its backup and recovery solution for Power BI, Microsoft's business intelligence solution platform for aggregating, analyzing, visualizing, and sharing data. With the release of Keepit for Power BI, Keepit is extending its lead as the premier data protection service for Microsoft's cloud solutions.
HYCU Introduces 'World's First' Data Protection Development Platform for SaaS
HYCU unveiled R-Cloud to allow Software as a Service (SaaS) companies and Independent Software Vendors (ISVs) to provide, in days, backup and recovery services for their SaaS offerings. R-Cloud is the "world's first low-code, purpose-built data protection development platform designed to make it easy for SaaS vendors to deliver a true enterprise class backup and recovery service for their users that is secure and scalable.
Quest Software Announces Enhancements to KACE Cloud, Introducing Complete Application Patching to Endpoint Management in the Cloud
Quest Software, today announced the general availability of a reimagined KACE Cloud platform to transform endpoint management with automated patching for all devices in the cloud. Available now, this pioneering capability offers businesses an all-in-one solution beyond conventional patching with over 10,000 patches to over 350 third-party applications, including Adobe, Cisco, Google Chrome and Slack.
Cloudian Integrates with New Veeam Data Platform for Breakthrough Security and Cost Reduction
Cloudian today announced the integration of its HyperStore object storage with the new Veeam® Data Platform, which includes Veeam Backup & Replication™ (VBR) v12. The newly released Veeam Data Platform lets customers simplify their data protection workflow by storing data directly to Cloudian on-prem object storage, eliminating the need for the primary backup tier and the associated costs.
Drata Ushers A New Era of Trust with Open API
Drata, today launched Open API, a powerful new product leading the movement to open and democratized compliance. Open API puts customers in the driver's seat with deeper connections and integrations to architect creative solutions for their risk and compliance needs.
Kaseya Reaffirms Commitment to Channel Partners by Expanding its Global Partner Program
Kaseya, announced its expansion of the Kaseya + Datto Global Partner Program and its increased investment in channel partners, through doubled marketing development funds (MDF) and a larger team. "Since the Datto acquisition, we've been building on their highly successful Global Partner Program to extend its benefits across all of Kaseya," said Kaseya CEO Fred Voccola.
Vast Data Unveils Biggest Ever Software Release
For decades, organizations have built independent database infrastructure alongside their content stores to make sense of unstructured data and even semi-structured data. For example, PACS (picture archiving and communication system) medical record archives are always coupled with SQL datastores. Photo services marry object storage and NoSQL databases. Hadoop Data Lakes leverage Hive for their metastores.
Storage Analyst Firm DCIG Names Infinidat's InfiniBox Family One of the Top 5 High-end Storage Arrays in the World
Infinidat, a provider of enterprise storage solutions, today announced that storage industry analyst firm DCIG has named Infinidat's InfiniBox™ SSA II / InfiniBox® one of the world's top 5 high-end storage arrays. This ranking is based on independent research that DCIG conducted in the large enterprise market and among cloud service providers. The "2023-2024 DCIG Top 5 High-End Storage Arrays Report" is now available.
Expert Insights Section
Watch this space each week as Solutions Review editors will use it to share new Expert Insights Series articles, Contributed Shorts videos, Expert Roundtable and event replays, and other curated content to help you gain a forward-thinking analysis and remain on-trend. All to meet the demand for what its editors do best: bring industry experts together to publish the web's leading insights for enterprise technology practitioners.
ScaleFlux VP of Product Management JB Baker Offers Enterprise Storage Trends to Know
As I engage with customers, partners, and the press, I see excitement building and, more importantly, budgets allocated to these emerging trends. These developments are shaping the storage industry in 2023, and we should keep an eye on them if we don't want to be left behind.
Data Mobility Framework Keys to Know by Cirrus Data VP of Market Strategy Mark Greenlaw
To achieve data mobility for an evolving workforce, organizations must be able to migrate block data securely and without disruption. In this post, we will explore ways organizations are tackling their data mobility challenges successfully.
Expert Short: Why Do People Pay Ransomware? Answered by KnowBe4's Erich Kron
---
For consideration in future analytics and data protection news roundups, send your announcements to the editor: tking@solutionsreview.com.