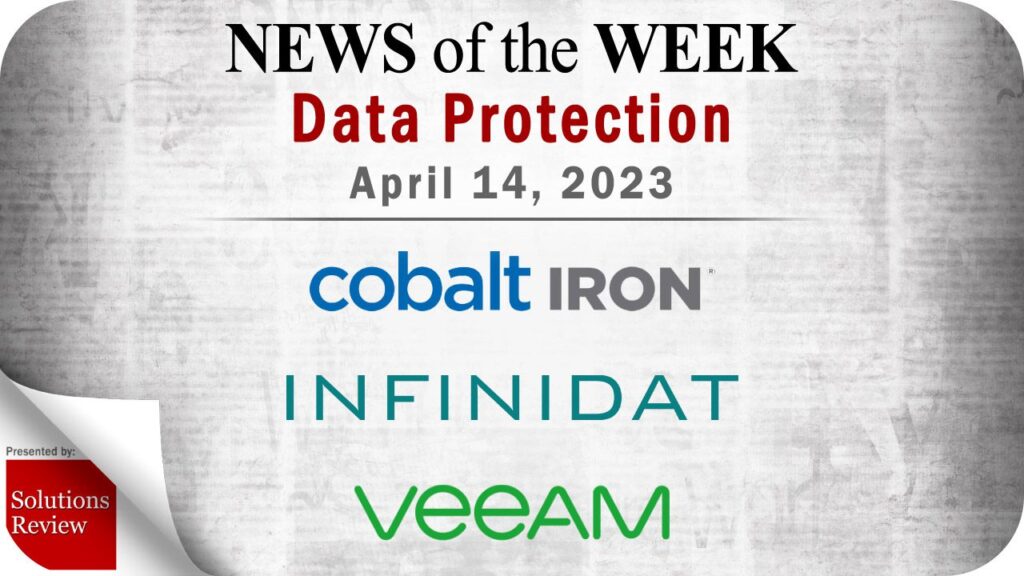 Solutions Review editors curated this list of the most noteworthy storage and data protection news items for the week of April 14, 2023.
Keeping tabs on all the most relevant storage and data protection news can be a time-consuming task. As a result, our editorial team aims to provide a summary of the top headlines from the last week, in this space. Solutions Review editors will curate vendor product news, mergers and acquisitions, venture capital funding, talent acquisition, and other noteworthy storage and data protection news items.
Top Storage and Data Protection News for the Week of April 14, 2023
[hr style="single"]
Cobalt Iron Enhances Data Governance With Responsible Data Deletion & System Retirement
These new capabilities allow automated and auditable systems decommissioning and deletion of associated data — bringing simplicity, data governance, historical tracking of all operations, and an approval framework to the decommissioning process. Compass users can perform these operations in a consistent manner that can be proven to adhere to corporate policies.
[hr style="single"]
How Long Hard Drives Last, According to Backblaze
The hard drives we use to store customer data are standard 3.5 inch drives you can buy online or in stores. The redundancy provided by the Backblave Vault software ensures the data is safe, while allowing us to use off-the-shelf drives from the three primary disk drive manufacturers: Seagate, Western Digital, and Toshiba.
[hr style="single"]
Cohesity Partners with Microsoft on Cyber Threat Prevention & Ransomware
Cohesity recently announced an expanded relationship with Microsoft that is focused on helping enterprises globally broaden and harden data security — critical as cyber-attacks are occurring every 39 seconds with 30,000 websites hacked daily and costing the global economy $6.9 billion in 2021.
[hr style="single"]
Infinidat Announces Integration with Kasten by Veeam for Container-Based Workload Backup
Infinidat's InfiniBox and InfiniGuard solutions have been integrated with the Kasten K10 Kubernetes data backup platform for container-based workloads. Concurrently, InfiniGuard is integrated with the new Veeam Data Platform, which includes Veeam Backup & Replication v12. Working tightly across the Veeam portfolio, Infinidat is well-positioned as an enterprise storage choice to complement Veeam solutions for end-to-end backup at scale.
[hr style="single"]
Seagate Unveils New Online Community To Industry-Leading Media & Entertainment Organizations
[hr style="single"]
Expert Insights Section
Watch this space each week as Solutions Review editors will use it to share new Expert Insights Series articles, Contributed Shorts videos, Expert Roundtable and event replays, and other curated content to help you gain a forward-thinking analysis and remain on-trend. All to meet the demand for what its editors do best: bring industry experts together to publish the web's leading insights for enterprise technology practitioners.
Solutions Review Set to Host Datto for Exclusive Webinar on May 17
With the next Solution Spotlight event, the team at Solutions Review has partnered with leading managed service provider Datto to provide viewers with a unique webinar called Re-Imagining Endpoint Security with Datto EDR. Datto offers a family of enterprise business continuity solutions available in both physical and virtual platforms.
For consideration in future storage and data protection news roundups, send your announcements to the editor: tking@solutionsreview.com.