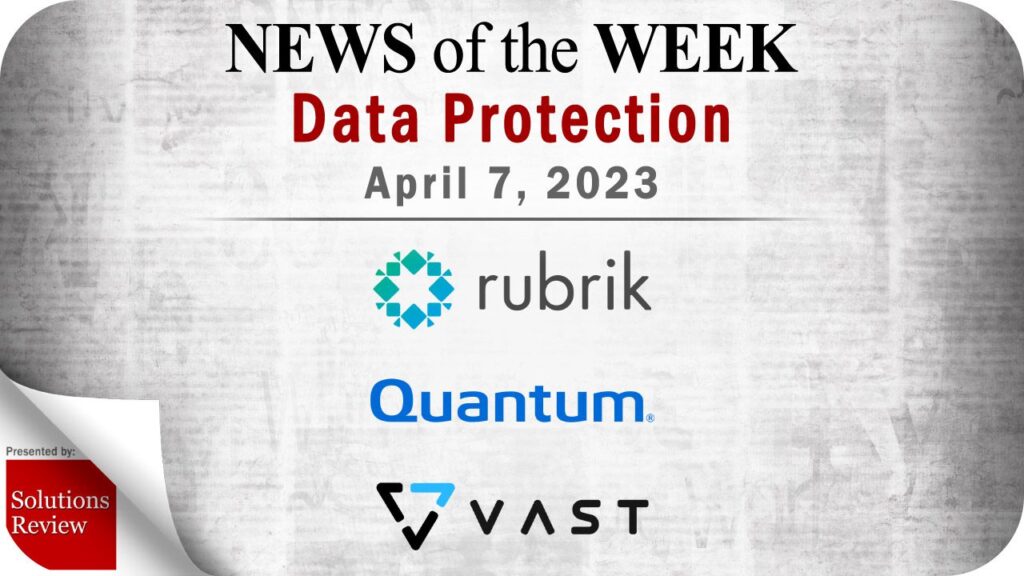 Solutions Review editors curated this list of the most noteworthy storage and data protection news items for the week of April 7, 2023.
Keeping tabs on all the most relevant storage and data protection news can be a time-consuming task. As a result, our editorial team aims to provide a summary of the top headlines from the last week, in this space. Solutions Review editors will curate vendor product news, mergers and acquisitions, venture capital funding, talent acquisition, and other noteworthy storage and data protection news items.
Top Storage and Data Protection News for the Week of April 7, 2023
[hr style="single"]
VAST Data Announces New Partnership with Hewlett Packard Enterprise
Built on HPE Alletra Storage MP and delivered as part of the HPE GreenLake cloud operational model, the new HPE data service enables enterprises to run their unstructured data workloads efficiently from one control plane.
[hr style="single"]
Quantum Introduces Myriad Software-Defined All-Flash Storage Platform
Myriad solves these challenges with an all new shared-nothing architecture designed for the latest flash technologies to deliver consistent low-latency performance at any scale. It introduces inline data services such as deduplication and compression, snapshots and clones, and metadata tagging to accelerate AI/ML data processing.
[hr style="single"]
Expert Insights Section
Watch this space each week as Solutions Review editors will use it to share new Expert Insights Series articles, Contributed Shorts videos, Expert Roundtable and event replays, and other curated content to help you gain a forward-thinking analysis and remain on-trend. All to meet the demand for what its editors do best: bring industry experts together to publish the web's leading insights for enterprise technology practitioners.
Solutions Review Set to Host Rubrik for Exclusive Webinar on April 11
Join us and see live how Rubrik Security Cloud can organize all your business information across data centers, co-los, clouds, and hybrid architectures for centralized data management. With your data in one place, you can leverage Zero Trust Data Protection to detect and recover from ransomware, reduce sensitive data exposure, and protect cloud workloads.
Enterprises Need to Evaluate Data Privacy Approaches, Global CTO Says
Businesses have amassed colossal amounts of data, often without the knowledge or consent of the people involved. Consumers are increasingly concerned about how their personal data is collected and used, and their trust is eroding.
VMware Exec Reveals 4 Ransomware Recovery Mistakes to Avoid
Ransomware attacks have evolved from scattered threats by small-time hackers into multi-stage, targeted campaigns executed by sophisticated criminal organizations and state-sponsored groups. Cybersecurity Ventures predicts that ransomware will cost victims more than around $265 billion (USD) annually by 2031.
Expert Reveals 3 High Availability for SQL Server in AWS
When it comes to ensuring the availability of an instance of Microsoft SQL Server running on AWS, you have quite a number of choices – from a Platform-as-a-Service (PaaS) offering, where pretty much everything is managed for you, to an Infrastructure-as-a-Service (IaaS) offering, where AWS manages some aspects of your infrastructure and you manage the rest.
For consideration in future storage and data protection news roundups, send your announcements to the editor: tking@solutionsreview.com.