Storage and Data Protection News for the Week of August 11; Updates from Infinidat, Rubrik, VAST Data & More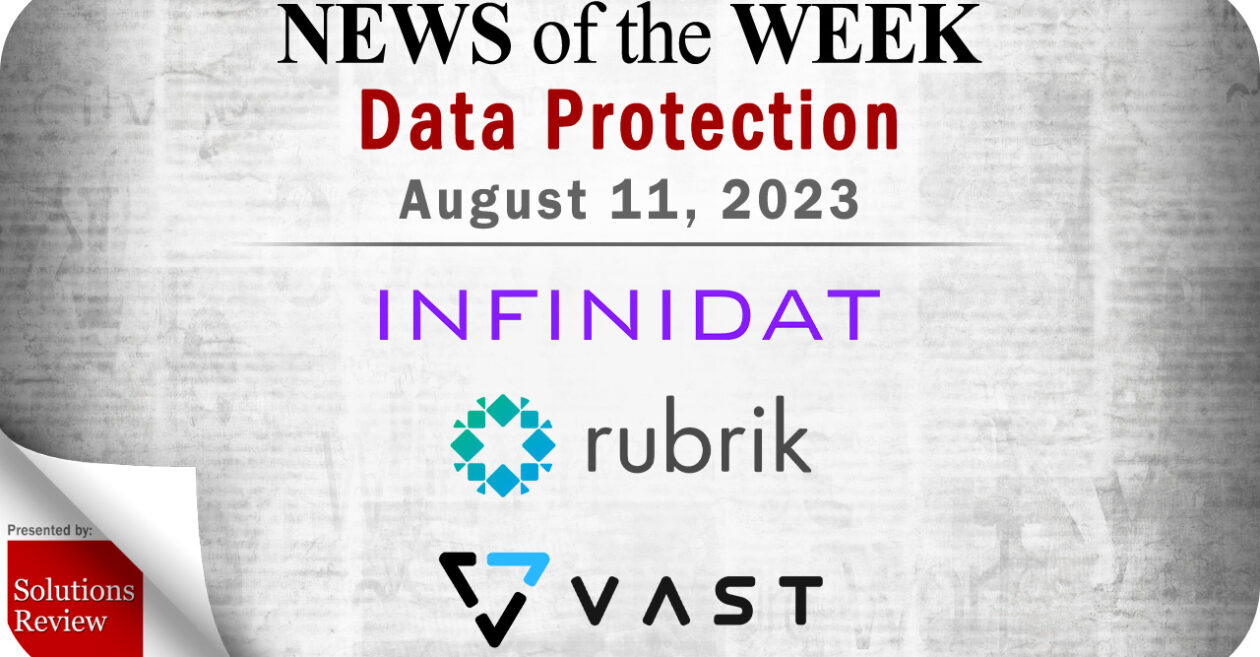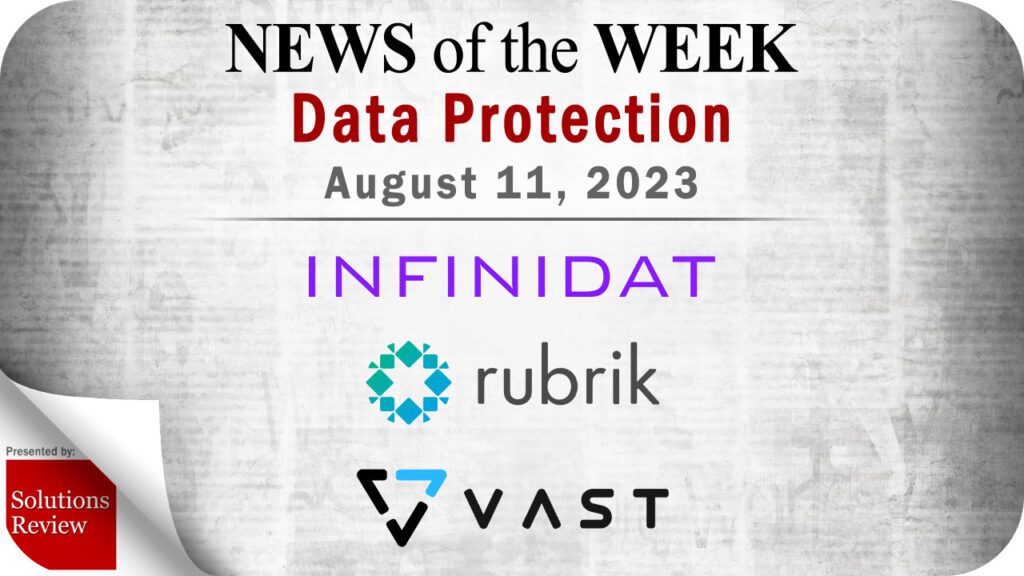 Solutions Review editors curated this list of the most noteworthy storage and data protection news items for the week of August 11, 2023.
Keeping tabs on all the most relevant storage and data protection news can be a time-consuming task. As a result, our editorial team aims to provide a summary of the top headlines from the last week, in this space. Solutions Review editors will curate vendor product news, mergers and acquisitions, venture capital funding, talent acquisition, and other noteworthy storage and data protection news items.
Top Storage and Data Protection News for the Week of August 11, 2023
Cohesity Appoints Eric Brown as Chief Financial Officer and Srinivasan Murari as Chief Development Officer
Brown will manage Cohesity's financial strategy as it expands its multicloud portfolio for data protection. Murari, who is a visionary technology executive with over 35 years of experience building world-class products and services in cloud and enterprise technologies, will be responsible for Cohesity's engineering and R&D teams as they continue to innovate across AI, security, and multicloud.
Gartner Releases 2023 Magic Quadrant for Enterprise Backup and Recovery Software
As enterprises expand their use of hybrid and multicloud environments and SaaS applications, while managing the adaptive threat of ransomware attacks, I&O leaders must continually assess their backup and recovery capabilities. This research provides analyses of backup and recovery vendors.
Hitachi Vantara Attains AWS SAP Competency Partner Status
Certified AWS SAP Competency Partners have the experience, tooling, methods and best practices to streamline client migrations or transformations. As a premier-level partner with AWS SAP Competency, Hitachi Vantara's proven proficiency helps our clients seamlessly move to AWS Cloud.
Lumen Releases New Lumen Data Protect Service
Lumen Data Protect allows for quick, easy, and cost-efficient backup and recovery of critical business data and applications, wherever they reside. Companies benefit from infrastructure-free, pay-as-you-go data protection that dynamically scales to meet changing business needs.
Rubrik Acquires DSPM Leader Laminar to Enhance its Cloud Data Security
The combination will create the industry's first complete cyber resilience offering of its kind by bringing together cyber recovery and cyber posture across enterprise, cloud, and SaaS. This acquisition supports Rubrik's leadership position as one of the preeminent data security platforms and furthers the company's mission to secure the world's data. Terms of the deal were not disclosed.
Data Privacy Management Platform Osano Raises $25 Million in Series B Funding
In an interview with TechCrunch, CEO Arlo Gilbert said that the cash will be put toward expanding Osano's engineering, product development and sales departments, investing more in R&D and building a channel program.
VAST Data Unveils New Unified Platform for 'Deep Learning Era'
In designing the new platform, VAST says it sought to resolve fundamental infrastructure tradeoffs that have previously limited applications from computing and understanding datasets from global infrastructure in real-time. The company considered many types of unstructured and structured data in designing the platform, including data from video, imagery, free text, data streams, and instrument data.
Viking Enterprise Solutions Introduces Unified Storage Solution for High Capacity Storage Environments
The ONYX 10400S features a large capacity, small 5U footprint that lowers deployment costs while providing seamless, multi-petabyte scaling via multiple JBOD enclosures. Versatile I/O expansion and multi-layer security allow the ONYX Series to run all mainstream applications with ease, delivering superior, server-grade performance to the modern enterprise.
Expert Insights Section
Watch this space each week as Solutions Review editors will use it to share new Expert Insights Series articles, Contributed Shorts videos, Expert Roundtable and event replays, and other curated content to help you gain a forward-thinking analysis and remain on-trend. All to meet the demand for what its editors do best: bring industry experts together to publish the web's leading insights for enterprise technology practitioners.
Solutions Review Set to Host Infinidat for Exclusive Spotlight Webinar on August 15
With the next Solutions Spotlight event, the team at Solutions Review has partnered with leading enterprise data and cloud solution provider Infinidat. This session will demonstrate how easily enterprises can create cyber-resilient storage environments that can withstand and recover from cyber-attacks.
Solutions Review Set to Host Cloudflare for Exclusive Spotlight Webinar on September 19
With the next Solutions Spotlight event, the team at Solutions Review has partnered with network solutions provider Cloudflare. Join this webinar to understand the profound impact DDoS attacks can have on an organization's bottom line and how investing in proactive defenses can yield substantial returns.
For consideration in future storage and data protection news roundups, send your announcements to the editor: tking@solutionsreview.com.