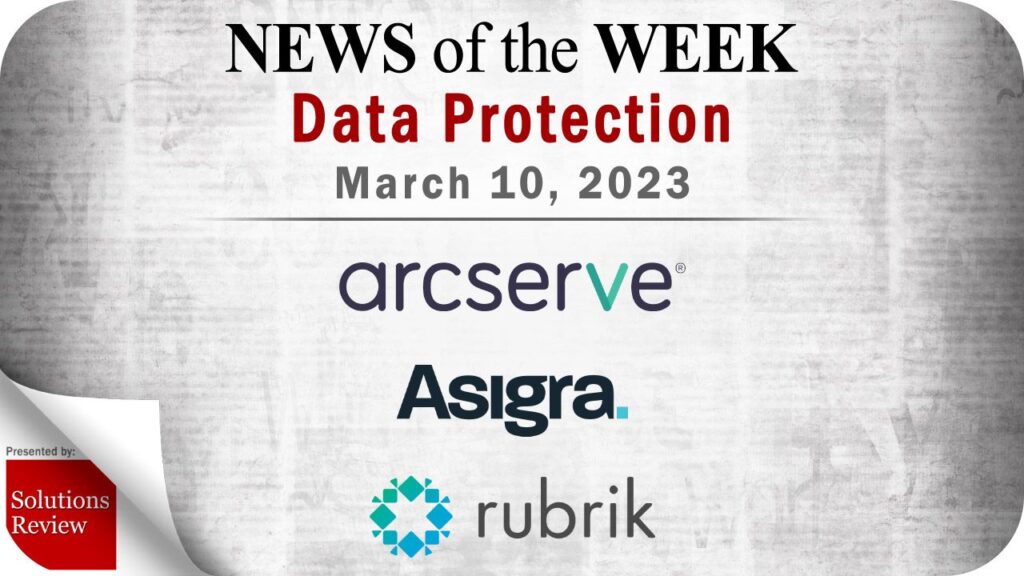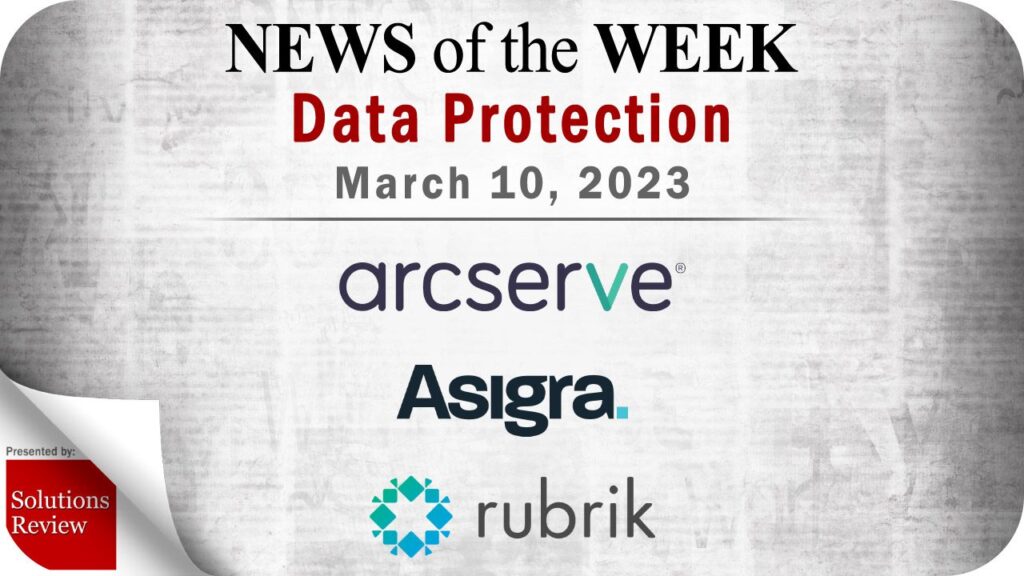 The editors at Solutions Review have curated this list of the most noteworthy storage and data protection news items for the week of March 10, 2023.
Keeping tabs on all the most relevant storage and data protection news can be a time-consuming task. As a result, our editorial team aims to provide a summary of the top headlines from the last week, in this space. Solutions Review editors will curate vendor product news, mergers and acquisitions, venture capital funding, talent acquisition, and other noteworthy storage and data protection news items.
Top Storage and Data Protection News for the Week of March 10, 2023
[hr style="single"]
Arcserve Global Research Reveals Cloud Investments Grow While Data Protection Lags Behind
Arcserve announced key findings from its annual independent global research. The study found that 43 percent of IT decision-makers (ITDMs) falsely believe that cloud providers are responsible for protecting and recovering data in the public cloud.
[hr style="single"]
Asigra Unveils Backup Platform to Protect SaaS Applications with SaaSBACKUP Platform
Asigra announced SaaSBACKUP(SM), a powerful new SaaS-based backup platform designed to provide comprehensive backup and recovery capabilities to SaaS applications that include Salesforce, Microsoft 365, Google Workspace, and far beyond.
CapStorm Introduces New Salesforce Managed Backup Solution: CS:Managed
Capstorm announced the release of their new Managed Backup solution specifically engineered for Salesforce users; CS:Managed. This innovative solution will provide businesses with a comprehensive and reliable way to protect and restore their Salesforce data and allow it to be accessible and verifiable off the Salesforce platform.
DataGrail Unveils Modern Approach to Measuring and Understanding Risk
DataGrail launched a new Privacy Dashboard that provides actionable recommendations to improve privacy management in an ongoing and scalable way. The fully modernized dashboard gives instant visibility into the current and historic health and impact of a company's privacy program.
Komprise Analysis Shines a Spotlight on Data Storage Costs
Komprise announced the immediate availability of Komprise Analysis to unlock insights and savings across all file and object data storage. Komprise Analysis is now available as a standalone SaaS solution for enterprises that want visibility first and are not yet ready to move data.
PEAK:AIO Powers New 'Revolutionary' NVMe AI Data Servers
PEAK:AIO announced the launch of its latest version of the AI Data Server, which doubles previous performance, reaching a breakthrough 80GB/sec from a single storage node as small as 1U and reduces the cost of ultra-performance AI data storage by up to 70 percent.
Rubrik Launches Transform Partner Program, Furthers Its Mission to Secure the World's Data
Rubrik launched the Rubrik Transform Partner Program to empower partners to become trusted data security advisors and help improve the cyber readiness, resilience, and recovery for their customers. Rubrik Transform leverages a points-based scoring system and customizable incentive plan to reward top-performing partners.
The SSD Edition: 2022 Drive Stats Review
Welcome to the 2022 SSD Edition of the Backblaze Drive Stats series. The SSD Edition focuses on the solid-state drives (SSDs) we use as boot drives for the data storage servers in our cloud storage platform. This is opposed to our traditional Drive Stats reports which focus on our hard disk drives (HDDs) used to store customer data.
Zerto Appoints Matt Boris as Vice President of Global Go-to-Market
Zerto, a Hewlett Packard Enterprise company, has announced the appointment of Matt Boris as its new head of worldwide Go-to-Market. Boris, who previously led Zerto sales in the Americas and Asia, will now be responsible for driving the company's overall GTM strategy around the globe.
11:11 Systems Launches Managed Backup for Cohesity to Protect and Secure On-Premises Data
11:11 Systems ("11:11"), a managed infrastructure solutions provider, announced the general availability of 11:11 Managed Backup for Cohesity, a fully managed service for on-premises data protection. By combining Cohesity's solution deployed on-site with 11:11's onboarding, configuration, and ongoing management, customers get comprehensive protection from a secure, scalable backup offering in a single, seamless solution.
Expert Insights Section
Watch this space each week as Solutions Review editors will use it to share new Expert Insights Series articles, Contributed Shorts videos, Expert Roundtable and event replays, and other curated content to help you gain a forward-thinking analysis and remain on-trend. All to meet the demand for what its editors do best: bring industry experts together to publish the web's leading insights for enterprise technology practitioners.
Solutions Review's Tim King Offers a Ransomware Resilience Assessment Template with Additional Resource from Continuity Software
Achieving ransomware resilience is both an opportunity and a challenge for enterprises. While modern security technologies offer new ways to detect and respond to ransomware attacks, the constantly evolving nature of these attacks and the complexity of modern enterprise systems present significant challenges.
Barracuda's SVP of Data Protection Offers a Disaster Recovery Plan Checklist as an Essential Resource to Consider This Year
The impact of data loss or corruption from hardware failure, human error, hacking or malware can devastate the day-to-day operations of businesses. That's why it is imperative to have a plan for data backup and restoration of digital information. In a worst case scenario — and a best case scenario for that matter — organizations can rely on their backed up data.
Arcserve Director of Product Management Ahsan Siddiqui Offers the Essential Data Loss Prevention Best Practices to Know Right Now
Many organizations still think that data protection is the responsibility of their cloud provider. They assume that the provider will handle all aspects of data protection, including backing up and recovering the data. They are mistaken. Thinking that data protection is the responsibility of your cloud provider is a dangerous mindset.
For consideration in future storage and data protection news roundups, send your announcements to the editor: tking@solutionsreview.com.