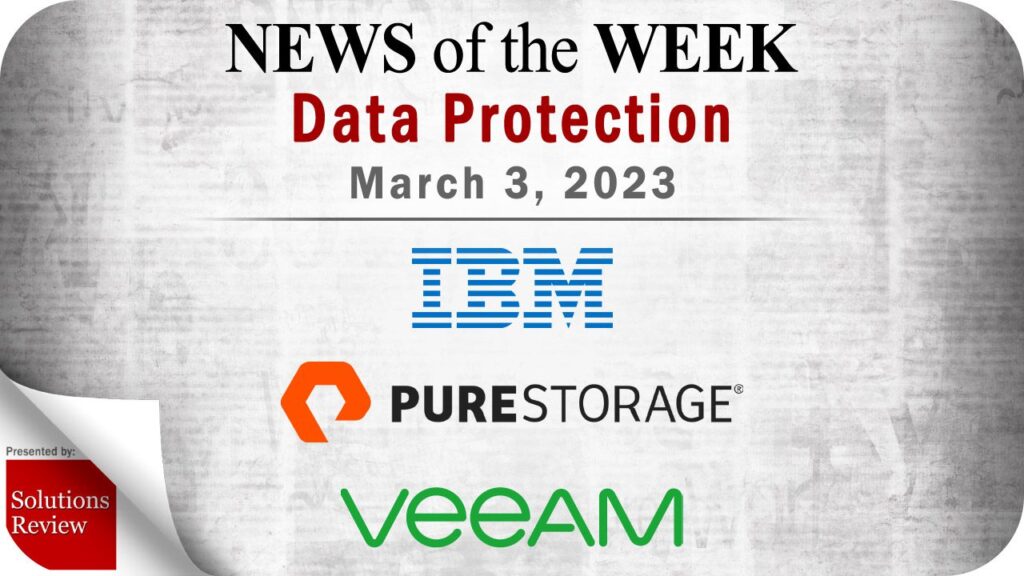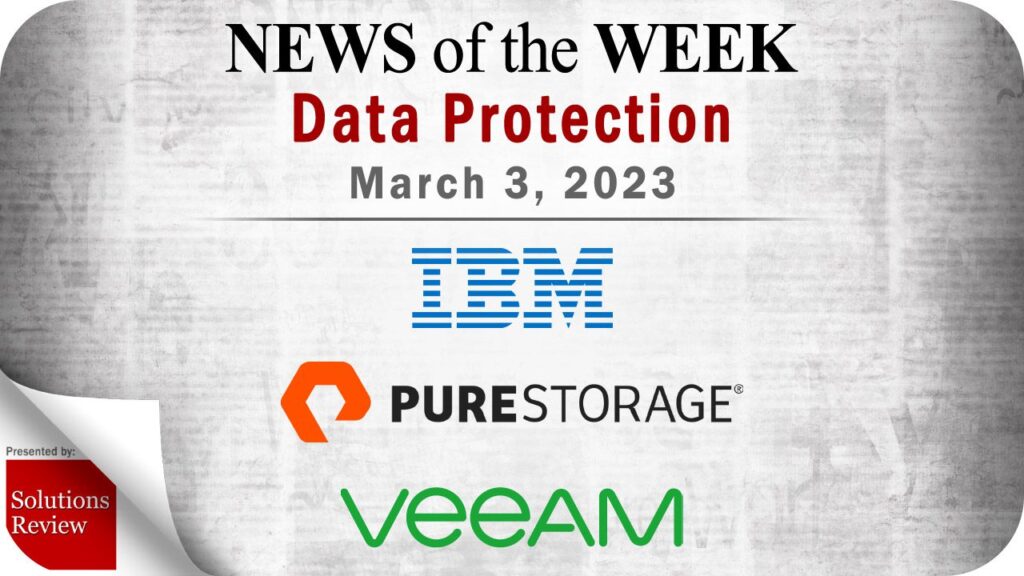 The editors at Solutions Review have curated this list of the most noteworthy storage and data protection news items for the week of March 3, 2023.
Keeping tabs on all the most relevant storage and data protection news can be a time-consuming task. As a result, our editorial team aims to provide a summary of the top headlines from the last week, in this space. Solutions Review editors will curate vendor product news, mergers and acquisitions, venture capital funding, talent acquisition, and other noteworthy storage and data protection news items.
Top Storage and Data Protection News for the Week of March 3, 2023
[hr style="single"]
Cisco Drives Simplified Operations and Energy Efficiency with Intersight and UCS X-Series
We built Cisco Intersight as a platform to deliver unified experiences and simplified operations for today's digital-first enterprises. It is a cloud-delivered lifecycle management and automation platform to operate compute, storage, and networking infrastructure resources across data centers, clouds, and to the edge..
EDB Launches Postgres Distributed 5.0
EnterpriseDB (EDB), the accelerator of Postgres in the enterprise, is launching EDB Postgres Distributed (PGD) 5.0, introducing extreme high availability for PostgreSQL—up to 99.999%+ availability via active-active technology, according to the vendor.
Egnyte February Product Roadmap Includes New Search Queries and Smart Upload
Users can now save search queries that are run frequently in the Egnyte Web UI. Saved search queries include all search keywords and associated search filters. Egnyte Secure & Govern users can now change the issue status to 'Dismiss' for issues associated with Unusual access & Suspicious logins.
Huawei Launched the Industry's 1st "SOCC" Unified Disaster Recovery Portfolio Solution for Business Continuity and Perceptionless Recovery
At the Mobile World Congress (MWC) 2023, Huawei launched the industry's first unified disaster recovery portfolio solution based on Storage & Optical Connection Coordination (SOCC). This portfolio solution integrates storage and optical transmission products to ensure that key businesses of enterprise customers are always online.
IBM and Cohesity Announce New Data Security and Resiliency Collaboration
IBM and Cohesity today announced a new collaboration to address the critical need organizations have for increased data security and resiliency in hybrid cloud environments. Combining data protection, cyber resilience, and data management capabilities from both companies.
IBM Announces its Plans to Reboot Storage Portfolios
IBM reckons its customers face three pressing data challenges and is realigning its storage product portfolio to measure up to them. The three challengers are adoption of AI/ML and HPC workloads; hybrid cloud app transformation and data movement from edge-to-core-to-cloud; and ensuring data resiliency in the face of malware.
KIOXIA and HPE Team Up to Send SSDs into Space, Bound for the International Space Station
KIOXIA America, Inc. announces its proud participation in the Hewlett Packard Enterprise (HPE) Spaceborne Computer-2 (SBC-2) program. As part of the program, KIOXIA SSDs provide robust flash storage in HPE Edgeline and HPE ProLiant servers in a test environment to conduct scientific experiments aboard the International Space Station (ISS).
New Veeam Backup for Microsoft 365 v7 Delivers Advanced Protection Against Cyber Attacks and Outages
Veeam Software, 'the leader in Modern Data Protection', released NEW Veeam Backup for Microsoft 356 v7, the #1 backup and recovery solution for Microsoft 365 including Microsoft Exchange Online, SharePoint Online, OneDrive for Business, and Microsoft Teams. With over 14 million users protected, the latest version of Veeam Backup for Microsoft 365 strengthens data protection by enabling immutability…
Microsoft, Rubrik Zero Trust Summit Stresses Precise Policy Rules, Baseline Setup
During this week's Rubrik and Microsoft Zero Trust Summit, zero trust, and identity security experts emphasized the significance of implementing specific granular policy rules, validation techniques, and baseline establishment to ensure that authorized individuals access designated resources at the appropriate times.
Nyriad and DigitalGlue Partner to Enable Creatives to Optimize Resources
Nyriad and DigitalGlue are partnering to dramatically improve the performance, resilience, and efficiency of media production workflows while removing complex IT-centric tasks and simplifying them with a streamlined user experience. In doing so, creatives and contributors will be able to optimize resources, eliminate costly delays in post-production, and deliver great content on deadline and on budget.
Pure Storage Announces April 2023 Release Date for FlashBlade//E 
Pure Storage announced FlashBlade//E, a scale-out unstructured data repository built to handle exponential data growth with industry-leading energy efficiency. At an acquisition cost competitive with disk and much lower operational costs, the introduction of FlashBlade//E means that customers no longer need to settle for disk.
Expert Insights Section
Watch this space each week as Solutions Review editors will use it to share new Expert Insights Series articles, Contributed Shorts videos, Expert Roundtable and event replays, and other curated content to help you gain a forward-thinking analysis and remain on-trend. All to meet the demand for what its editors do best: bring industry experts together to publish the web's leading insights for enterprise technology practitioners.
Solutions Review's Tim King Names the Best Seagate NAS Drives for 2023
Seagate NAS drives offer reliable, high-performance storage solutions perfect for home or small office use. By considering your storage needs, security requirements, and total cost of ownership, you can choose the right Seagate NAS drive and rest easy knowing that your data is safe and easily accessible.
Former Symantec & Splunk CISO Joel Fulton Reveals 6 Steps to Ensure Compliant Storage Backup Systems
Compliance with industry standards and regulatory mandates can absorb an inordinate amount of IT and executive attention. Organizations spend a great deal of time verifying they comply with the different requirements of security frameworks requirements and regulations such as CIS, NIST, PCI DSS, NERC CIP, PHI/HIPAA-HITECH, DISA, FFIEC, NIS Directive, MAS-TRM, FISMA, ISO, NYDFS, and others).
Scality Field CTO Candida Valois Explains How Ransomware Defense Fears Drive Backup & Storage Strategy
Multiple surveys of IT leaders reiterate that they view Job #1 as ransomware protection. It's the lead item on every set of board slides and scrawled across every white board, with multiple action items beneath. The near inevitability of malfeasance has redefined priorities and aligned IT teams with a new set of technology answers. Three concerns are driving new, more robust strategies that can outsmart bad actors.
For consideration in future storage and data protection news roundups, send your announcements to the editor: tking@solutionsreview.com.