Storage and Data Protection News for the Week of September 15; Updates from Continuity, IBM, Scality & More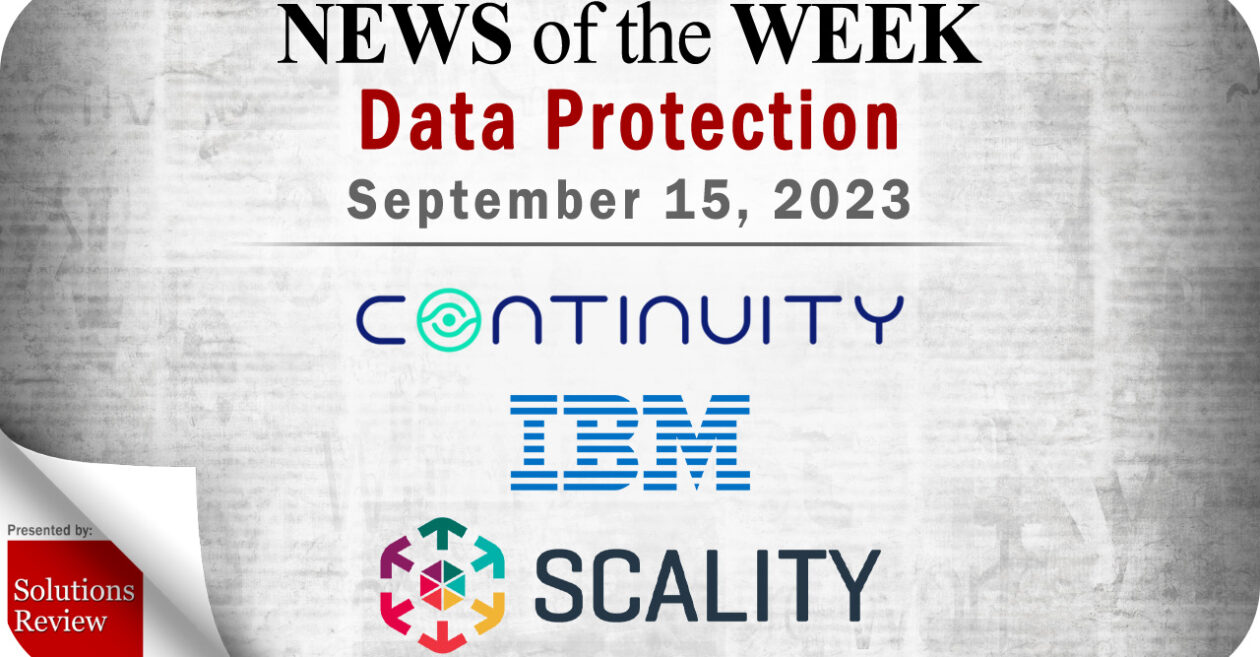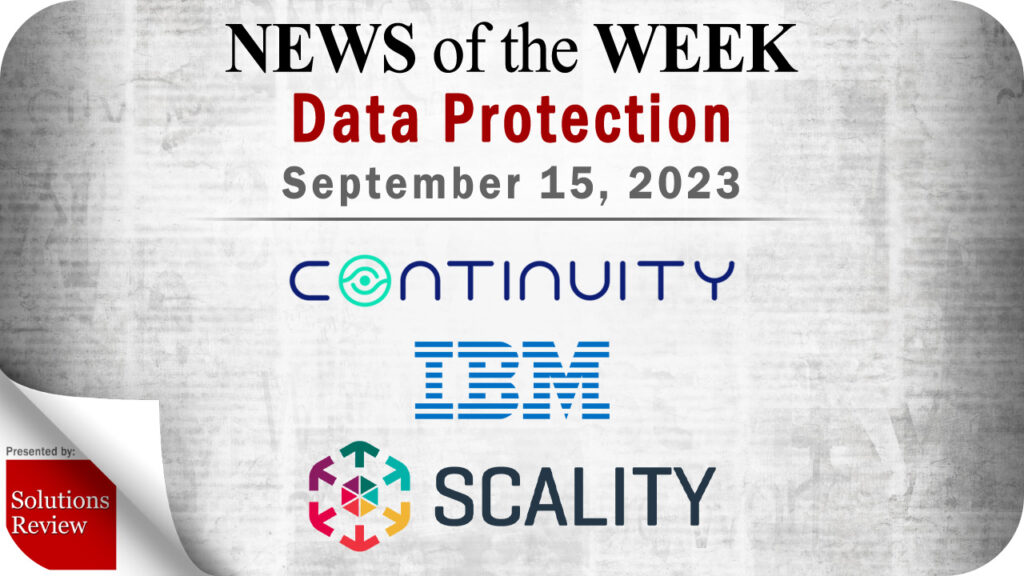 Solutions Review editors curated this list of the most noteworthy storage and data protection news items for the week of September 15, 2023.
Keeping tabs on all the most relevant storage and data protection news can be a time-consuming task. As a result, our editorial team aims to provide a summary of the top headlines from the last week, in this space. Solutions Review editors will curate vendor product news, mergers and acquisitions, venture capital funding, talent acquisition, and other noteworthy storage and data protection news items.
Top Storage and Data Protection News for the Week of September 15, 2023
Micron Selects Nutanix Cloud Platform for Its Manufacturing Facilities Globally
Nutanix (NASDAQ: NTNX), 'a leader in hybrid multicloud computing', announced that Micron Technology, an industry leader in innovative memory and storage solutions, selected Nutanix to build a cloud platform for Micron's manufacturing facilities globally. The Nutanix Cloud Platform will enable Micron to optimize its infrastructure resources, efficiently operationalize new cloud-ready applications, dramatically reduce costs..
Scality partners with Comportal to bring private cloud storage software to Central Asia
Scality, 'a global leader in reliable, secure, and sustainable data storage software', has partnered with value-added distributor Comportal to help enterprises in the region modernize IT infrastructures with state-of-the-art private cloud storage solutions focused on cyber resiliency and large-scale data growth. Comportal will deliver Scality ARTESCA and RING, object storage software that solves organizations' biggest data storage challenges — growth, security and cost — and delivers 100% uptime, ransomware protection and utmost resilience.
Quantum Announces New Pre-Configured ActiveScale Cold Storage Bundles to Make It Simple to Deploy On-Prem Cloud Resources and Unlock Value in Archived Data
Quantum Corporation (NASDAQ: QMCO), the leader in solutions for unstructured data, today announced new pre-configured bundles to make it even easier to purchase and deploy Quantum ActiveScale™ Cold Storage, the industry's only S3-enabled object storage solution architected for both active and cold data sets that reduces cold storage costs by up to 60 percent. With the massive amount of data customers need to retain for business and compliance purposes, customers are using both public and private cloud resources to store and manage this data…
Vcinity Announces General Availability of Vcinity Accelerate™
Vcinity, Inc. announced the availability of Vcinity Accelerate™, 'an advanced software' offering that leverages Vcinity's high-speed unstructured data transfer technology in an easy-to-use format to automate file and object data transfers over any distance for organizations who need to move their data. Vcinity Accelerate is a data movement solution that leverages Vcinity's Remote Direct Memory Access (RDMA) over Wide Area Network (WAN)…
Veritas Field CISO Dr. Joye Purser Receives ISC2 Lifetime Achievement Award for Contributions to the Advancement of Information Security
Veritas Technologies, 'the leader in secure multi-cloud data management', congratulates Dr. Joye Purser, CISSP, Ph.D. and field chief information security officer at Veritas, on receiving the ISC2 Harold F. Tipton Lifetime Achievement Award, the highest tribute in cybersecurity. ISC2 is the world's leading nonprofit member organization for cybersecurity professionals. Named for information security pioneer Harold F. Tipton, CISSP, the award from ISC2 annually recognizes a top cybersecurity professional for their lifelong contributions to the advancement of information.
90% of Organizations Concerned With Meeting PCI DSS 4.0 Timeline, Bluefin Survey Finds
Bluefin, 'the recognized leader in PCI-validated encryption and tokenization technologies that protect payments and sensitive data', unveiled the findings of a new data report it commissioned with S&P Global Market Intelligence, "The State of Enterprise Readiness for PCI DSS 4.0," which offers insight into the current state of payment data security and establishes a baseline for PCI DSS 4.0 readiness.
Expert Insights Section
Watch this space each week as Solutions Review editors will use it to share new Expert Insights Series articles, Contributed Shorts videos, Expert Roundtable and event replays, and other curated content to help you gain a forward-thinking analysis and remain on-trend. All to meet the demand for what its editors do best: bring industry experts together to publish the web's leading insights for enterprise technology practitioners.
Solutions Review Set to Host Cloudflare for Exclusive Spotlight Webinar on September 19
With the next Solutions Spotlight event, the team at Solutions Review has partnered with network solutions provider Cloudflare. Join this webinar to understand the profound impact DDoS attacks can have on an organization's bottom line and how investing in proactive defenses can yield substantial returns.
For consideration in future storage and data protection news roundups, send your announcements to the editor: tking@solutionsreview.com.