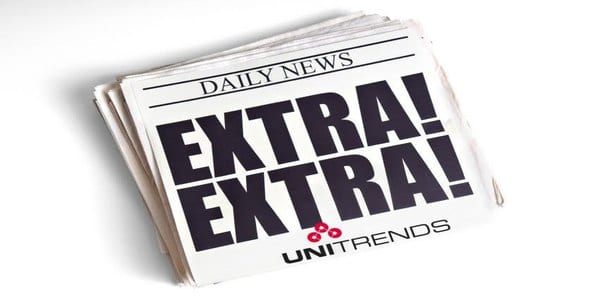 In a flurry of press releases last week, Unitrends, a member of our Backup and Disaster Recovery Solutions Directory, and one of the top vendors in the enterprise Business Continuity space, made several major announcements. The first, and related to a story we published in late-May, builds upon the announcement of the company's public cloud offering. In response to what Unitrends calls "growing demand for local cloud data protection", the company has added new data centers in Australia, Canada, Germany, and the United Kingdom to better serve customers around the world, and the solution is now available globally.
Unitrends Cloud is offered in three different service levels. The company offers a metered version, which stores selected last backups in Unitrends Cloud and allows users to acquire 250-gigabyte increments of protected capacity. In addition, No Limits Cloud combines storage and disaster recovery, and stores an exact image of local physical or virtual appliance contents in the cloud on an unmetered basis. Finally, Unitrends Forever Cloud stores daily, weekly, and monthly backups in Unitrends Cloud, along with an infinite number of annual backups, and allows customers to acquire up to 500 gigabytes of protected capacity.
Unitrends also announced that they have broken the 100-terabyte barrier with their new enterprise backup appliance. The new set of high-capacity backup and recovery appliances feature the latest version of the company's data protection software. The new offering, version 8.2, delivers enhanced Adaptive Data Deduplication with dedupe acceleration and allows companies to scale beyond the 100 TB threshold while maintaining the performance necessary to backup and recover large volumes of data.
Is the cloud an on-premise backup killer? We polled the experts, find out how they responded.
The physical backup appliances, named the Recovery-944S and Recovery-946S, "meet the diverse corporate data protection and workload demands of organizations managing up to thousands of virtual machines (VMs). The Recovery-944S offers 122 TB of raw storage capacity and a suggested backup capacity of 61 TB given typical industry usage rates, while the Recovery-946S contains 182 TB of raw storage capacity with a suggested backup capacity of 91 TB given typical industry usage rates", according to the company.
Additional features of the physical backup appliance include 480 gigabytes of flash memory for improved ability to implement policies around flash cache usage, dual Intel Gen 3 E5 Xeon CPUs, and dual 12Gb/s drive busses for multi-stream performance benefits from higher drive bandwidth and multiple busses.
Release 9.0 Beta of Unitrends' data protection software has been unveiled. This software, which powers the company's physical and virtual backup appliances, as we well as Unitrends Cloud delivers a "revolutionary user experience that reconciles simplicity with sophistication", according to the vendor. The software, which will be available for download on August 30th, gives users a richer, more interactive and easier to use experience and provides proof of recoverability.
Users of any experience level are able to perform a backup in 64 percent fewer clicks than other solutions in its class. Creating a backup job, restoring a full VM, and executing an instant VM and file recovery from the software's dashboard are quicker and easier than ever. The solution's improved interface is the same across all the company's platforms.
The company notes: "Unitrends 9.0 Beta sets a new industry standard for the customer experience, simplifying everything from system setup and common backup and recovery tasks, to troubleshooting and support. Customers have direct access to the Unitrends Customer Community from the software's main dashboard, giving them the ability to interact directly with their peers and Unitrends support without ever having to exit out of the tool."