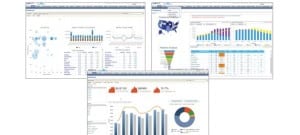 The announcement that NetSuite will be offering Birst's BI capabilities for free in their finance software will bring "Google-like" searching capabilities to financial data searches and queries. Birst's innovative BI approach is garnering this Google-like comparison as their search queries and recommendations are based on previous searches users have conducted.
NetSuite benefits by improving user experience with their solutions and by offering raised standards of analytics. This is not a charity move for Birst however. This move will obviously improve visibility into their innovative BI approach as other cloud-based BI solutions are jockeying for position in the fast moving space. As VentureBeat writes, "the deal provides opportunities for Birst to sign up more paying customers, under a new revenue-sharing agreement. People who use the free version of Birst on data sitting in NetSuite can pay to visualize data from other sources as well, Birst cofounder and former chief executive Brad Peters told VentureBeat via email."
Click here for the full VentureBeat article and for more on how Birst's BI solutions is improving user experience for NetSuite customers.