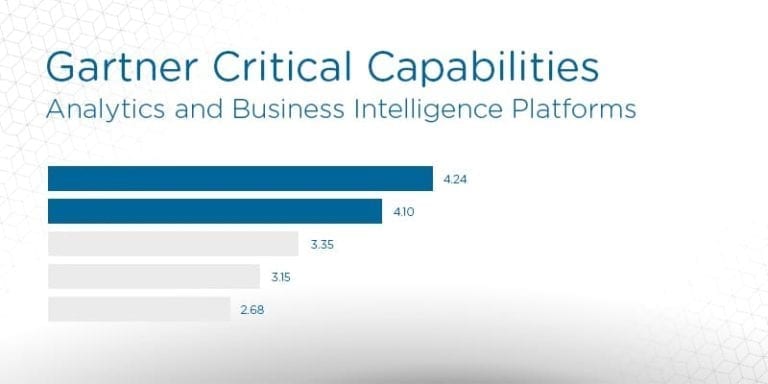 Analyst house Gartner, Inc. has released its 2020 Critical Capabilities for Analytics and Business Intelligence Platforms, a companion research to the popular Magic Quadrant report. Used in conjunction with the Magic Quadrant, Critical Capabilities is an additional resource which can assist buyers of data and analytics solutions in finding the products that best fit their organizations.
Gartner defines Critical capabilities as "attributes that differentiate products/services in a class in terms of their quality and performance." Gartner rates each vendor's product or service on a five-point (five points being best) scale in terms of how well it delivers each capability. Critical Capabilities shows you which products are best for each use case and includes a comparison graph for each, along with in-depth descriptions on the various points of comparison.
The study highlights 19 vendors Gartner considers most significant in this software sector and evaluates them against 15 critical capabilities and now six use cases prevalent in the space, including:
Agile, centralized BI provisioning
Decentralized analytics
Governed data discovery
OEM or embedded BI
Extranet deployment
Augmented analytics
The editors at Solutions Review have read the report, available here, and pulled out three key takeaways.
Augmented analytics is a mainstream enterprise use case
Augmented analytics uses machine learning to change how analytic content is developed and used. The technology encompasses other modern analytical capabilities like data preparation, data management, business process management, process mining and data science. Gartner has added augmented analytics to its list of the six main use cases in the industry, adding that analytics and BI platforms are beginning to support more "advanced, automated analytic use cases via growing, augmented, ML-driven capabilities."
The top scorers for the augmented analytics use case include Salesforce, ThoughtSpot and TIBCO Software.
MicroStrategy and TIBCO Software dominate five-out-of-six use cases
MicroStrategy and TIBCO Software combined for the top-two spots on each of Gartner's six analytics and BI use cases for 2019. While TIBCO Software was the third-highest scoring vendor for augmented analytics, MicroStrategy polled in the middle of the pack. MicroStrategy has made great strides to improve its platform UI in recent months, and new natural language capabilities are sure to make it a major player in augmented BI as soon as next year. TIBCO's foray into data science and machine learning have come though acquisitions and new OEM partnerships.
Note: Organizations that select TIBCO's Spotfire platform often consider Tableau and Qlik during the vendor selection process.
There is no industry standard
This is a leftover theme from previous Critical Capabilities reports, and the platforms Gartner covers in its research "exhibit differences in functional capabilities." The researcher goes on to highlight the ways in which the providers differ, mainly related to support for advanced analytics, data source connectivity and embedded BI. If you are using Gartner to evaluate potential BI tools for your organization, it becomes paramount to identify your use cases straight away. Only then can you line up the proper tool for the job.
If you are using Gartner's Magic Quadrant and Critical Capabilities for vendor evaluation, do not ignore the providers in the lower portions of the visual. In fact, these solutions may line up best for your situation, and that's what is most important.