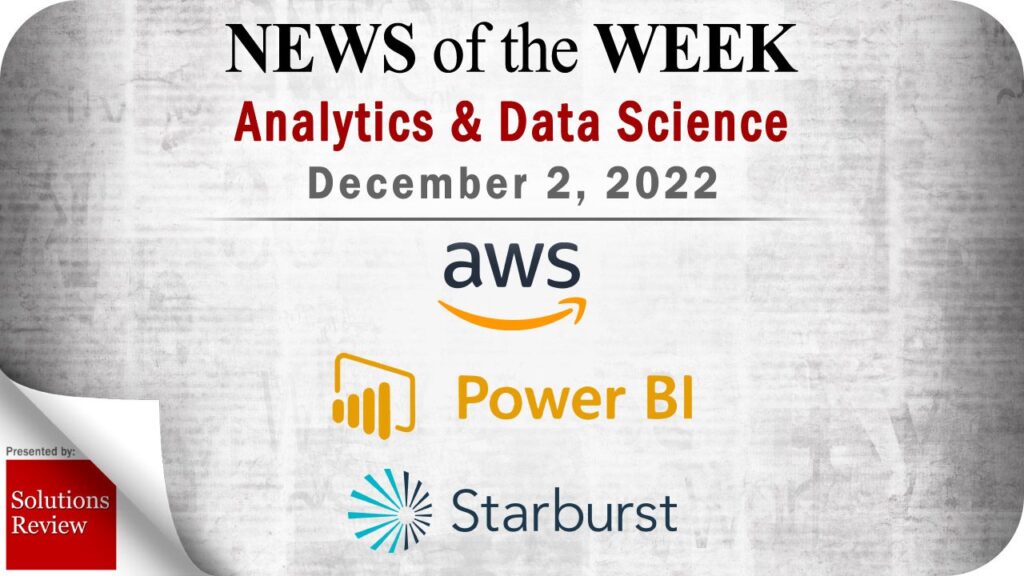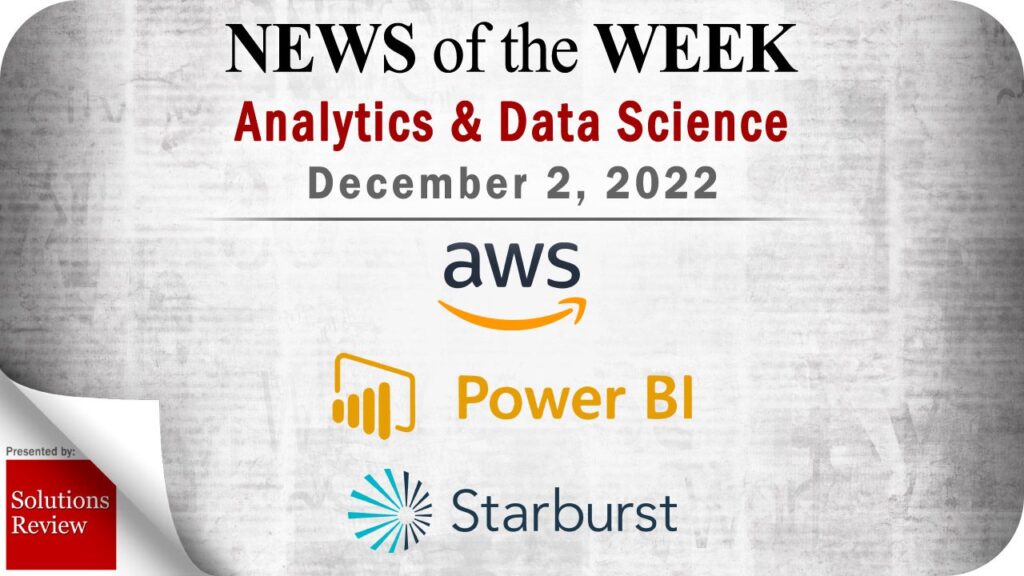 The editors at Solutions Review have curated this list of the most noteworthy analytics and data science news items for the week of December 2, 2022.
Keeping tabs on all the most relevant analytics and data science news can be a time-consuming task. As a result, our editorial team aims to provide a summary of the top headlines from the last week, in this space. Solutions Review editors will curate vendor product news, mergers and acquisitions, venture capital funding, talent acquisition, and other noteworthy analytics and data science news items.
Top Analytics and Data Science News for the Week Ending December 2, 2022
AWS Announces a Suite of New Capabilities for QuickSight BI Service
Today's announcement expands QuickSight Q, a natural language querying capability, to support forecast and "why" questions and automate data preparation, making it easier and faster to start asking questions in natural language. Additionally, customers can now create and share paginated reports alongside interactive dashboards, quickly analyze and visualize billion-row datasets directly in QuickSight.
Domo is Joining Amazon's SageMaker Ready Program
This designation helps customers discover partner software solutions that are validated by Amazon Web Services (AWS) Partner Solutions Architects to integrate with Amazon SageMaker. Joining the Amazon SageMaker Ready Program differentiates Domo as an AWS Partner Network (APN) member with a product that works with Amazon SageMaker and is generally available for and fully supports AWS customers.
Exasol Names Joerg Tewes as new CEO
As a technology industry veteran with more than 30 years of experience in bringing innovative products to market and driving growth in the US and Europe, Tewes brings a unique perspective that will be instrumental to leading the global team while accelerating growth and innovation at Exasol. He succeeds Aaron Auld, who stepped down from the CEO post in September at his own request.
Microsoft Announces On-Prem Data Gateway November Release
This version of the gateway will ensure that the reports that you publish to the Power BI Service and refresh via the gateway will go through the same query execution logic/run-time as in the November version of Power BI Desktop.
Red Hat Drops New Collab and MLOps Features on OpenShift Data Science
Red Hat OpenShift Data Science now includes new features for deeper data analysis and better collaboration between ITOps, data scientists, and intelligent application developers. Furthermore, customers can now use committed AWS spend to purchase and run Red Hat OpenShift Data Science directly through AWS Marketplace.
Sisense Introduces CI/CD Git Integration Module
Incorporated into the Sisense platform, the new module fully integrates with a company's existing Git-based version control tools, supporting DevOps methodologies and making it easy for developers to build, test and release analytics-related changes as well as avoid the mistakes that come from a lack of change control such as incorrect data or broken dashboards.
Solutions Review Announces Final Executive Roundtable Speaker Lineup for #BIInsightJam
The BI Insight Jam is a data management and analytics community web event. Solutions Review editors are bringing the best and brightest minds in the industry together for a one-day social media gathering. Participants will include industry analysts, experts, influencers, practitioners, and software solution providers under the hashtag #BIInsightJam.
Starburst Adds New Data Discovery Capabilities to Galaxy Managed Service
New data and schema discovery and data privileges capabilities simplify and streamline the traditional Extract, Transform, Load (ETL) process for the curation of Data Products, accelerating data querying, access and analytics across the organization. The foundational Data Products capabilities are now available in public preview.
For consideration in future analytics and data science news roundups, send your announcements to the editor: tking@solutionsreview.com.

Latest posts by Timothy King
(see all)