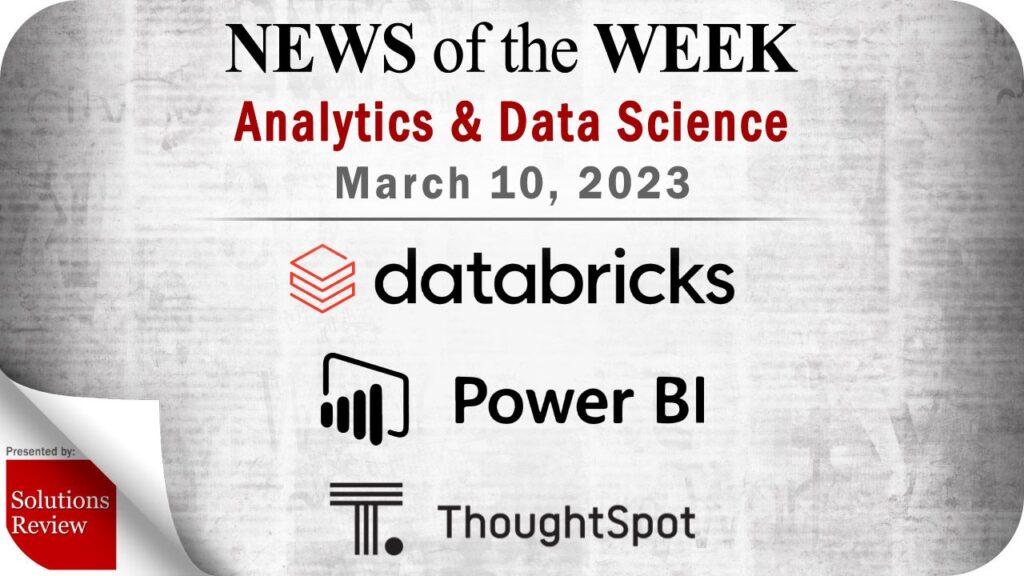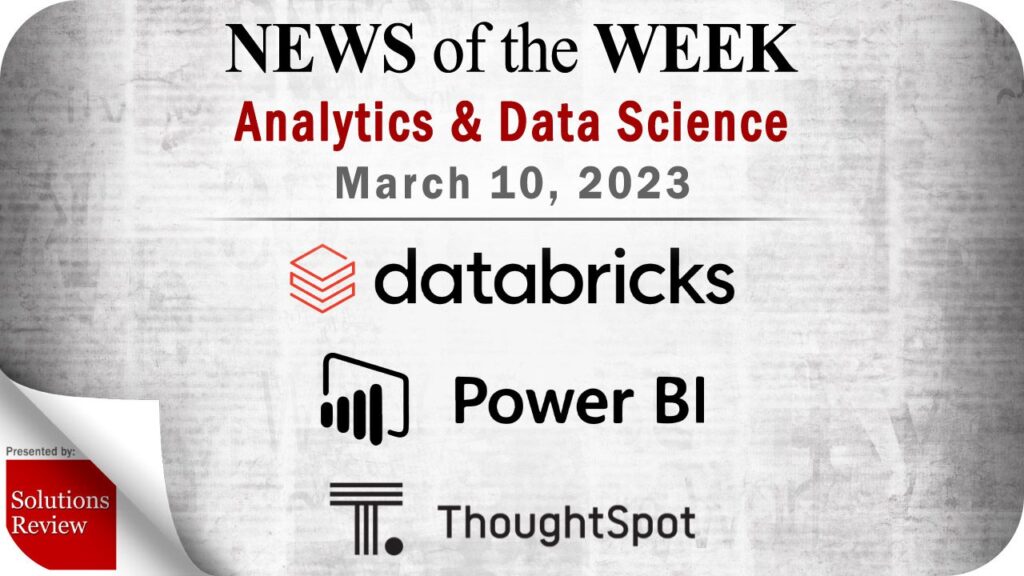 The editors at Solutions Review have curated this list of the most noteworthy analytics and data science news items for the week of March 10, 2023.
Keeping tabs on all the most relevant analytics and data science news can be a time-consuming task. As a result, our editorial team aims to provide a summary of the top headlines from the last week, in this space. Solutions Review editors will curate vendor product news, mergers and acquisitions, venture capital funding, talent acquisition, and other noteworthy analytics and data science news items.
Top Analytics and Data Science News for the Week Ending March 10, 2023
Alteryx Launches New Initiative for Sporting Analytic Insights
Fanalytics demonstrates how data can impact decisions in professional sports. Alteryx has established new partnerships with professional sports organizations worldwide, including teams and players within F1, NBA, NFL, Premier League, and the PGA Tour.
Databricks Unveils New Real-Time Machine Learning for its Data Lakehouse Platform
Databricks Model Serving removes the complexity of building and operating these systems and offers native integrations across the lakehouse, including Databricks' Unity Catalog, Feature Store and MLflow. It delivers a highly available, low latency service for model serving, giving businesses the ability to easily integrate ML predictions into their production workloads.
Datalogz Raises $2.3 Million in Seed Funding for Business Intelligence Ops Platform
The round was led by Squadra Ventures, with participation by Berkeley SkyDeck, Trajectory Capital Partners, and Mana Ventures. Datalogz integrates with leading BI tools including Power BI, Tableau, Looker, Qlik, Spotfire, and Mode, and is a Microsoft-verified application provider for Power BI. The current platform deploys in minutes in AWS and Azure and can be accessed online.
Microsoft Releases New Power BI Integration with PowerPoint
The value of this integration is clear: it lets people easily add interactive Power BI data visualizations to their PowerPoint presentations, making them more interactive, more informative, and more engaging. With Power BI, people can create rich, interactive visualizations that can easily be embedded into PowerPoint slides. This means that anyone can now create dynamic, data-driven presentations that are sure to impress their audiences.
Analytics Startup Ramp Raises $4 Million in Seed Funding
Ramp Growth solves the issue of poor revenue forecasting for businesses that is mostly done using spreadsheets, which are no longer fit for purpose. Ramp's platform utilises cohort-based forecasting, a technique used to extrapolate the behaviour of different groups of customers for a product or service.
ThoughtSpot Integrates with GPT-3 for AI-Centric Analytics
With ThoughtSpot Sage, ThoughtSpot is taking analytics to the next level through advanced natural language processing (NLP) and generative AI. In doing so, data teams are able to exponentially increase their impact across an organization by freeing themselves from tediously managing report requests as business users self-serve insights.
Tredence Launches Energy.AI for Specific Industries
Energy.AI helps enterprises monitor, capture, and optimize energy usage and improve operational efficiency, increasing speed to action by a minimum of 30 percent. Delivering a 360-degree view of energy consumption and predictive insights, Energy.AI provides comprehensive visibility into organizational energy consumption.
Expert Insights Section
Watch this space each week as Solutions Review editors will use it to share new Expert Insights Series articles, Contributed Shorts videos, Expert Roundtable and event replays, and other curated content to help you gain a forward-thinking analysis and remain on-trend. All to meet the demand for what its editors do best: bring industry experts together to publish the web's leading insights for enterprise technology practitioners.
Solutions Review Set to Host Alteryx for Exclusive Webinar on April 6
With the next Solutions Spotlight event, the team at Solutions Review has partnered with leading data science and analytics automation vendor Alteryx to provide viewers with a unique webinar called Unlock Cloud Use Cases with the Alteryx Analytics Cloud Platform + AWS.
Data & Analytics Industry Analyst Philip Russom Ph.D. Set to Cover the 2023 Gartner Data and Analytics Summit for Solutions Review
This summit is produced by the world's largest and most influential "think tank" and research firm in information technology (IT), namely Gartner, Inc. Because of its size and long history, Gartner has the unique resources required to develop thought leadership and practical advice for every discipline in IT.
Kinetica CEO Nima Negahban Offers Exclusive Database Vectorization Definition
In a vectorized query engine, data is stored in fixed-size blocks called vectors, and query operations are performed on these vectors in parallel, rather than on individual data elements. This allows the query engine to process multiple data elements simultaneously, resulting in faster query execution and improved performance.
For consideration in future analytics and data science news roundups, send your announcements to the editor: tking@solutionsreview.com.