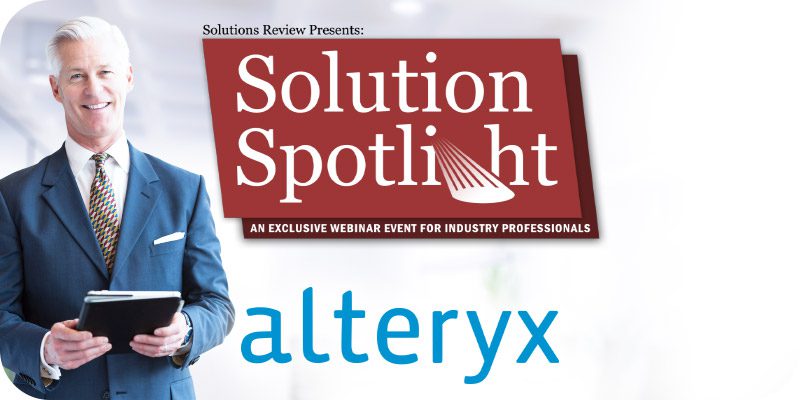 Solutions Review's Solution Spotlight with Alteryx is entitled: Unlock Cloud Use Cases with the Alteryx Analytics Cloud Platform + AWS.
What is a Solutions Spotlight?
Solutions Review's Solution Spotlights are exclusive webinar events for industry professionals across enterprise technology. Since its first virtual event in June 2020, Solutions Review has expanded its multimedia capabilities in response to the overwhelming demand for these kinds of events. Solutions Review's current menu of online offerings includes the Demo Day, Solution Spotlight, best practices or case study webinars, and panel discussions. And the best part about the "Spotlight" series? They are free to attend!
Why You Should Attend
Solutions Review is one of the largest communities of IT executives, directors, and decision-makers across enterprise technology marketplaces. Every year over 10 million people come to Solutions Review's collection of sites for the latest news, best practices, and insights into solving some of their most complex problems.
With the next Solutions Spotlight event, the team at Solutions Review has partnered with leading data science and analytics automation vendor Alteryx to provide viewers with a unique webinar called Unlock Cloud Use Cases with the Alteryx Analytics Cloud Platform + AWS.
Speakers
Alex Gnibus, Technology Solutions Marketing Manager

:

As a Technology Solutions Marketing Manager, Alex drives messaging and storytelling for 

Alteryx

's combined solutions with leading technology vendors like AWS. With a background in journalism and experience working with high-growth cloud and analytics companies, Alex is passionate about making technical information accessible so more organizations can benefit from it.

Amir Khan, Partner Sales Engineering Team Lead

:

Amir Khan is an SE leader at 

Alteryx

 with a passion for building high-achieving teams an problem solving.  With his extensive background in wealth advisory services, Amir found passion in data driven insights and for the last 7 years has become a leader in the data and analytics space. He helps customers and partners drive transformational outcomes with 

Alteryx

.
About Alteryx
Alteryx offers data science and machine learning functionality via a suite of software products. Headlined by Alteryx Designer, which automates data preparation, data blending, reporting, predictive analytics, and data science, the self-service platform touts more than 260 drag-and-drop building blocks. Alteryx lets users see variable relationships and distributions quickly, as well as select and compare algorithm performance with ease. No coding is required while the software can be deployed in the cloud, behind your own firewall, or in a hosted environment. 

FAQ
What: Unlock Cloud Use Cases with the Alteryx Analytics Cloud Platform + AWS
When: Thursday, April 6, 2023, at 12:00 PM Eastern Time
Where: Zoom meeting (see registration page for more detail)