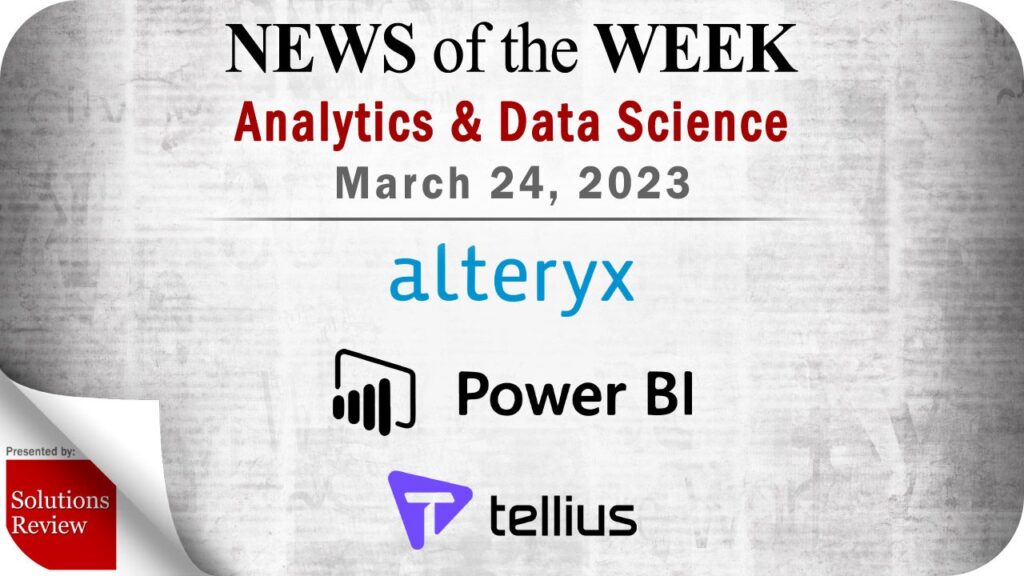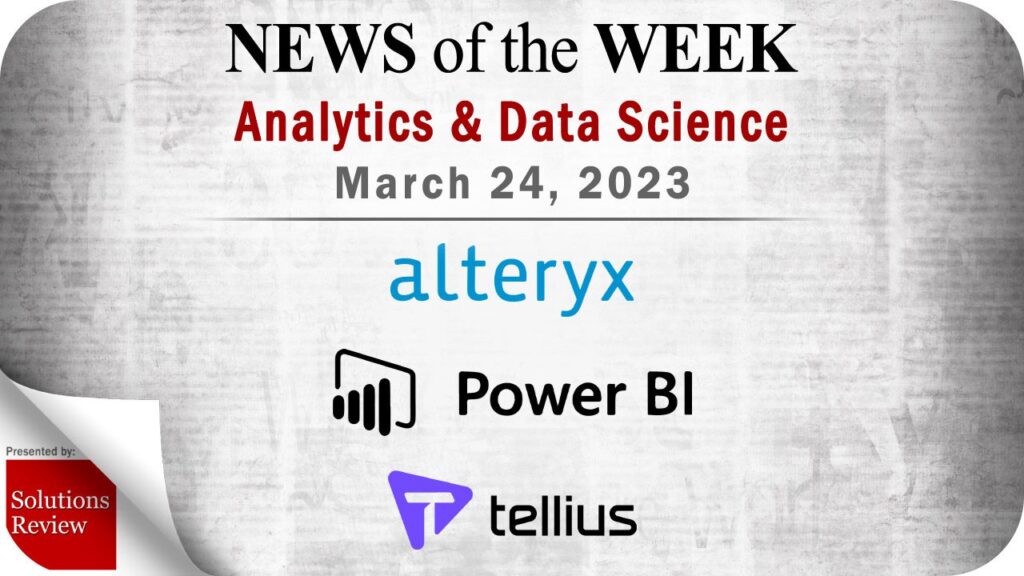 The editors at Solutions Review have curated this list of the most noteworthy analytics and data science news items for the week of March 24, 2023.
Keeping tabs on all the most relevant analytics and data science news can be a time-consuming task. As a result, our editorial team aims to provide a summary of the top headlines from the last week, in this space. Solutions Review editors will curate vendor product news, mergers and acquisitions, venture capital funding, talent acquisition, and other noteworthy analytics and data science news items.
Analytics and Data Science News for the Week of March 24, 2023
[hr style="single"]
Alteryx to Partner with US DoD to Address 'Data and Analytics Skill Gap'
The DoD SkillBridge program enables service members to gain valuable civilian work experience through specific industry training, apprenticeships, or internships during the last 180 days of service. Each year, SkillBridge connects 200,000 service members with industry partners in real-world job experiences.
[hr style="single"]
AnswerRocket Debuts New AI Assistant for Data Analysis Called 'Max'
Max combines AnswerRocket's augmented analytics platform with OpenAI's GPT-4 large language model to deliver a simple conversational AI experience for insights discovery. With Max, users can ask natural language questions and get back accurate insights and visualizations in seconds.
[hr style="single"]
Databricks Releases Open-Source ChatGPT Alternative
The code is an AI model, an algorithm that is trained on sets of data and can then learn from new data to perform a variety of tasks. Databricks CEO Ali Ghodsi said the release was aimed at demonstrating a viable alternative to training a kind of AI model called a large language model with enormous resources and computing power.
[hr style="single"]
Domino Data Lab Introduces Spring Version of Enterprise MLOps Platform
Domino's Spring 2023 release expands enterprise-grade support for open-source ML tools — Ray 2.0, MLflow, and Feast's feature store — used to develop today's most advanced AI apps. Additionally, Domino Cloud, a new fully-managed MLOps platform-as-a-service is now available for fast and easy data science at scale.
[hr style="single"]
Microsoft Updates On-Prem Data Gateway for Power BI Desktop
This update brings the on-premises data gateway up to date with the March 2023 release of Power BI Desktop. This version of the gateway will ensure that the reports that you publish to the Power BI Service and refresh via the gateway will go through the same query execution logic/run-time as in the March version of Power BI Desktop.
[hr style="single"]
Tellius Drops GPT-Integrated Self-Service Analytics Tool Called Copilot
The new features automatically generate natural language synonyms, code improvements, and enhanced data stories, adding to the company's existing AI-powered analytics capabilities to further enable every insights-driven organization to rapidly implement and scale self-service analytics.
[hr style="single"]
Yellowbrick Data Partners with Panintelligence for SaaS App Embedded BI
Conceived for software as a service (SaaS) companies working in fintech, health tech, and other sectors where data sovereignty and security requirements place additional restrictions on the use of cloud, this collaboration supports secure public cloud and hybrid cloud deployments of embedded analytics and business intelligence tools across multiple cloud and on-premises datasets.
[hr style="single"]
Expert Insights Section
Watch this space each week as Solutions Review editors will use it to share new Expert Insights Series articles, Contributed Shorts videos, Expert Roundtable and event replays, and other curated content to help you gain a forward-thinking analysis and remain on-trend. All to meet the demand for what its editors do best: bring industry experts together to publish the web's leading insights for enterprise technology practitioners.
Solutions Review Set to Host Alteryx for Exclusive Webinar on April 6
With the next Solutions Spotlight event, the team at Solutions Review has partnered with leading data science and analytics automation vendor Alteryx to provide viewers with a unique webinar called Unlock Cloud Use Cases with the Alteryx Analytics Cloud Platform + AWS.
For consideration in future analytics and data science news roundups, send your announcements to the editor: tking@solutionsreview.com.