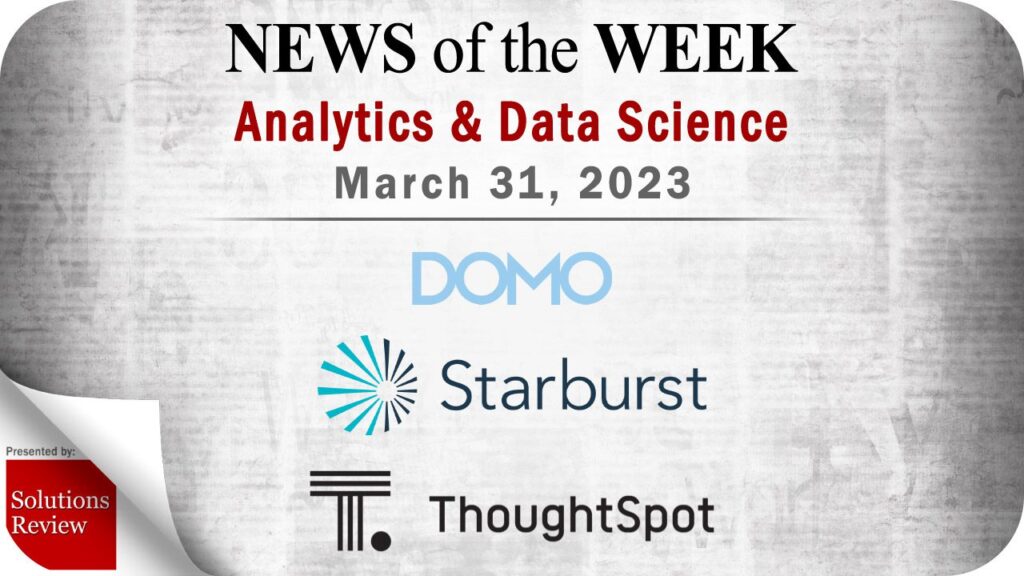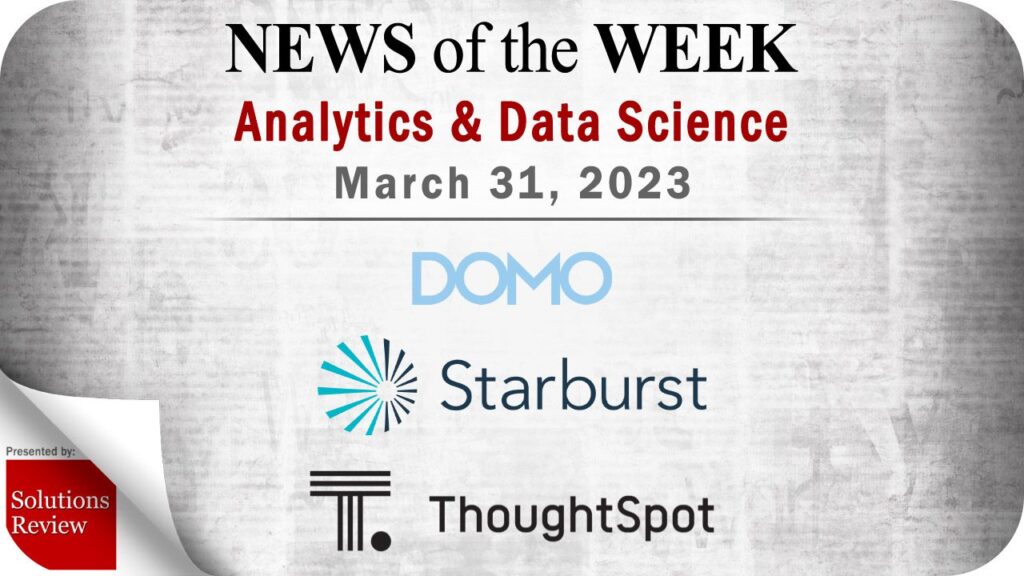 Solutions Review editors curated this list of the most noteworthy analytics and data science news items for the week of March 31, 2023.
Keeping tabs on all the most relevant analytics and data science news can be a time-consuming task. As a result, our editorial team aims to provide a summary of the top headlines from the last week, in this space. Solutions Review editors will curate vendor product news, mergers and acquisitions, venture capital funding, talent acquisition, and other noteworthy analytics and data science news items.
Analytics and Data Science News for the Week of March 31, 2023
[hr style="single"]
Domo Announces New Low-Code Features & Native Integrations
Domo unveils a series of low-code to pro-code solutions to help customers rapidly create and deploy personalized data experiences for everyone across their organization. Domo's Cloud Amplifier provides robust single and bi-directional data integrations with Snowflake, Dremio, Amazon Redshift, Databricks, Google BigQuery, and more.
[hr style="single"]
Microsoft Adds New 'Pin Workspaces' to Power BI Desktop
Workspaces are places where you collaborate with colleagues. It is very common that you find there is a long list of workspaces in the workspace flyout, and you must search every time to navigate to your workspace. This functionality enables you to easily navigate to the workspaces that are most relevant to you without searching through the workspace list.
[hr style="single"]
Starburst Announces Google BigQuery Designation & Partnership with DataGalaxy
Its latest innovations with Google Cloud bring the power of Starburst to native Google Cloud services Dataplex and BigQuery. As part of the partnership, the two vendors are launching a new integration linking DataGalaxy's dictionary with Starburst and Trino, the open source distributed SQL query engine.
[hr style="single"]
ThoughtSpot is Set to 'Deepen' its Partnership with Google Cloud
This new partnership includes delivery of ThoughtSpot's SaaS offering on Google Cloud, a deep integration with Looker Modeler, and bringing ThoughtSpot Sheets Analytics to Google Connected Sheets, along with new ways to purchase, deploy, and consume ThoughtSpot on the Google Cloud Marketplace, Google BigQuery Partner Center, and Google Workspace Marketplace.
[hr style="single"]
Expert Insights Section
Watch this space each week as Solutions Review editors will use it to share new Expert Insights Series articles, Contributed Shorts videos, Expert Roundtable and event replays, and other curated content to help you gain a forward-thinking analysis and remain on-trend. All to meet the demand for what its editors do best: bring industry experts together to publish the web's leading insights for enterprise technology practitioners.
Solutions Review Set to Host Alteryx for Exclusive Webinar on April 6
With the next Solutions Spotlight event, the team at Solutions Review has partnered with leading data science and analytics automation vendor Alteryx to provide viewers with a unique webinar called Unlock Cloud Use Cases with the Alteryx Analytics Cloud Platform + AWS.
Data and Analytics Thought Leader Philip Russom PhD. Reports on Gartner D&A Event for Solutions Review
Independent analyst for data and analytics Philip Russom PhD. offers commentary on the Gartner view of data engineering, data fabric, and data lake and data lakehouse from the recent Gartner Data & Analytics Summit 2023. In three short posts, Russom extracts all the expert insights from the event, and, paired with Solutions Review editors, brings them to you for ease of execution.
For consideration in future analytics and data science news roundups, send your announcements to the editor: tking@solutionsreview.com.