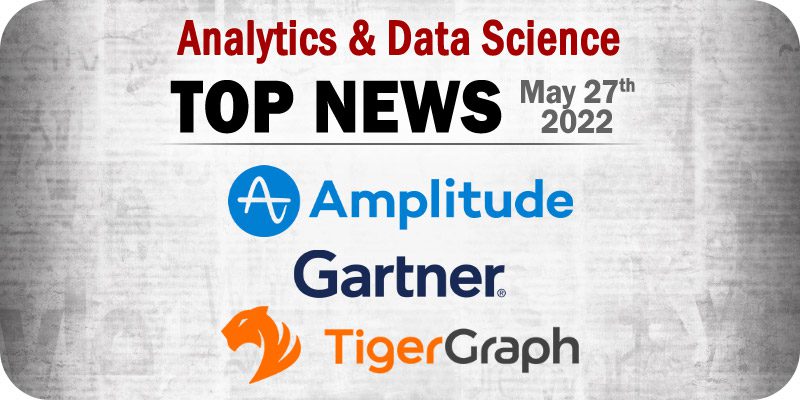 The editors at Solutions Review have curated this list of the most noteworthy analytics and data science news items for the week of May 27, 2022.
Keeping tabs on all the most relevant data management news can be a time-consuming task. As a result, our editorial team aims to provide a summary of the top headlines from the last month, in this space. Solutions Review editors will curate vendor product news, mergers and acquisitions, venture capital funding, talent acquisition, and other noteworthy data science and analytics news items.
Top Analytics and Data Science News for the Week Ending May 27, 2022
Amplitude Unveils New Customer Data Platform
With the Presto Query Analyzer, data platform teams can get instant insights into their Presto clusters including query performance, bandwidth bottlenecks, and much more. The Presto Query Analyzer was built for the Presto community and is free to use. Presto has become the SQL query engine of choice for the open data lakehouse.
Gartner Releases New Market Guide for DSML Engineering Platforms
DSML engineering platforms focus primarily on the development of machine learning models that can rive business varying systems. As a result, tools in this market have evolved from supporting a core data science audience with code-driven model development to now also supporting data engineering, application development, and infrastructure user personas. Gartner recommends selecting a provider by identifying gaps in current model development practices and paying attention to model deployment, management, and governance capabilities.
Gartner Releases New Market Guide for Multipersona Data Science and Machine Learning Platforms
Multipersona data science and machine learning tools enable more people in an organization to utilize key capabilities for advanced analytics. Gartner is quick to recommend against limiting these platforms to model prototyping and development. Data and analytics leaders should put these products to use to fully support the deployment of data science and machine learning models. This "should" cover not only technical aspects but also governance, risk management, and responsible AI ethics.
TigerGraph Announces Machine Learning Workbench
The ML Workbench is a Jupyter-based Python development framework that allows data scientists to quickly build powerful deep learning AI models using connected data. The ML Workbench enables organizations to unlock even better insights and greater business value on node prediction applications, such as fraud, and edge prediction applications, such as product recommendations.
For consideration in future data analytics news roundups, send your announcements to tking@solutionsreview.com.

Latest posts by Timothy King
(see all)