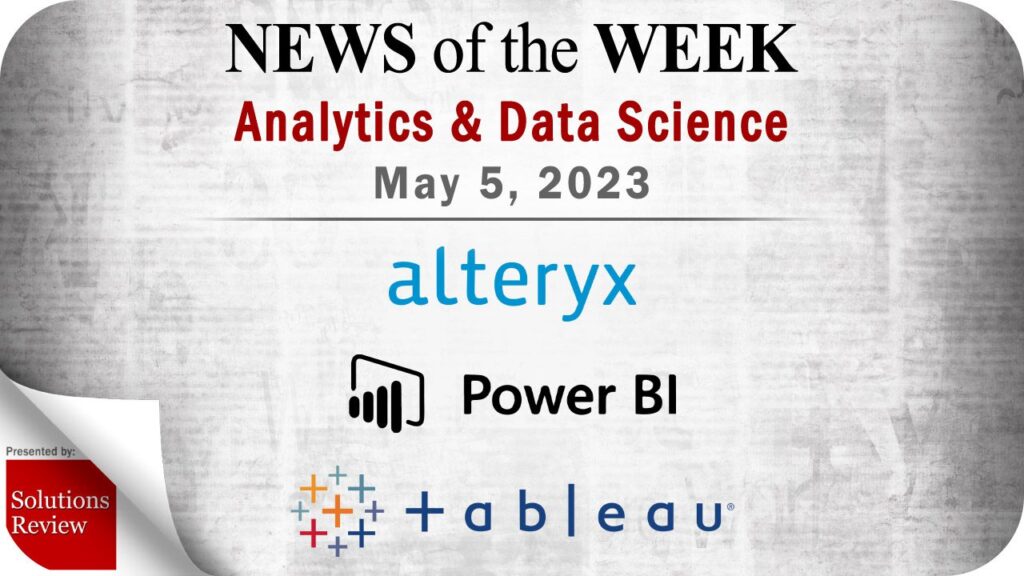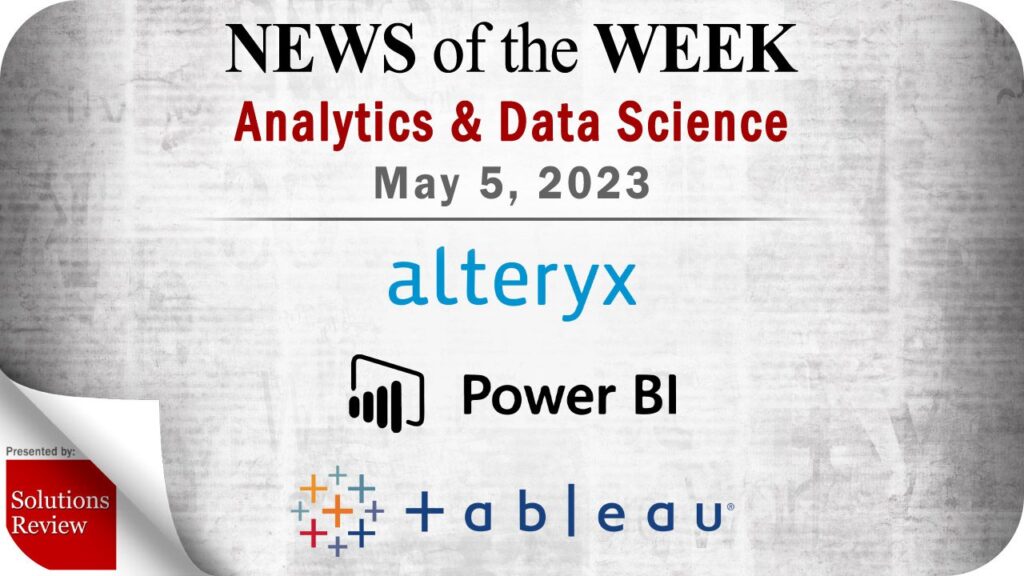 Solutions Review editors curated this list of the most noteworthy analytics and data science news items for the week of May 5, 2023.
Keeping tabs on all the most relevant analytics and data science news can be a time-consuming task. As a result, our editorial team aims to provide a summary of the top headlines from the last week, in this space. Solutions Review editors will curate vendor product news, mergers and acquisitions, venture capital funding, talent acquisition, and other noteworthy analytics and data science news items.
Analytics and Data Science News for the Week of May 5, 2023
Anaconda Acquires EduBlocks for K-12 Data Literacy Education Offerings
With EduBlocks, Anaconda expands its reach and offerings for K-12 schools as well as for beginner-level professionals. Trusted by over 35 million users, educators and school IT staff who use Anaconda now have access to a dedicated partner committed to keeping students safe while teaching the skills of tomorrow.
Alteryx Achieves Google Cloud Ready – AlloyDB Designation
With Alteryx's expanding library of connectors, customers can access data from a wide variety of databases allowing them to utilize more data than ever before. This designation recognizes the partner solutions that have met a core set of functional requirements and have been validated in collaboration with Google cloud engineering teams.
Attain Insight Unveils Map Intelligence v4.26 for IBM Cognos Analytics Users
Map Intelligence now includes built-in license compliance capabilities, to help companies keep track of software licenses for both Map Intelligence and Esri, providing one place to manage license compliance, which reduces the risk of a non-compliant software license audit.
Databricks Announces Terraform Modules; Investment in Immuta
This significant milestone showcases that Terraform and the Databricks provider are widely used by many customers to automate infrastructure deployment and management of their Lakehouse Platform. Immuta's Series E funding round marks the latest step in its six-year partnership with the popular data security platform.
Microsoft Enables Item Links to Configure Power BI Tabs in Teams
These updates help you create tabs faster, allowing you to use links to configure tabs, and helps open a default page and set default filters for the items you share through tabs. Now with link support, you can ensure the right default content opens for users the moment they open the Power BI tab.
Mozart Data Launches New Automated Data Modeling & Reporting Feature
The feature currently supports Mozart Data's two most commonly used data sources for e-commerce businesses: Stripe and Shopify. Mozart is working to expand the feature to other popular tools including Hubspot, Quickbooks, Salesforce, and popular advertising sources including Google Ads, Facebook Ads, and LinkedIn Ads.
Rootstock Software Unveils Enterprise Insights BI Tool for Manufacturing
This analytics solution is designed to provide manufacturers with a complete view of their business, so they can chart a course toward profitability, efficiency, and value throughout their operations. In addition to this new analytics product, Rootstock's Spring '23 Release also includes enhancements to its Financial Management module and a boosted Lightning experience.
Tableau Software Names Salesforce Veteran Ryan Aytay CEO
Aytay was previously president and chief revenue officer of Tableau. He replaces Mark Nelson, the former CEO of Salesforce-owned Tableau who stepped down in December. Aytay, based in San Francisco, joined Salesforce in 2007 and became chief business officer in 2020 before taking the president role at Tableau in February 2022.
Teradata Announces Availability of Google Cloud Vertex AI with VantageCloud and ClearScape Analytics
By operationalizing sophisticated Vertex AI models with the scalability and performance of ClearScape Analytics, customers can move from experimenting with AI to achieving AI-driven business success across a multitude of use cases. When combined, Teradata's AI and Vertex AI enable companies to put more sophisticated AI models into production, faster, and to scale those models across the organization.
Expert Insights Section
Watch this space each week as Solutions Review editors will use it to share new Expert Insights Series articles, Contributed Shorts videos, Expert Roundtable and event replays, and other curated content to help you gain a forward-thinking analysis and remain on-trend. All to meet the demand for what its editors do best: bring industry experts together to publish the web's leading insights for enterprise technology practitioners.
Solutions Review Celebrates 50 Vendors Served with Summer '23 Virtual Events Schedule
Solutions Review is proud to reach a milestone of 50 vendors featured as participants in its growing selection of virtual event programs. With tech conferences forever changed, Solutions Review has expanded its multimedia capabilities in response to the overwhelming demand for these kinds of events. Since its first virtual event in June 2020, Solutions Review has hosted more than 35 exclusive webinars featuring 50 unique vendors, with 65 individual segments.
Solutions Review Set to Host Deltek for Exclusive Webinar on May 11
Alongside a live product demo—which will showcase how Deltek Vantagepoint's project command center can help consulting firms deliver more efficient and profitable projects—the Expert Webinar event will feature a Q&A with Deltek's Manager of Solutions Engineering.
For consideration in future data science news roundups, send your announcements to the editor: tking@solutionsreview.com.