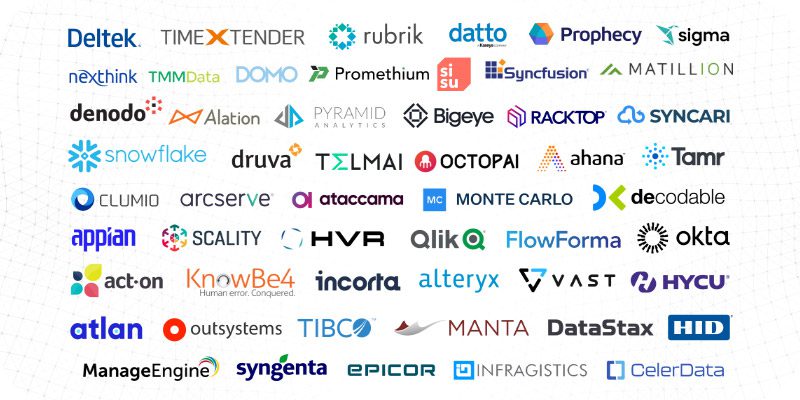 Solutions Review is proud to announce its packed Summer '23 virtual events schedule as it celebrates its 50th business software vendor webinar partner.
Solutions Review is proud to reach a milestone of 50 vendors featured as participants in its growing selection of virtual event programs. With tech conferences forever changed, Solutions Review has expanded its multimedia capabilities in response to the overwhelming demand for these kinds of events. Since its first virtual event in June 2020, Solutions Review has hosted more than 35 exclusive webinars featuring 50 unique vendors, with 65 individual segments.
Solution providers that have partnered with Solutions Review for this program include Domo, Sisu Data, TMMData (Minitab), Octopai, HVR, Denodo, Alation, Matillion, Tamr, Pyramid Analytics, FlowForma, Ataccama, Ahana, Promethium, Clumio, Druva, Scality, Appian, HYCU, OutSystems, Atlan, Act-On Software, Syncfusion, Qlik, MANTA, TimeXtender, Okta, TIBCO, Incorta, KnowBe4, Epicor, HID Global, Monte Carlo, Syncari, Infragistics, Nexthink, DataStax, Telmai, Snowflake, Syngenta, RackTop Systems, Sigma Computing, Decodable, Bigeye, Prophecy, ManageEngine, Arcserve, VAST Data, Alteryx, and Rubrik.
Solutions Review President Doug Atkinson weighed in on the success of this program: "We realized the incredible reach we could achieve through these exclusive online events. With audience interest only increasing, we knew we had to go into the summer with a virtual marketing strategy around creating connections between buyers and sellers of enterprise tech." 
Solutions Review's current menu of virtual event offerings includes Demo Day, Solution Spotlight, Tactical Roundtable, and more. Its current summer 2023 virtual events schedule is listed below:
Thursday May 11: Solution Spotlight featuring Deltek
Wednesday May 17: Solution Spotlight featuring Datto
Thursday May 18: Tactical Roundtable featuring Monte Carlo
Tuesday May 23: Data Protection Demo Day Exclusive with VAST Data
Wednesday May 24: Solution Spotlight featuring Datto (UK)
Thursday June 1: Solution Spotlight featuring Monte Carlo
Thursday June 8: Tactical Roundtable (Data Privacy)
Thursday June 15: Solution Spotlight featuring SUSE
Thursday June 22: Solution Spotlight featuring Nexthink
Thursday July 6: Solution Spotlight featuring Monte Carlo
Thursday July 13: Solution Spotlight featuring Zscaler
Due to overwhelming demand, Solutions Review is opening up Tuesday virtual event time slots. Contact us for more information.
Solutions Review constantly surveys its audience of business software buyers and practitioners to find out what they care most about when considering whether to attend a virtual event. Late last year after it was clear where this program was headed, Solutions Review's marketing team tapped into a sub-section of its audience of 10 million enterprise IT professionals on LinkedIn via the platform's polling feature over a 6-week period to generate the results. It asked more than 240 respondents to vote on their preferred virtual event features, platform, and length.
The intelligence gathered from Solutions Review's Universe of Influence polling speaks to what a professional audience values when it comes to virtual events. Solutions Review makes the most of its audience's time by focusing on shorter, interactive events hosted on popular private webinar platforms.
All of Solutions Review's virtual event programs come with market-leading production value, lead guarantees, and amplification through several promotional channels. Webinars are also simulcast to registered audience on popular platforms including LinkedIn Live, YouTube, Zoom, and more. And with on-demand recordings, you can maximize your exposure and capture valuable leads long after the event is over. 

Solutions Review is a collection of business software news and resource sites that aggregates, curates, and creates the leading content to connect buyers and sellers. Over the past six years, Solutions Review has launched 20 distinct and category-specific Buyer's Guide sites for technologies ranging from Cybersecurity to Big Data and WorkTech, as well as Identity and Access Management, Endpoint Security, Data Analytics and Data Management, Enterprise Resource Planning and Business Process Management, and Enterprise Cloud and Network Monitoring.