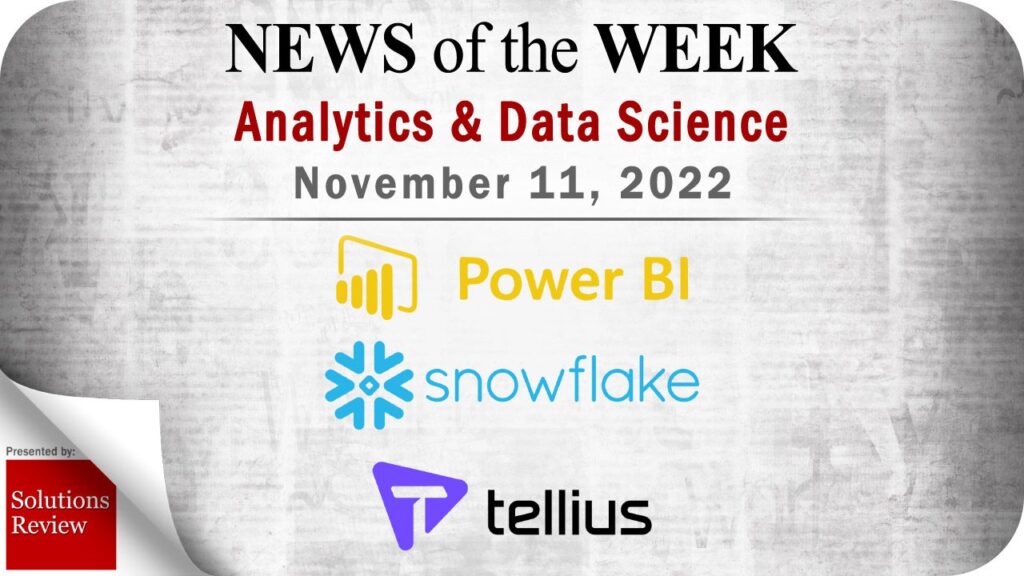 The editors at Solutions Review have curated this list of the most noteworthy analytics and data science news items for the week of November 11, 2022.
Keeping tabs on all the most relevant analytics and data science news can be a time-consuming task. As a result, our editorial team aims to provide a summary of the top headlines from the last month, in this space. Solutions Review editors will curate vendor product news, mergers and acquisitions, venture capital funding, talent acquisition, and other noteworthy analytics and data science news items.
Top Analytics and Data Science News for the Week Ending November 11, 2022
KDnuggets Drops 30 Resources for Mastering Data Visualization
Data visualization is an art and a science. It's a science because, of course, the data part comes from numbers and facts. But it's an art because you have to think about the psychology of your recipient. Want to master data visualization? This list of 30 resources and tools will help you get started on your path toward mastering data visualization.
Microsoft Adds New Cache Refresh Settings to Power BI Premium
Note that datasets with refresh operations performed by the XMLA endpoint or the enhanced refresh Power BI REST API, do not automatically refresh tile caches. The ClientCacheRefreshPolicy only applies to datasets with refresh operations performed by the Power BI service.
Pyramid Analytics Announces Expansion of Channel Alliances
Pyramid is actively recruiting partners, investing in partner training and development, and launching joint go-to-market programs with its partners. Pyramid has tripled the number of partners across all geographies in which it operates over the past year.
Snowflake Announces Support for Python
The integration will allow developers to create applications with Python using their data in Snowflake, deploy and run these applications on Snowflake's secure and governed platform, and share their applications with business teams to further unlock the value of data and ML models.
Solutions Review Data Management and Analytics Announces Teaser of Executive Roundtables for 4th-annual BI Insight Jam
Solutions Review Reveals Philip Russom, Mark Diamond, Robert Eve, Susan Walsh – The Classification Guru, Tom Redman "the Data Doc", and David Loshin as Executive Roundtable moderators and panelists. This year Solutions Review is doubling down on its popular expert panel segments to meet the demand for what its editors do best; bring industry experts together to publish the web's leading content for enterprise technologists.
Tellius Drops Version 4.0 of its Data Analytics and BI Platform
The enhancements in Tellius 4.0 will help users unify insights for more holistic views, accelerate ad hoc analysis in an enterprise-controlled manner, and get faster onboarding and time to insights. To reduce this friction, Tellius has added Multi-Business View Vizpads (MBV Vizpads) to its platform, unifying analysis across disparate data sources.
Yale is Opening a New Data Science Learning Institute
The Institute for Foundations of Data Science, otherwise known as both the Kline Tower Institute and as FDS, launched on Oct. 14 as part of an ongoing effort by the University Science Strategy Committee, which identified the integration of data science and its mathematical foundations on campus as its top priority.
For consideration in future analytics and data science news roundups, send your announcements to the editor: tking@solutionsreview.com.

Latest posts by Timothy King
(see all)