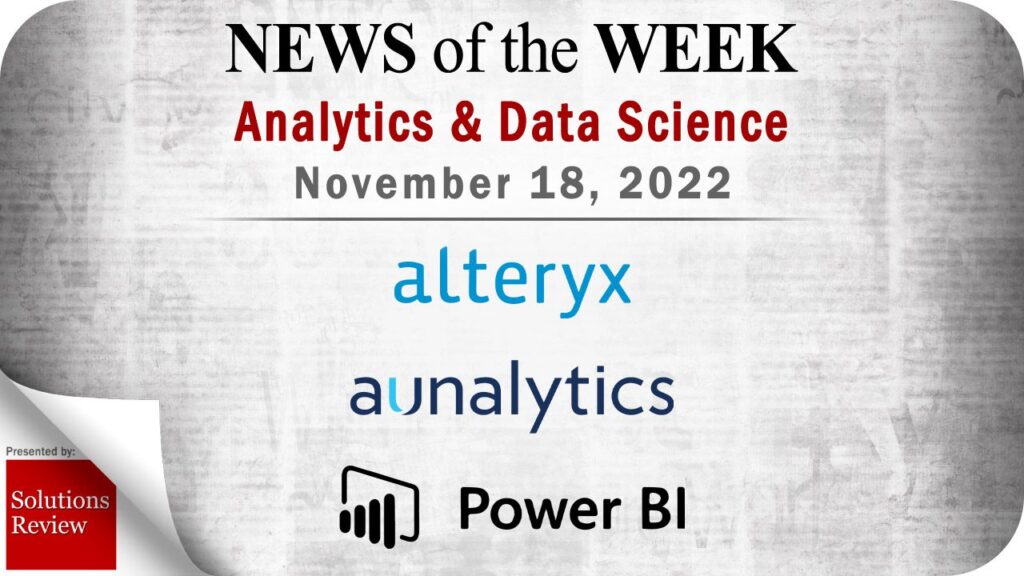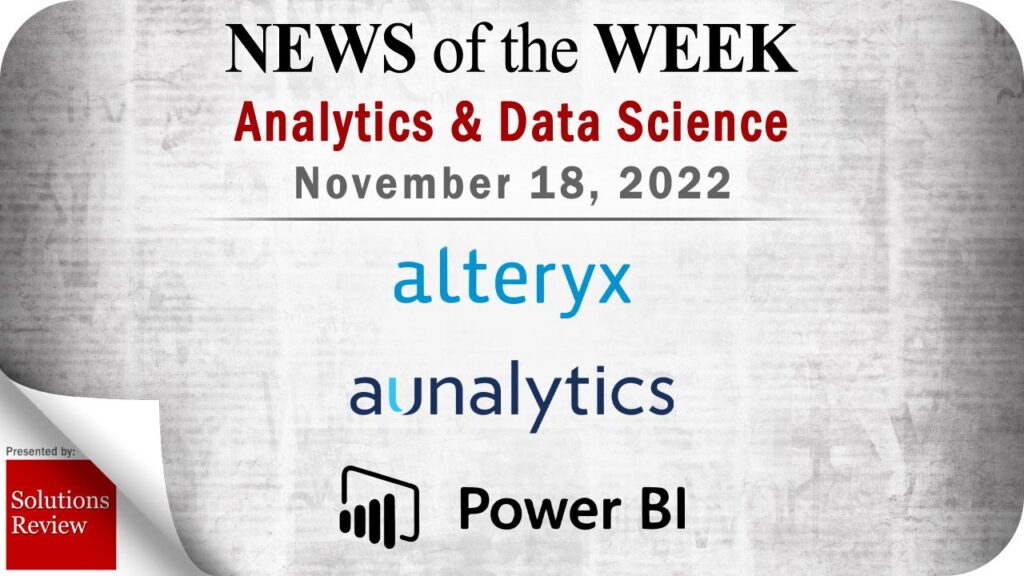 The editors at Solutions Review have curated this list of the most noteworthy analytics and data science news items for the week of November 18, 2022.
Keeping tabs on all the most relevant analytics and data science news can be a time-consuming task. As a result, our editorial team aims to provide a summary of the top headlines from the last week, in this space. Solutions Review editors will curate vendor product news, mergers and acquisitions, venture capital funding, talent acquisition, and other noteworthy analytics and data science news items.
Top Analytics and Data Science News for the Week Ending November 18, 2022
Alteryx Announces Early Access to New SaaS Designer Experience
Alteryx announced the Early Access of the easy-to-use Designer experience in the Alteryx Analytics Cloud to make analytics accessible to all users. The new Designer interface will be powered by the Alteryx Analytics Cloud platform, meaning all cloud users will have access to the browser-based no-code analytics tool, with in-database pushdown processing for cloud data warehouses.
Aunalytics Unveils Enterprise Analytics as a Managed Sevice for Secondary Markets
Enterprise Analytics is a managed service comprised of experts in data analytics, data engineering, artificial intelligence (AI), and machine learning. The new solution couples the tools and technology required to help enterprises achieve their analytics objectives for business success.
Deloitte Includes Sigmoid, Domino Data Lab, Incorta, DataRobot, and More in 2022 Fast 500
Now in its 28th year, the Deloitte Technology Fast 500 honors the most innovative, fastest-growing public and private companies from all over North America. The awards program was created to recognize the passion and dedication it takes to be an industry disrupter across the technology, media, telecommunications, life sciences, fintech, and energy tech sectors.
KNIME Announces the Release of KNIME Business Hub
KNIME Business Hub offers organizations a single environment where all data workers can securely collaborate and share best practices, as well as deploy and monitor their analytical workflows. KNIME Business Hub is available in two configurations – Standard Edition and Enterprise Edition.
Microsoft Announces Support for Paginated Reports in Power BI Pro
Now Microsoft Power BI customers have the flexibility to create and consume interactive reports as well as paginated reports using Power BI Pro. The new capability will be rolled out gradually over the coming weeks and should be available in all regions by the end of the calendar year.
MotherDuck Raises $47.5 Million for Serverless Data Analytics Platform
The funding came from Andreessen Horowitz, Redpoint, Madrona, Amplify, and Altimeter to deliver a serverless easy-to-use data analytics platform for data small and large. MotherDuck is also joining forces with the DuckDB team to combine the elegance and speed of DuckDB with the collaboration and scalability of the cloud.
Solutions Review Reveals Executive Roundtables brought to you by DataStax, Denodo, and Monte Carlo & Expert Panelists Michael Magalsky and Prashanth Southekal for 4th-annual BI Insight Jam
Last week, Solutions Review revealed Philip Russom, Mark Diamond, Robert Eve, Susan Walsh – The Classification Guru, Tom Redman "the Data Doc", and David Loshin as Executive Roundtable moderators and panelists. This year Solutions Review is doubling down on its popular expert panel segments to meet the demand for what its editors do best; bring industry experts together to publish the web's leading content for enterprise technologists.
TIBCO's ibi WebFOCUS Wins Best Product in 2022 SaaS Awards for BI and Analytics
WebFOCUS is an enterprise business intelligence and analytics solution that combines data management, visual discovery, predictive analytics, and visualizations. WebFOCUS connects with an organization's existing data and analytics stack, allowing customers to create reports, dashboards, and customer-facing applications at scale with deployments in excess of 25 million.
TigerGraph Drops New Cloud Graph Offering with Built-In Data Viz and ML
Available on Amazon Web Services (AWS), Google Cloud Platform (GCP), and Microsoft Azure, TigerGraph Cloud now equips users with a comprehensive, streamlined approach to deploy and maintain multiple graph database solutions with visual analytics and machine learning tools. ​​
Zenlytic Raises $5.4 Million in Seed Venture Capital Funding
The round was led by Bain Capital Ventures. Additional participants in the round include Primary Venture Partners, Correlation Ventures, Company Ventures, Habitat Partners and the Sequoia Scout Fund. Zenlytic is a tool for commerce brands that unifies business intelligence and product analytics into a simple natural-language interface
For consideration in future analytics and data science news roundups, send your announcements to the editor: tking@solutionsreview.com.

Latest posts by Timothy King
(see all)