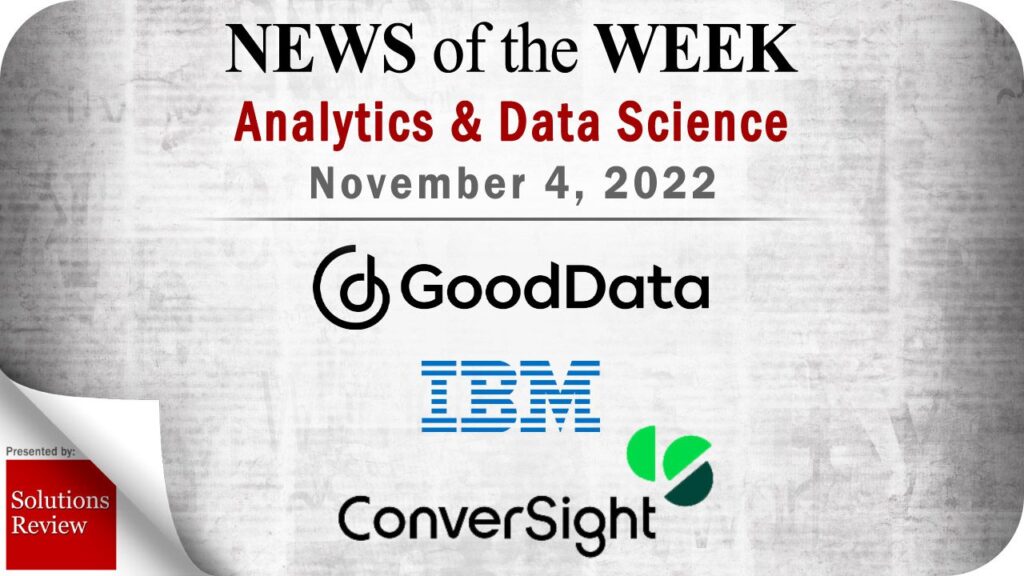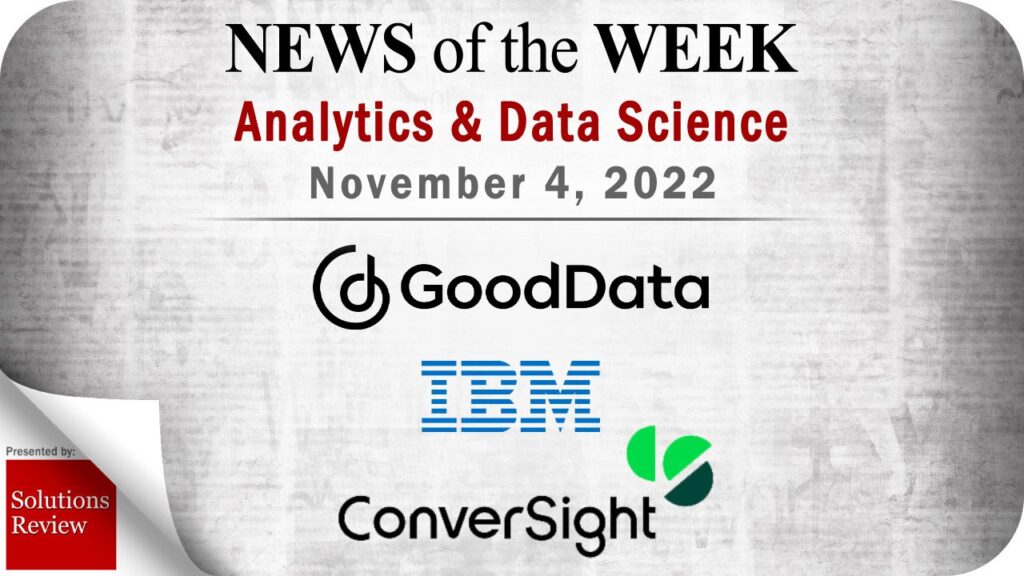 The editors at Solutions Review have curated this list of the most noteworthy analytics and data science news items for the week of November 4, 2022.
Keeping tabs on all the most relevant analytics and data science news can be a time-consuming task. As a result, our editorial team aims to provide a summary of the top headlines from the last month, in this space. Solutions Review editors will curate vendor product news, mergers and acquisitions, venture capital funding, talent acquisition, and other noteworthy analytics and data science news items.
Top Analytics and Data Science News for the Week Ending November 4, 2022
ConverSight Unveils CS23 Augmented Analytics Platform
The new release includes enhanced capabilities that provide organizations with increased flexibility to use ConverSight's Integrated Augmented Analytics platform within their own CRM and ERPs while empowering them with the confidence to plan for the future, one question at a time.
Galileo Releases Free Machine Learning Platform for Unstructured Data
Galileo Community Edition is a free version of its platform that enables data scientists working on Natural Language Processing (NLP) to build high-performing ML models quickly with better quality training data. Galileo instantly surfaces the erroneous/bad unstructured data (mislabels, imbalance, drifted data, etc.) with actions and integrations to fix them.
GoodData Unveils GoodData Cloud on AWS
GoodData Cloud is a fully managed, open, API-first analytics platform, and it comes pre-integrated with modern analytics services like Snowflake, Amazon Redshift, and Dremio. GoodData cloud also offers a wide variety of APIs, Software Development Kits (SDK), and low-code/no-code user interaction tools from dashboards to data exploration, plus out-of-the-box multi-tenancy, compliance, and advanced security.
IBM Drops New Business Analytics Enterprise Suite of BI Tools
IBM Business Analytics Enterprise is a suite of business intelligence planning, budgeting, reporting, forecasting, and dashboard capabilities. Along with IBM Planning Analytics with Watson and IBM Cognos Analytics with Watson, this suite also includes a new IBM Analytics Content Hub that helps streamline how users discover and access analytics and planning tools from multiple vendors in a single, personalized dashboard view.
What to Expect During the 4th-Annual Solutions Review BI Insight Jam on December 15
The BI Insight Jam is a data management and analytics community web event. Solutions Review editors are bringing the best and brightest minds in the industry together for a one-day social media gathering. Participants will include industry analysts, experts, influencers, practitioners, and software solution providers under the hashtag #BIInsightJam. This year's event theme is Cloud Data Architectures: Best Practices for Managing, Analyzing, and Governing Data in the Cloud.
Data science tools are perhaps the most imperative in the toolset of any modern, digital-first organization. As a result, new techniques, technologies, and theories are continually being developed to run advanced analysis, and they all require development and programming to ensure a path forward. With this in mind, we've compiled this list of the best university data science bootcamps to consider if you're looking to grow your predictive analytics skills.
For consideration in future analytics and data science news roundups, send your announcements to the editor: tking@solutionsreview.com.

Latest posts by Timothy King
(see all)