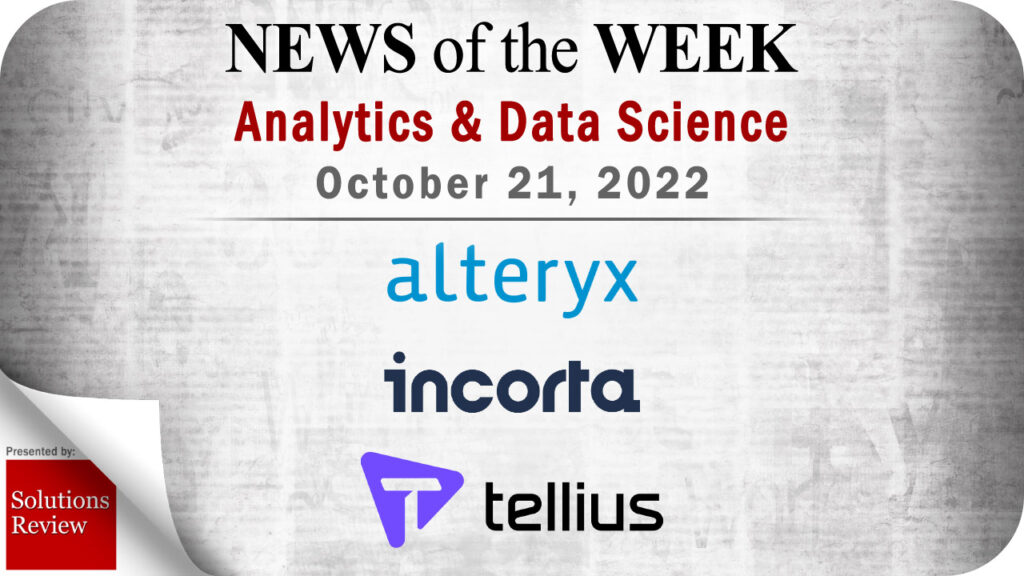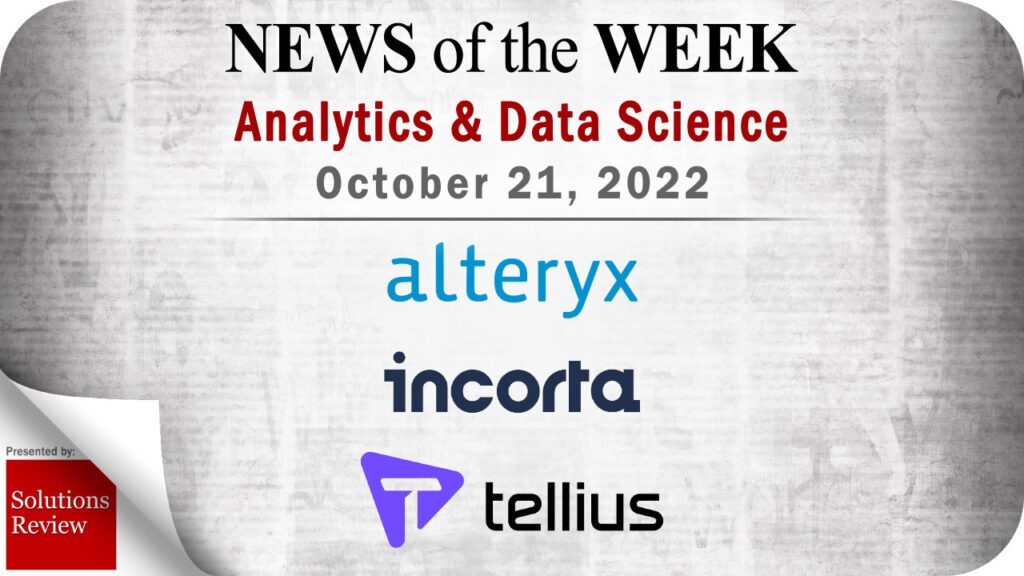 The editors at Solutions Review have curated this list of the most noteworthy analytics and data science news items for the week of October 21, 2022.
Keeping tabs on all the most relevant analytics and data science news can be a time-consuming task. As a result, our editorial team aims to provide a summary of the top headlines from the last month, in this space. Solutions Review editors will curate vendor product news, mergers and acquisitions, venture capital funding, talent acquisition, and other noteworthy analytics and data science news items.
Top Analytics and Data Science News for the Week Ending October 21, 2022
Alteryx Launches New Cloud Analytics Features at Annual Conference
Alteryx is introducing new developments on the Alteryx Analytics Cloud platform, which provides unified and approachable end-to-end analytics in the Cloud. Alteryx's Data Connection Manager (DCM) now supports Azure Active Directory group authentication for Snowflake and Databricks, as well as a new integration with third-party vaults like HashiCorp and CyberArk.
Anaconda Drops Platform Update with Data Science Training and Cloud-Hosted Notebooks
Anaconda Notebooks allows you to start coding with Anaconda immediately—anytime and anywhere you have an internet connection. It is 100 percent cloud-hosted, browser-based, and installation and configuration free. Anaconda Distribution 2022.10 comes with Python 3.9 and conda v22.9.0, support for Python 3.10, and an updated Anaconda Navigator.
Incorta Updates Analytics Data Hub for Finance
The end-to-end self-service platform enables finance teams to perform real-time analysis of all detailed financial and operational data in one place, with ironclad security and governance controls. The Analytics Data Hub for Finance now includes the integration of new data destinations, the newly released BlackLine data application, and native Excel integration.
Microsoft Releases Power BI October 2022 Feature Summary
This month's update is packed with exciting updates to features like Power BI metrics, modeling, deployment pipelines, and more. This month, you can now reverse the order in which we render segments in stacked column and bar charts. This can be particularly helpful to help users match the category groupings of strictly positive columns against vertically aligned legends.
Oracle Announces New Features for Oracle Fusion Analytics
With the new capabilities in Oracle Fusion Analytics across CX, ERP, HCM, and SCM analytics, decision-makers now have a prebuilt library of more than 2,000 best-practice KPIs, dashboards, and reports to monitor performance against strategic goals. New advanced composite visualizations make it easier to interpret data, and AI/ML enhancements extend the ML capabilities in Analytics Cloud with other Oracle Cloud Infrastructure (OCI) cognitive services like AI Vision to enable the processing of visual information.
Solutions Review Announces 4th-Annual BI Insight Jam 2022
The BI Insight Jam is a data management and analytics community web event. Solutions Review editors are bringing the best and brightest minds in the industry together for a one-day social media gathering. Participants will include industry analysts, experts, influencers, practitioners, and software solution providers under the hashtag #BIInsightJam.
Syncfusion Drops Essential Studio 2022 Volume 3
Syncfusion is the enterprise technology partner of choice for software development and business intelligence, delivering an ecosystem of compatible developer control suites, embeddable BI platforms, and business software.  This release includes dozens of new controls and features for web, mobile, and desktop platforms, including three controls in preview for .NET MAUI, five for Blazor, and seven for the JS 2 platforms.
Tellius Raises $16 Million in Series B Funding for AI-Driven Analytics
The funding will be used to enhance Tellius' decision intelligence platform, expand the company's go-to-market capabilities, and support talent acquisition across sales, marketing, and product engineering functions. The Series B round comes on the heels of a banner year for Tellius as demand for decision intelligence continues to go parabolic.
The purpose of this course is to build your practical knowledge and maximize your success as a current or future data governance professional. The lessons and materials provided will be instrumental in your planning and implementation of a data governance program. You will learn the practical steps, best practices, and templates to put together and implement your data governance program from scratch or improve the one you have.
For consideration in future analytics and data science news roundups, send your announcements to the editor: tking@solutionsreview.com.

Latest posts by Timothy King
(see all)