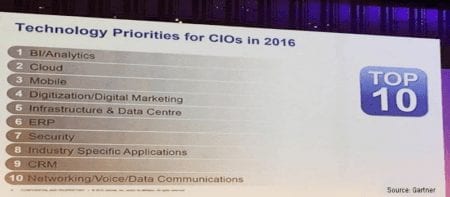 Business Intelligence and Data Analytics are the top trending priority for global CIOs in 2016, according to Gartner's 2016 CIO Agenda Report. This marks the fifth-consecutive year that BI and analytics has topped the list. This year, BI and analytics is followed by cloud, mobile, digitization and digital marketing, and infrastructure and data center. The annual study, which polled nearly 3,000 CIOs from 84 countries, is the world's largest CIO-centric study, and is aimed at measuring how senior IT leaders are balancing their strategic business, technical and management priorities.
The survey is valuable because it allows CIOs to compare priorities and actions with global peers, and may offer a glimpse into what the future will hold. The 2,944 CIOs polled in this report represent roughly $250 billion in IT spending and $11 trillion dollars in total global revenue, which equates to about 15 percent of the gross world product. Respondents include CIOs from every major industry, and each company represented generates at least $100 million in revenue, with most organizations at the $250 million dollar revenue threshold.
The enterprise BI and analytics market is undergoing an evolution, according to Gartner, with a wider range of business users now demanding access to interactive styles of analysis and insights from advanced analytics outside of IT and with no training in data science. IT of course wants to deliver upon this newfound requirement for pervasive access to data discovery without sacrificing the governance protocols that made large scale IT-led reporting projects successful in the past.
This demand has created a trend where the installed-base and IT-centric platforms are routinely being complemented, and in many cases replaced by providers with more forward-thinking offerings. Though vendors who offer legacy-style tools have tried to meet the needs of the current market to deliver their own business-user-driven data discovery capabilities through bundling and included integration, they have not seen widespread adoption to date. The larger, more traditional enterprise BI vendors have begun to invest in next-generation data discovery capabilities and have the potential to make a splash once again, but are works in progress that will bear monitoring in the moths ahead.
Regardless of whether or not traditional vendors are able to catch up to the innovations that up-and-coming discovery-based tools currently tout, Business Intelligence and Data Analytics tools have certainly gone from being auxiliary parts of business to absolutely vital. It's a near-certainty that BI and analytics will remain the top priority of global enterprise CIOs again in 2017, as the need to gain insights from data will continue to increase.

Latest posts by Timothy King
(see all)