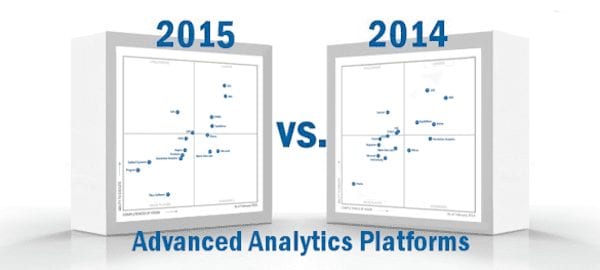 Gartner's 2015 Magic Quadrant for Advanced Analytics Platforms has been recently made available. Gartner explains: "This market has existed for over 20 years. Some have considered it relatively stable, but if that was ever the case, it is no longer, as the concept of big data has not only increased interest in this market but significantly disrupted it."
The diagram-style report, which has become the benchmark for solutions-seekers in the IT world, provides an overview of the industry while outlining the key vendors. Gartner provides a thorough explanation of what each specific solutions vendor offers while giving some insight into each's strengths, weaknesses, and recommendations for how they can improve in the future. The included graph, which is the Magic Quadrant itself, provides a helpful visual on the current market path of each company.
The included companies are grouped into four quadrants: Niche Players, Visionaries, Challengers, and Leaders. Gartner positions each company based on their ability to execute and the completeness of their vision.
According to Gartner, advanced analytics is a rapidly-growing market. With demand for software solutions exploding, the current supply of expert users is being outpaced, thus requiring the need for higher functioning levels of automation, which in turn drives the need for self-service tools. Users and systems have to learn how to work with greater levels of sophistication, as the outstanding growth in not only data, but kinds of data, is creating disruption.
Applying the results of advanced analytics is helping businesses improve performance in a variety of different applications. Gone are the days of advanced analytics being segmented to only certain portions of an organization, every function now has a legitimate interest in advanced analytical capabilities.
In this year's report, Gartner has removed five companies, two of which have been acquired by vendors that are already present in the Magic Quadrant; InfoCentricity (FICO) and StatSoft (Dell). In addition, Actuate has been removed due to "insufficient completed references for evaluation", which probably has a lot to do with their acquisition by OpenText. Megaputer has been axed for the same reason. IT giant Oracle was replaced in this year's Magic Quadrant because their solution is too integrated into its database, BI, and big data offerings and is not offered as a stand-alone product.
To keep the company count at 16, Gartner also added five solutions vendors. Those companies include Dell, a company which needs no introduction, Predixion, Prognoz, Salford Systems, and TIBCO. The trio of Dell, Prognoz, and TIBCO are all vendors that are featured in Solutions Review's business intelligence solutions directory.
SAS, IBM, KNIME, and RapidMiner are still the Quadrant's elite, as all four companies retained their spots in the Leaders bracket. IBM's standing remains virtually unchanged, but SAS seems to have given a bit back in terms of completeness of vision. Still, SAS and IBM distanced themselves a bit further from the rest of the pack. After showing a touch more completeness of vision than RapidMiner in the 2014 version, the two are closely grouped this year, with KNIME pulling ahead slightly in their ability to execute. It will be interesting to see what each can do in the next calendar year to position themselves for the 2016 report.
The Challengers quadrant is sparse, as Dell is the only company entrenched there; not bad for their first year in the report. SAP is technically classified by Gartner as a challenger, but finds itself almost smack dab in the middle of the graph, and it's anyone's best guess what section they will find themselves in next year. From Gartner's perspective, SAP was apparently a tough company to judge.
Microsoft and Alpine Data Labs both improved upon their standing in this year's Magic Quadrant, jumping from Niche Players to Visionaries. While neither company saw notable gains in ability to execute, Microsoft moved almost halfway across the diagram, and is now firmly entrenched as a Visionary. Alteryx, a vendor that provides data blending and an advanced analytics platform not only held strong as a Visionary, but improved upon their placement and is now on the cusp of being labeled a Leader. A slight breeze may even be enough to push them into that quadrant.
The Niche Players quadrant is where we see the greatest cluster of providers, with 7 of the 16 calling this home, at least for 2015. FICO took a minor step back and now finds itself as the leader of the Niche Players quadrant after being on the cusp of the Challengers segment last year. As mentioned earlier, TIBCO, Salford Systems, and Predixion are all new to the report. It will be interesting to see what those vendors do in the months ahead to position themselves for next year's installment. Revolution Analytics fell back from being the leader in the Visionaries quadrant to middle of the Niche Players pack. It remains to be seen how their acquisition by Microsoft will impact them in the year ahead. Angoss took a step back as well, and has gone from a Challenger to a Niche Player, although a strong 2015 could put them right back to within striking distance.
Read Gartner's Magic Quadrant.