This is part of Solutions Review's Premium Content Series, a collection of contributed columns written by industry experts in maturing software categories. In this submission, Infragistics Product Manager Casey McGuigan provides an embedded analytics definition and background, as well as ways to sharpen your data-driven decision-making.

If you're involved in the world of business intelligence, then you've most likely noticed the rise of embedded analytics use in the past couple of years.
There is a key reason why embedded analytics is increasingly gaining elevated prominence across all industries. Businesses from manufacturing and finance to healthcare, retail and insurance are no longer willing to accept gut- or intuition-based decisions to guide less than optimal decisions. Embedded analytics systems allow organizations to integrate analytical capabilities and visualize reports and dashboards into their existing applications to bring real-time data insights into the hands of their decision-makers. Embedded analytics' popularity stems from its ability sharpen the decision-making process by basing it on hard facts.
Embedded Analytics Definition: What Exactly Is Embedded Analytics and What Can You Use It For?
Embedded analytics systems deliver real-time reporting, interactive data visualization and/or advanced analytics, including machine learning, directly into an enterprise business application so that business users can easily access and work with data. The main purpose of embedded analytics is to provide up-to-date business insights in the simplest way possible so that any user can understand and act on them.
The capabilities and tools that an embedded analytics system comes with can be used in many different ways and for a variety of purposes. The two main uses of embedded analytics are to enhance organizational data-driven decision-making and to complement existing software products.
The Power of Data
Embedded analytics brings the power of data to all of your users so that they can make quicker and data-driven decisions inside the application without switching context – using just one application ultimately saves time, increases productivity, and delivers a better analytics experience.
Another reason to consider embedded analytics is that these systems come with self-service capabilities. What that means is no matter what the users' area of expertise, capabilities, and technology skills, everyone can analyze data independently and create dashboards and reports.
And of course, one of the most important advantages of embedded analytics is the fact that when you integrate analytics into your existing application, you increase revenue opportunities. When you increase customer satisfaction, application usage, and provide your customers with the ability to make quicker and smarter decisions based on data, more sales will sales follow.
Using Embedded Analytics in the Decision-Making Process
Various industries – including healthcare, finance and banking, retail, manufacturing, education, and more – use embedded analytics for both internal and commercial purposes. For example, the cybersecurity innovator Sensato reports that after embedding analytics into their system, they've managed to accelerate their visualization time-to-market by a factor of 10.
The company struggled to make sense of massive amounts of data and analyze it in order for the security experts to develop more sophisticated protection strategies.
"Allowing a customer to visualize all of that information is crucial to understanding what occurred during the attack — or may still be occurring — and to allow our customers to harden their cyber-security emergency responses," says John Gomez, CEO of Sensato. ''Our engineers didn't need to become visualization experts, we didn't need to do all the testing of the visualization platform and we didn't need to think through how it will scale or worry about its reliability.'' Another company in the database productivity market, Atanasoft, powers its two main products – DataGEM and AtanaSuite – with embedded analytics to bring data into context and to maintain and share multiple versions of their dashboards.
"We wanted to add a true visualization capability as an addition to the charting capability. We were looking to make a transformation from the comprehensive data retrieval and analysis capabilities within AtanaSuite and DataGEM to dynamic information presented as user-defined dashboards," says Jim Richardson, president of Atanasoft. "This is what makes data analytics impactful. The dashboards are within our products, so they get seen; they are there at the moment the customer needs the information, so they can get insights, and make decisions.''
Other well-known global companies using embedded analytics to drive their decision-making include Netflix and Spotify, for example, which collect data about which songs, movies, artists, etc. their users are listening to; This data helps shape their upsell and engagement strategies by determining relevant series/songs recommendations that they know their users will like.
Conclusion
Nowadays, the amount of data collected has never been greater or more complex. Organizational data-driven culture can help businesses make sound decisions at the moment of impact, which in turn can improve outcomes. Data-driven decision-making does not leave any room for experimentation and therefore risks are at a minimum.
When businesses realize the true power of analytics and the full value of their data, everyone within the organization – whether you are a sales manager, human resources specialist, product developer, designer, marketing manager, or business analyst – is empowered to make more intelligent decisions with data, every day.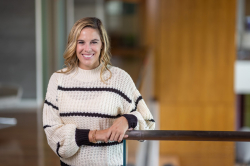 Latest posts by Casey McGuigan
(see all)