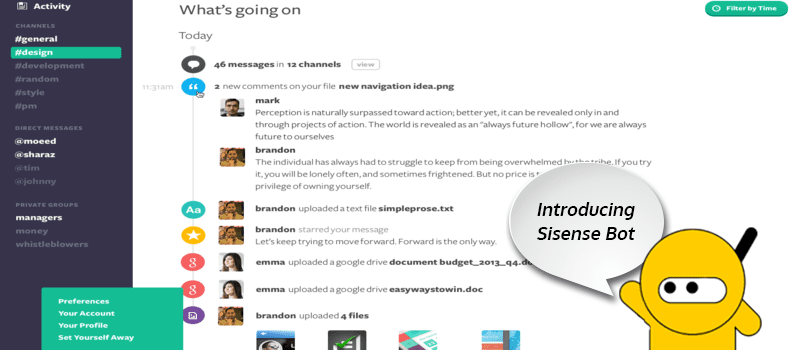 Sisense has launched BI Bots as the next innovation of its Sisense Everywhere program, which the analytics vendor unveiled in July. This new innovation follows the Sisense-enabled Amazon Echo and the Sisense-enabled IoT light bulb. BI Bots allows users to interact with their analytics inside existing messaging platform of choice, including Slack, Skype, Facebook Messenger and Telegram.
In the release notes, Sisense points out that BI tools have traditionally been designed for tech-savvy users who are able to slice and dice through data. With BI Bots, skills barriers are removed, giving users access to data insights within communication tools they already use.
Sisense BI Bots create an "on-call" business analyst, enabling users to access data in plain English and be alerted to data insights through messaging platforms ahead of time. The artificially intelligent bot learns from organizational usage in order to push key insights to users when they need them, or to alert them of anomalies inside the business.
BI Bot is powered by advanced natural language technology backed by the vendor's analytics engine. Users can chat with the bot just as they would another colleague from any device. When engaging with the bot, users can ask questions such as "what is my sales revenue" to receive an instant response and analysis of trends in their business. Single users or groups of users can simultaneously interact with the bot.
Sisense CEO Amir Orad speaks to the newest innovation in BI Everywhere, saying: "With the introduction of Sisense BI Bots, Sisense is continuing its mission to simplify business analytics for complex data by incorporating BI insights directly into applications that business users are already interacting with on a daily basis, like messaging platforms. We have seen a dramatic shift in the BI marketplace in recent years as data discovery and self-service technologies have sought to democratize business intelligence. Sisense Everywhere is now taking this a step further, incorporating advancements in artificial intelligence to bring data insights beyond the dashboard and into people's daily environments, driving human action and ultimately business results."
Read the official press release.