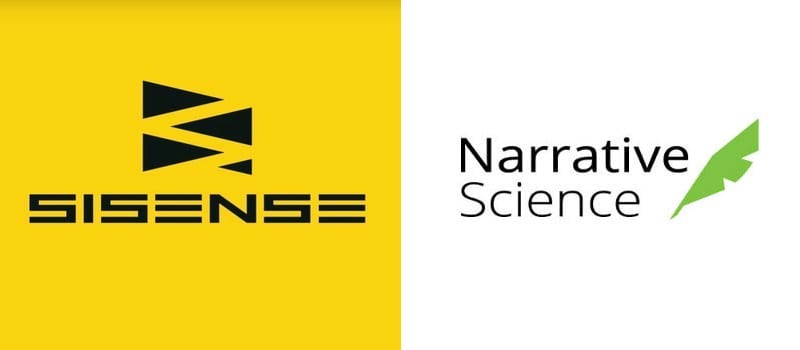 Sisense has announced a strategic partnership with Narrative Science, a Chicago-based software company that provides advanced natural language generation for enterprise organizations. Its Quill platform analyzes data from disparate sources, understands what is interesting and important to the end user and then automatically generates Narratives for the audience at an unlimited scale. Sisense will utilize the Narratives for Business Intelligence to power Sisense Everywhere, a feature enhancement to its flagship analytics platform, helping users simplify consumption of insights using Internet of Things devices and artificial intelligence.
The Sisense platform integrates Advanced NLG from Narrative Science to automatically transform users' data and visualizations into Intelligent Narratives. Now, instead of users having to manually interpret analytical dashboards, they can ask relevant questions and receive real-time answers in natural language. This represents a stark deviation from the way BI has traditionally been thought of in the enterprise, with a strong focus on technical users and IT. IT-centric analytics are likely to be a thing of the past, as this partnership, among many other indicators, foreshadows a sign of things to come in the BI marketplace.
Amir Orad, CEO at Sisense speaks to the news, saying: "The Business Analytics market is on the brink of transformation. The use of artificial intelligence in our platform and Narrative Science's NLG technology is evidence of how machine learning is being used to make BI accessible to all business users." Stuart Frankel, CEO at Narrative Science concurs, adding: "The next generation of business intelligence includes AI-powered conversational interfaces that revolutionize the way people interact with these powerful applications."
Sisense and Narrative Science will unveil their joint technology at the upcoming Gartner Data & Analytics Summit, which will take place in Grapevine Texas from March 6 through 9.