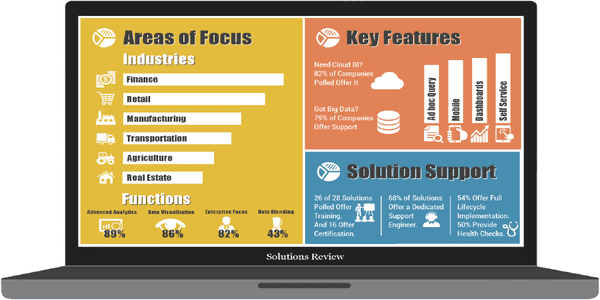 If you're looking for a Business Intelligence solution, you're probably aware of the positive impact the technology can make on your organization. Business Intelligence enables data-driven companies to gain insights into its critical operations through reporting operations and tools for data analysis.
Business Intelligence has become big business, with more companies every day realizing that they can generate valuable insights from the data they collect. In that, there are a ton of established IT software companies whom offer such solutions. Each solution vendor offers their own unique set of features and price points, depending on what it is you are looking for. Some are best suited for smaller organizations, others are better for companies in the enterprise. One solution may be geared more toward the health care industry, another may have been developed specifically for use in a financial setting.One feature that is not universal in today's Business Intelligence solutions is security.
Unlike common features such as analytics or self-service, only 53 percent of today's top BI solutions offer security in their platforms.
The research, which was done by us here at Solutions Review, can be found in our 2016 Business Intelligence Buyers Matrix Report, a comprehensive side-by-side comparison of the top-28 best-of-breed BI solutions on the market today.
This may come as a surprise, as Backup and Disaster Recovery have been hot button topics in IT in recent years. Never before have companies been so reliant on the data they generate, much of which is business vital. In the same breath, never before has personal and private data been so susceptible to attack, breaching, and loss. Like other available BI features, each solutions vendor who offers a form of security may offer something different than the next, so it is best to consult each individual provider on specific availability. With the newfound centralization of data putting vital business information into the hands of more people per organization, security features will only grow in importance.
If security is at the top of your features wish list, let us help you narrow your search down. Click here to download a complimentary copy of the report.
*Note: Solutions Review contacted each solution provider listed in this report and requested their input on their solution features and focus. In some cases we received no response, therefore provided what information we could obtain through online research. That information is marked with an asterisk (*). The information provided to us by a solution has been obtained from sources believed to be reliable. Solutions Review disclaims all warranties as to the accuracy, completeness or adequacy of such information and shall have no liability for errors, omissions or inadequacies in such information.

Latest posts by Timothy King
(see all)