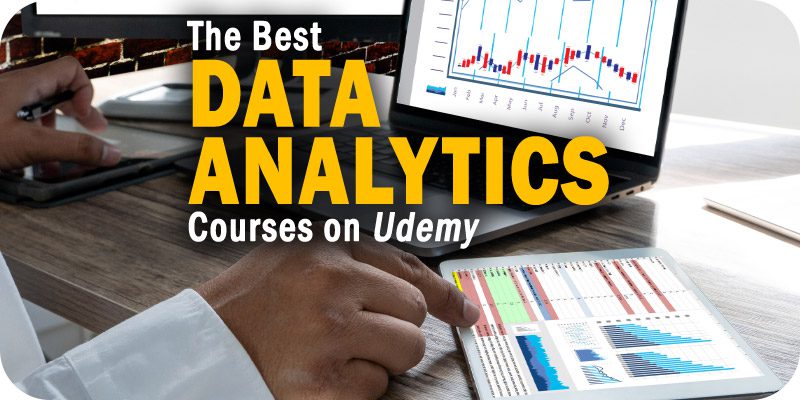 The editors at Solutions Review have compiled this list of the best data analytics courses on Udemy to consider if you're looking to grow your skills.
Data analytics is a data science. The purpose of data analytics is to generate insights from data by connecting patterns and trends with organizational goals. Comparing data assets against organizational hypotheses is a common use case of data analytics, and the practice tends to be focused on business and strategy. Data analytics deals less in AI, machine learning, and predictive modeling, and more with viewing historical data in context.
With this in mind, we've compiled this list of the best data analytics courses on Udemy if you're looking to grow your skills for work or play. Udemy is one of the top online education platforms in the world with more than 130,000 courses, expert instruction, and lifetime access that allows you to learn on your own schedule. As you can see below, we broke the best data analytics courses on Udemy down into categories based on the recommended proficiency level. Each section also features our inclusion criteria.
The Best Data Analytics Courses on Udemy for Beginners
Note: We included courses with more than 600 reviews and a rating of 4.4 stars or better.
Description: Learn how to analyze data using Python. This course will take you from the basics of Python to exploring many different types of data. You will learn how to prepare data for analysis, perform simple statistical analyses, create meaningful data visualizations, predict future trends from data, and more! Data analysis with Python is delivered through lectures, hands-on labs, and assignments.
GO TO TRAINING
Description: ​This Power BI course is designed to arm participants with knowledge on using the most highly-rated data analytics tool. Participants will quickly learn from a Microsoft Certified Trainer and MVP,  the bolts of the key concepts required to be a Power BI expert. Complex concepts are described in a simplified manner to make the learners' journey easier. And not just that, the facilitator will be on the ground, supporting any participant with challenges working with Power BI afterward.
GO TO TRAINING
Description: ​All the important aspects of statistical programming ranging from handling different data types to loops and functions, even graphs are covered. Your journey will start with the theoretical background of object and data types. You will then learn how to handle the most common types of objects in R. Much emphasis is put on loops in R since this is a crucial part of statistical programming. It is also shown how the applied family of functions can be used for looping. In the graphics section, you will learn how to create and tailor your graphs.
GO TO TRAINING
Description: ​Instructors will teach you the fundamental statistical tools to be successful in analytics, without boring you with complex formulas and theory. In a few short hours, you'll have the fundamental skills to help you immediately start applying sophisticated statistical analyses to your data. The module is easy-to-understand, fun, and to the point. By the end of the course, students will be able to create visualizations, apply basic descriptive statistics, combine descriptive and inferential statistics, and utilize regression analysis.
GO TO TRAINING
Description: ​In this course, you will build 5 separate dashboards depicting real-world problems. You will learn how to connect to various data sources from Excel files to cloud servers. You will also learn how to build interactive dashboards and publish them to Tableau Online. By the time you complete this course, you'll be a highly proficient Tableau user and use all the learning from to course to enhance your career in data and analytics.
GO TO TRAINING
Best Data Analytics Courses on Udemy for Intermediate
Note: We included courses with more than 1,000 reviews and a rating of 4.2 stars or better.
Description: ​Best-selling Udemy instructors Frank Kane and Stéphane Maarek have teamed up to deliver the most comprehensive and hands-on prep course we've seen. Together, they've taught over 300,000 people around the world. This course combines Stéphane's depth on AWS with Frank's experience in big data, gleaned during his 9-year career at Amazon itself. Both Frank and Stéphane have taken and passed the exam themselves on the first try.
GO TO TRAINING
Description: ​In this short but effective course, you will understand why data analytics is very important in today's business to make an effective business decision, and how Excel can help you with this. This course takes you through the details of data analytics and with various examples, helps you understand various aspects where data analytics plays a vital role. Then you will learn how you can exploit the power of Excel PivotTables to make your data visually more appealing and easier to analyze. With a step-by-step guide and examples, this module is easy to comprehend and learn.
GO TO TRAINING
Best Data Analytics Courses on Udemy for All Levels
Note: We included courses with more than 1,000 reviews and a rating of 4.3 stars or better.
Description: Upon completion of the course, you will be able to download a certificate of completion with your name on it. Then, you can upload this certificate on LinkedIn and show potential employers this is a skill you possess. This course is for people interested in SQL development, database administration, business analysis, and business intelligence job opportunities.
GO TO TRAINING
Description: If you are a complete beginner and you know nothing about coding, don't worry! The Finance block of this course will teach you in-demand real-world skills employers are looking for. Everything is included! All these topics are first explained in theory and then applied in practice using Python. This module is great, even if you are an experienced programmer, as we will teach you a great deal about the finance theory and mechanics you will need if you start working in a finance context.
GO TO TRAINING
Description: If you are aiming for a career as a data scientist or business analyst then brushing up on your statistics skills is something you need to do. Here you will quickly get the essential knowledge, and this is not just another boring course on statistics. This course is very practical and specifically includes real-world examples of business challenges to show you how you can apply the skills from this module. At the same time, you will master topics such as distributions, the z-test, the Central Limit Theorem, hypothesis testing, confidence intervals, and statistical significance.
GO TO TRAINING
Description: This course now includes free access to our Data Fundamentals Handbook, which compliments all the video content in this course in written form. This course starts with an introduction to the world of data. Context is critical, and it most definitely applies to learning how to work with data. From there you'll delve deep into the differences between data analytics, data science, and data engineering, and how each of these roles provides value in their own way. In addition, you'll gather a deep understanding of the tools used by professionals – which are the most popular, when one would be preferred over another, and how they can be used in collaboration.
GO TO TRAINING
Description: This is a complete tutorial on SQL which can be completed within a weekend. SQL is the most sought after skill for data analysis roles in all companies. So whether you want to start a career as a data scientist or just grow your data analysis skills, this course will cover everything you need to know to do that. The course is taught by Abhishek and Pukhraj. Instructors of the course have been teaching data science and machine learning for over a decade. By the end of this course, your confidence in using SQL will soar. You'll have a thorough understanding of how to use SQL for Data analytics as a career opportunity.
GO TO TRAINING
Description: In SQL for marketers, you'll start from the basics – installing SQL onto your Mac, Linux, or Windows machine and explaining what a relational database is. Next, you'll look at basic tasks like creating tables and loading data into those tables. You will also look at a wide variety of SQL commands and the instructor shows you how to speed things up using indexes. Once you know all the SQL commands you will start doing advanced examples – answering questions marketers and business people often have, like where are customers dropping off in our sales funnel?
GO TO TRAINING
Solutions Review participates in affiliate programs. We may make a small commission from products purchased through this resource.

Latest posts by Timothy King
(see all)