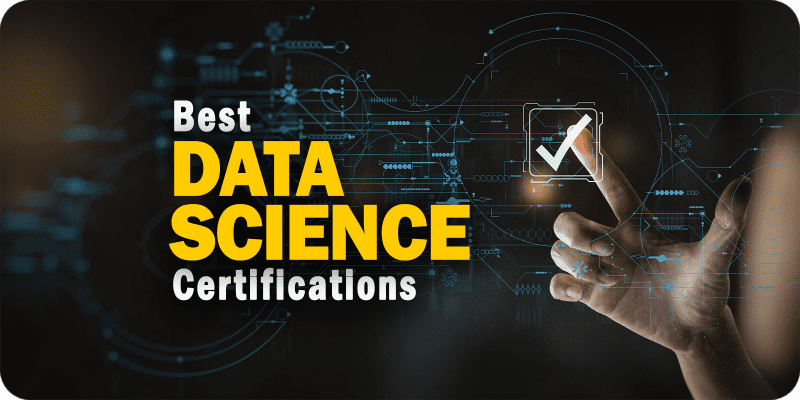 The editors at Solutions Review have compiled this list of the best data science certifications online to consider acquiring.
Data science is one of the fastest-growing fields in America. Organizations are employing data scientists at a rapid rate to help them analyze increasingly large and complex data volumes. The proliferation of big data and the need to make sense of it all has created a vortex where all of these things exist together. As a result, new techniques, technologies, and theories are continually being developed to run advanced analysis, and they all require development and programming to ensure a path forward.
With this in mind, we've compiled this list of the best data science certifications from leading online professional education platforms and notable universities. The certifications listed offer students the training they need to develop new skills and advance their careers. This is not an exhaustive list, but one that features the best data science certifications online from trusted institutions. We made sure to include certificate descriptions and Solutions Review's personal take on each.
The Best Data Science Certifications
OUR TAKE: With more than 46,000 reviews and 4.6 stars, this self-paced Coursera certificate course is one of the most popular on the web. No degree or prior experience is required to get certified on Python, SQL, and data visualization.
Platform: Coursera
Description: It's a myth that to become a data scientist you need a Ph.D. Anyone with a passion for learning can take this Professional Certificate – no prior knowledge of computer science or programming languages required – and develop the skills, tools, and portfolio to showcase your new talents in the job market as an entry-level data scientist.
GO TO TRAINING
OUR TAKE: In partnership with George Tech, this edX training will provide certification in data structures, data visualization, tree data structures, and data analysis in 5 months at a recommended pace of 9-to-10 hours per week.
Platform: edX
Description: Learn how to differentiate between linear data structures like linkedlists, arrays, arraylists, stacks, and queues, and select the correct structure for a given situation. Analyze data structure performance with the course visualization tool.
GO TO TRAINING
OUR TAKE: The Data Science Foundations certificate provides students with a background on data science tools. It touts four self-paced skill-building courses and takes roughly 6 months to complete.
Platform: edX
Description: When you are ready you can build up to more complex topics in this full 9-course Data Science Professional Certificate program which covers a wide array of data science topics including open source tools and libraries, methodologies, Python, databases, SQL, data visualization, data analysis, machine learning, and a capstone project.
GO TO TRAINING
OUR TAKE: This self-paced, expert-led module provides students with certification in various data science and machine learning skills. Learners can complete this training in just more than a year by spending 3-to-5 hours per week.
Platform: edX
Description: Data science and machine learning skills continue to be in highest demand across industries, and the need for data practitioners is booming. Upon completing this Professional Certificate program, you will be armed with the skills and experience you need to start your career in data science and machine learning.
GO TO TRAINING
OUR TAKE: This self-paced, IBM-led module will certify students in understanding Python language basics and how they apply to data science. It features five skill-building courses and can be completed in 7 months.
Platform: edX
Description: Whether you are new to the job market or already in the workforce and looking to upskill yourself, this five-course Data Science with Python Professional Certificate program is aimed at preparing you for a career in data science and machine learning. No prior computer programming experience is required!
GO TO TRAINING
OUR TAKE: This certification, offered by edX and Berkeley University, can be completed in 4 months and features self-paced learning and expert instruction via three different skill-building courses.
Platform: edX
Description: As the demand for data science skills rises around the world, this Professional Certificate by BerkeleyX will teach you how to combine data with Python programming skills to ask questions and explore problems that you may encounter in a future job, in any field of study, and even in everyday life. This course will give you a new lens to explore the issues and problems that you care about.
GO TO TRAINING
OUR TAKE: In partnership with Columbia University, this edX module certifies students in 4 months (7-10 hours per week) through expert instruction and self-paced learning.
Platform: edX
Description: In this Data Science and Analytics Professional Certificate program you will gain insight into the latest data science tools and their application in finance, health care, product development, sales and more. With real-world examples, we will demonstrate how data science can improve corporate decision-making and performance, personalize medicine and advance your career goals.
GO TO TRAINING
OUR TAKE: This Experfy data science certification touts five self-paced courses and instruction from academics at Harvard and Columbia University, as well as industry practitioners from Cisco, Nokia Labs, and Pitney Bowes.
Platform: Experfy
Description: This Data Science Certification program covers the concepts and tools you will need throughout the entire data science pipeline, from asking the right kinds of questions to making inferences and publishing results. As you work your way through different courses in the data science training track, you will develop a portfolio of projects that you can showcase during interviews.
GO TO TRAINING
OUR TAKE: This certification includes live Master Classes and AMA sessions with IBM leadership, more than 220 hours of educational content led by industry leaders, and a capstone plus 15 real-life data science projects.
Platform: Simplilearn
Description: This Data Science course, in collaboration with IBM, features exclusive IBM hackathons, masterclass, and ask-me-anything sessions for the best training experience. This data scientist certification training provides hands-on exposure to key technologies including R, Python, machine learning, Tableau, Hadoop, and Spark via live interaction with practitioners, practical labs, and industry projects.
GO TO TRAINING
OUR TAKE: This certification will teach you fundamental data programming tools and takes 3 months to complete. It is offered in collaboration with Mode Analytics.
Platform: Udacity
Description: Learn the programming fundamentals required for a career in data science. By the end of the program, you will be able to use Python, SQL, Command Line, and Git. There are no prerequisites for this program, aside from basic computer skills.
GO TO TRAINING
Solutions Review participates in affiliate programs. We may make a small commission from products purchased through this resource.

Latest posts by Timothy King
(see all)