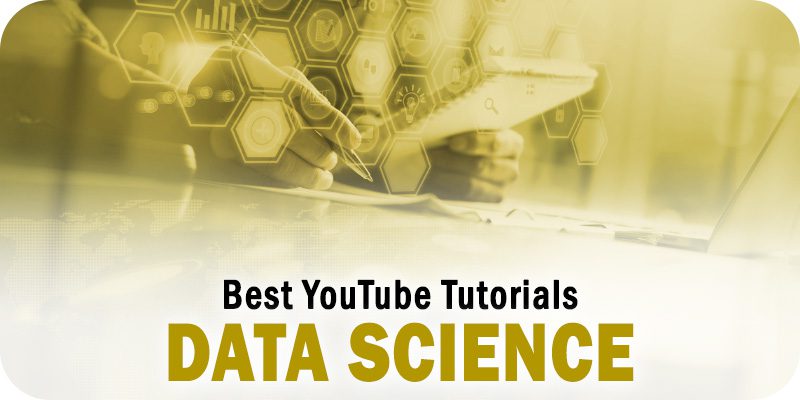 This list of the best data science tutorials on YouTube will introduce you to the topic and help provide a jump-start to your career in the field.
Data science is one of the fastest-growing fields in America. Organizations are employing data scientists at a rapid rate to help them analyze increasingly large and complex data volumes. The proliferation of big data and the need to make sense of it all has created a vortex where all of these things exist together. As a result, new techniques, technologies, and theories are continually being developed to run advanced analysis, and they all require development and programming to ensure a path forward.

Learning data science can be a complicated process, and it's not easy to know where to start. As a result, our editors have compiled this list of the best data science tutorials on YouTube to help you learn about the topic and hone your skills before you move on to mastering it. All of the videos here are free to access and feature guidance from some of the top minds and biggest brands in the online learning community. All of the best data science tutorials listed tout a minimum of 200,000 views.

Note: Don't forget to subscribe to Solutions Review on YouTube!
The Best Data Science Tutorials on YouTube
Data Science Full Course – Learn Data Science in 10 Hours | Data Science For Beginners | Edureka
Author: Edureka
Description: This Edureka Data Science Full Course video will help you understand and learn data science algorithms in detail. This data science tutorial is ideal for both beginners as well as professionals who want to master Data Science Algorithms. It covers additional topics like the data lifecycle, categories of data, sampling technologies, and statistics.
Learn Data Science Tutorial – Full Course for Beginners
Author: freeCodeCamp
Description: Learn Data Science is this full tutorial course for absolute beginners. You'll learn the important elements of data science. You'll also be introduced to the principles, practices, and tools that make data science the powerful medium for critical insight in business and research.
Python Machine Learning Tutorial (Data Science)
Author: Programming with Mosh
Description: In Programming with Mosh's Python Machine Learning Tutorial, he shows you how to learn how to predict the kind of music people like. The video outlines various machine learning libraries and tools, Jupyter shortcuts, data preparation, persisting models, and visualizing a decision tree as well.
Statistics and Probability Full Course || Statistics For Data Science
Author: Geek's Lesson
Description: This course is a comprehensive explanation of all statistics which is very crucial for data science. Statistics is the discipline that concerns the collection, organization, analysis, interpretation, and presentation of data. The tutorial begins with a lesson on data classification.
Data Science Full Course for Beginner | Data Science Tutorial
Author: My CS
Description: In this complete data science course, you will learn everything you need to know in order to be a data scientist. The course is beginner-friendly as well. It starts by showing you what is required to do data science in a practical manner. The tutorial includes guidance for data sourcing, basic coding, and statistics.

Latest posts by Timothy King
(see all)