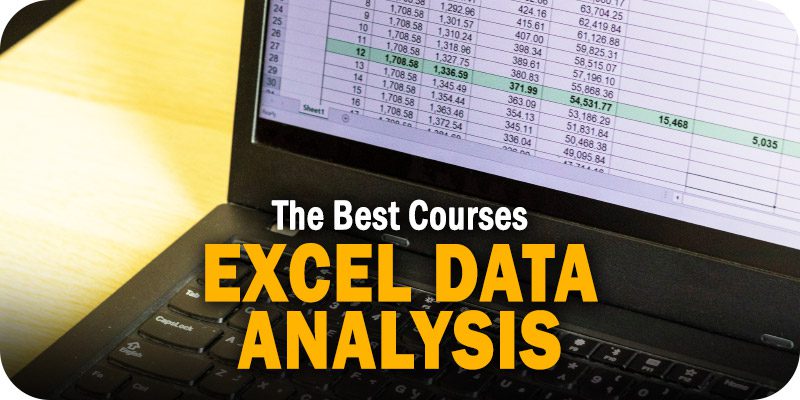 The editors at Solutions Review have compiled this list of the best Excel data analysis courses and online training to consider right now.
Microsoft Excel offers a dizzying number of features to use and analyze data. Of its hundreds of distinct functions, many of them enable users to sort, calculate, qualify, and even visualize data for business planning purposes. For many organizations, Excel is their main way of generating reports and other valuable insights that help in future planning. No matter your data-focused use case, Excel is a key tool that most users (regardless of skill level) can utilize as well.
With this in mind, we've compiled this list of the best Excel data analysis courses and online training to consider if you're looking to grow your data analytics skills for work or play. This is not an exhaustive list, but one that features the best Excel data analysis courses and training from trusted online platforms. We made sure to mention and link to related courses on each platform that may be worth exploring as well.
The Best Excel Data Analysis Courses
Platform: Coursera
Description: This course is designed to provide you with basic working knowledge for using Excel spreadsheets for Data Analysis. It covers some of the first steps for working with spreadsheets and their usage in the process of analyzing data. It includes plenty of videos, demos, and examples for you to learn, followed by step-by-step instructions for you to apply and practice on a live spreadsheet.
More "Top-Rated" Coursera paths: Mastering Data Analysis in Excel, Excel Fundamentals for Data Analysis, Introduction to Data Analysis Using Excel, Excel to MySQL: Analytic Techniques for Business Specialization, Excel Skills for Business: Essentials
GO TO TRAINING
Platform: DataCamp
Description: In this course, you'll develop employable analyst skills as you learn how to use time-saving keyboard shortcuts, convert and clean data types including text, times and dates, and build impressive logic functions and conditional aggregations. Through hands-on practice, you'll learn over 35 new Excel functions, including CONCATENATE, VLOOKUP, and AVERAGEIF(S), and work with real-world Kickstarter data as you use your new-found Excel skills to analyze what makes a successful project.
More "Top-Rated" DataCamp paths: Data Analysis in Spreadsheets
GO TO TRAINING
Platform: ed2go
Description: This course will help you master many features in Microsoft Excel 2019/Office 365 that most users don't know exist. You will learn the secret to using formula-based conditional formatting as a creative solution to common issues. You will also learn how to leverage Excel's Power Query tool to import and transform data from about any data source. By the time you finish this course, you will have mastered Microsoft Excel 2019/Office 365 and will be able to better serve your company's data management needs.
More "Top-Rated" ed2go paths: Microsoft Excel 2019 and Statistics Suite
GO TO TRAINING
Platform: Edureka
Description: Excel has become one of the prerequisites for almost all jobs in the analytics and consulting sector. Through this course, you'll learn the advanced functions that are used by analysts on a day-to-day basis. You'll also get accustomed to even more advanced stages of excel use like Macros which further come in handy. Throughout the course, you'll be given hands-on assignments and case studies to put the theoretical knowledge to practice.
GO TO TRAINING
Platform: edX
Description: In this course, you will learn how to perform data analysis using Excel's most popular features. You will learn how to create pivot tables from a range with rows and columns in Excel. You will see the power of Excel pivots in action and their ability to summarize data in flexible ways, enabling quick exploration of data and producing valuable insights from the accumulated data.
More "Top-Rated" edX paths: Analyzing and Visualizaing Data with Excel, Business and Data Analysis Skills, Data Processing and Analysis with Excel, Executive Education Course: Business Analytics Fundamentals for Leaders
GO TO TRAINING
Platform: Kubicle
Description: This course will build on the work we did in the Formulas course, to provide you with the complete set of tools for manipulating and filtering data. The sales data set we're going to use in this course is for a software company with 150 customers, each who pay for the product annually. In this lesson we're going to explore how the VLOOKUP function can be used to quickly find individual entries in our data set. Check out Kubicle's full list of Excel training.
More "Top-Rated" Kubicle paths: Pivot Tables, Introducing Statistics
GO TO TRAINING
Platform: LinkedIn Learning
Description: This course helps you unlock the power of your organization's data using the data analysis and visualization tools built into Excel. Author Curt Frye starts with the foundational concepts, including basic calculations such as mean, median, and standard deviation, and provides an introduction to the central limit theorem. He then shows how to visualize data, relationships, and future results with Excel's histograms, graphs, and charts. He also covers testing hypotheses, modeling different data distributions, and calculating the covariance and correlation between data sets.
More "Top-Rated" LinkedIn Learning paths: Excel 2016: Managing and Analyzing Data, Managing and Analyzing Data in Excel, Data Visualization for Data Analysis and Analytics, Excel: Power Pivot for Beginners, Excel: PivotTables in Depth, Excel: Tracking Data Easily and Efficiently, Excel Statistics Essential Training: 1, Excel: Advanced Formulas and Functions, SQL: Data Reporting and Analysis, Excel: Economic Analysis and Data Analytics
GO TO TRAINING
Platform: Pluralsight
Description: This course goes through how to use Excel as an analytics client for BI and Big Data. With coverage applicable to several versions of Excel, but with emphasis on the new capabilities of Excel 2013, the content includes details on, and numerous demos of, the analytics capabilities in the core Excel product and its add-ins, including PowerPivot, Power View, and preview add-ins code-named "Data Explorer" and "GeoFlow." This course provides great detail on each tool and shows how they can be used in combination, as well as, with data from HDInsight/Hadoop; Microsoft's Big Data Platform.
More "Top-Rated" Pluralsight paths: Displaying Tables with Excel, Excel 2013: Analysis Techniques and Random Numbers, Loading Data into Excel, Exploring Data with PivotTables, Summarizing Data and Deducing Probabilities, Searching and Manipulating Data in Excel, Excel Data Lookup Function Playbook, Summarizing and Organizing Data in Excel, Pragmatic Self-Service BI with PowerPivot for Excel
GO TO TRAINING
Platform: Simplilearn
Description: This business analytics certification course teaches you the basic concepts of data analysis and statistics to help data-driven decision making. This training introduces you to Power BI and delves into the statistical concepts that will help you devise insights from available data in order to present your findings using executive-level dashboards.
GO TO TRAINING
Platform: Skillshare
Description: In this course you will learn multiple ways to take large data sets and do exactly what you need to with it.  By the end of this course, you will be able to use any of the multiple tools, tips and techniques you'll be learning to effectively and quickly take data, create professional reports and most important read and interpret large data sets.
GO TO TRAINING
Platform: Udacity
Description: In this program, you'll learn foundational data skills that apply across functions and industries. You'll learn to analyze data and build models with Excel, query databases using SQL, and create informative data visualizations with Tableau.
GO TO TRAINING
Platform: Udemy
Description: Microsoft Excel is one of the most powerful and popular data analysis desktop application on the market today. By participating in this Microsoft Excel Data Analysis and Dashboard Reporting course you'll gain the widely sought after skills necessary to effectively analyze large sets of data. Once the data has been analyzed, clean and prepared for presentation, you will learn how to present the data in an interactive dashboard report.
More "Top-Rated" Udemy paths: Microsoft Excel – Data Analysis with Excel Pivot Tables, Microsoft Excel Data Analysis – Learn How The Experts Use It, Data Analysis Essentials Using Excel, Excel Dashboard and Data Analysis Masterclass
GO TO TRAINING
Solutions Review participates in affiliate programs. We may make a small commission from products purchased through this resource.

Latest posts by Timothy King
(see all)