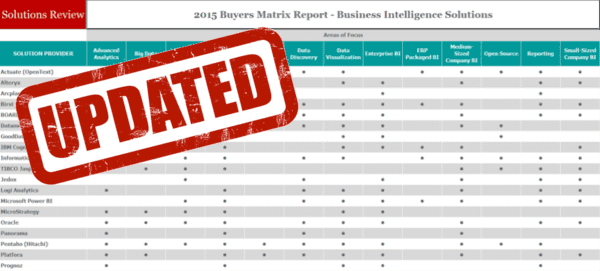 Solutions Review is thrilled to announce our first major update to the Business Intelligence Buyers Matrix Report!
In this update, we've added four new solution vendors: Domo, InetSoft Technology, Looker, and Pyramid Analytics. Now, those who are looking for a new Business Intelligence solution to pair with their data-driven organization have the top-28 vendors in the space to compare and contrast, making the search for a new software offering that much easier. In addition, several of the vendors requested that we make changes to their catalog of offerings – which we did.
The Business Intelligence landscape is evolving in real-time, making the challenge of finding and deploying the right solution a difficult one. At Solutions Review, we put ourselves right in the middle of it all; making it a point to highlight the software that has the greatest impact on today's buyers and end-users while also looking ahead to tomorrow. Part of doing this is to continually update this resource in order to make the buying process as easy and stress-free as possible for those in enterprise IT. The Buyers Matrix is organized by specific categories, which include: areas of focus, industries, features, services, and support.
The newly added vendors each offer something different, and we believe they represent the upper echelon of the Business Intelligence market.
The amazing depth and breadth of data available for analysis is driving a rapid solution evolution within the BI industry and creating a real challenge to finding the right provider. By offering a comprehensive matrix-style report, the updated Solutions Review Buyers Matrix presents a wide range of features in multiple tables for a clear and side-by-side view of the best benefits each vendor has to offer. Readers will be given direct comparisons of the solutions providers and their offerings in an easy to understand report, spanning five different categories.
Coupled with the newest update of our buyers tool, Solutions Review also offers a free Business Intelligence Buyers Guide, further enhancing the ability of the IT professional to make the right product decision. In using these two tools in conjunction, solutions-seekers will be armed with all of the materials they need to ensure selection of the best software for their company.
Stay tuned into Solutions Review for the latest and greatest in Business Intelligence, Data Analytics, and Big Data!