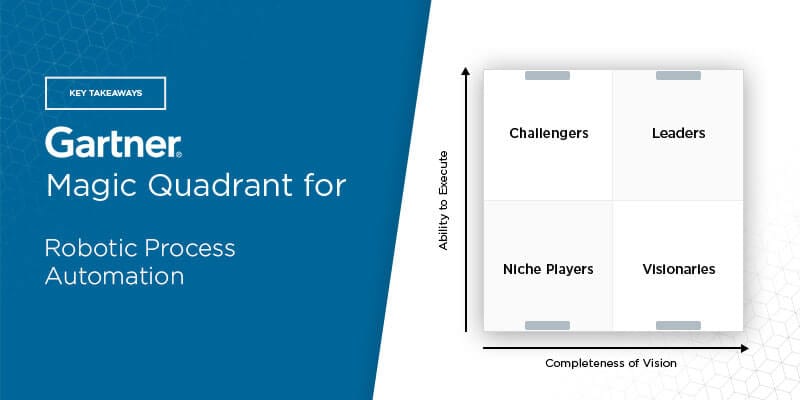 The editors at Solutions Review highlight what's changed since the last iteration of the Gartner Magic Quadrant for Robotic Process Automation and provide analysis of the new report.
Analyst house Gartner, Inc. recently released its 2020 Magic Quadrant for Robotic Process Automation. This report looks at 16 leading Robotic Process Automation (RPA) solution providers: AntWorks, Automation Anywhere, Blue Prism, EdgeVerve Systems, HelpSystems, Jacada, Kofax, Microsoft, NICE, NTT, Pegasystems, Samsung SDS, SAP, Servicetrace, UiPath, and WorkFusion.
Gartner defines robotic process automation as "a licensed software tool to integrate any application via user interface to automate routine, predictable tasks using structured digital data." Typically, RPA uses a combination of user interface interactions and APIs to integrate and perform data transcription work between different enterprise and productivity applications. Gartner expands on this, stating that at a minimum, RPA software tools must include low-code capabilities to build automation scripts; integration with enterprise applications; and orchestration and administration including configuration, monitoring, and security.
In this Magic Quadrant, Gartner evaluates the strengths and weaknesses of 16 providers that it considers the most significant in the marketplace, and provides readers with a graph (the Magic Quadrant) plotting the vendors based on their ability to execute and their completeness of vision. The graph is divided into four quadrants, niche players, challengers, visionaries, and leaders. At Solutions Review, we read the report, available here, and pulled out the key takeaways.
This year, the niche players section of the quadrant is the most populous, containing Antworks, HelpSystems, Jacada, NTT, Samsung SDS, and SAP. AntWorks' RPA tool, QueenBOT offers core RPA capabilities supported by intelligent document processing and process discovery features. Placed below AntWorks with regard to ability to execute is Jacada. While Jacada reportedly offers limited flexibility, the provider also offers native capabilities for end-to-end customer service process orchestration, decision management, and agent-assisted solutions. HelpSystems, placed at the left end of the niche players quadrant, provides RPA as well as IT security, file transfer, IBM i automation, and other infrastructure management tools.
SAP differentiates itself with its strong vision for ERP-focused automation with end-to-end capabilities covering a broad range of technologies, including process discovery, iBPMS, machine learning, and cloud delivery. Placed closest to the middle of the Magic Quadrant, Samsung SDS offers an integrated RPA platform that includes process discovery, chatbot, integrated OCR, intelligent document ingestion, and native AI. Rounding out the nice players is NTT. NTT serves customers of all sizes and reportedly offers a stable product deployment experience.
Only three vendors were designated as visionaries in this year's report, namely Microsoft, Pegasystems, and Servicetrace. Ranking highest in the ability to execute and completeness of vision is Microsoft. Unlike many RPA providers, Microsoft can provide RPA along with native functionality for OCR, document ingestion, analytics, and a wide range of in-built connectors/APIs. Pegasystems, which is placed slightly below Microsoft, offers RPA along with complementary iBPMS, multi-experience development platform, CRM, and LCAP capabilities. The final visionary, Servicetrace focuses on delivering a secure end-to-end environment and allowing users to manage "alien" bots from other providers.
There are also only three challengers this year: EdgeVerve Systems, Kofax, and NICE. EdgeVerve' AssistEdge RPA is a multi-function automation platform that offers process discovery, test automation, and specific industry and horizontal business process templates. Kofax, which is placed close to the X-axis of the Magic Quadrant, has a focus on enterprise customers and its future roadmap includes simplifying the user experience and updating its management console. The last challenger, NICE, offers an RPA tool including a conversational agent that delivers process/task discover and predictive analytics through NICE Employee Virtual Attendant (NEVA).
The four leaders named in this year's Magic Quadrant are Automation Anywhere, Blue Prism, UiPath, and WorkFusion. WorkFusion, which is placed near the X-axis of the graph, differentiates itself from other vendors with its native AI and best-in-class native automated machine learning and NLP capabilities. Closer to the Y-axis, Blue Prism boasts a strong vertical market strategy that has resulted in 42 industry solutions, with a large number of customers across most industries. 
UiPath earned the strongest ability to execute. This placement is likely, in part, due to its robust partner ecosystem, which includes over 250 technology partners and support for integrations with the majority of enterprise products and applications. Rounding out the leader category is Automation Anywhere. The provider has totally rebuilt its RPA tool, enhancing its user experience. The new version of the Automation Anywhere tool offers an intuitive multi-persona user experience, guided navigation, reusable machine learning libraries, and strong native security.
Microsoft, Samsung SDS, and SAP were all added this year after being absent from the 2019 version of this report. Vendors that were dropped from the previous report include Another Monday, AutomationEdge, Datamatics, Kyron, and Softomotive (which was acquired by Microsoft in 2020).
Looking to learn more? Check out Solutions Review's other resources, including our Business Process Management Buyer's Guide.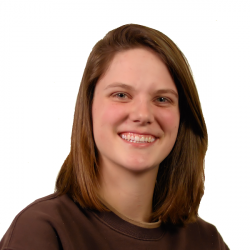 Latest posts by Tess Hanna
(see all)