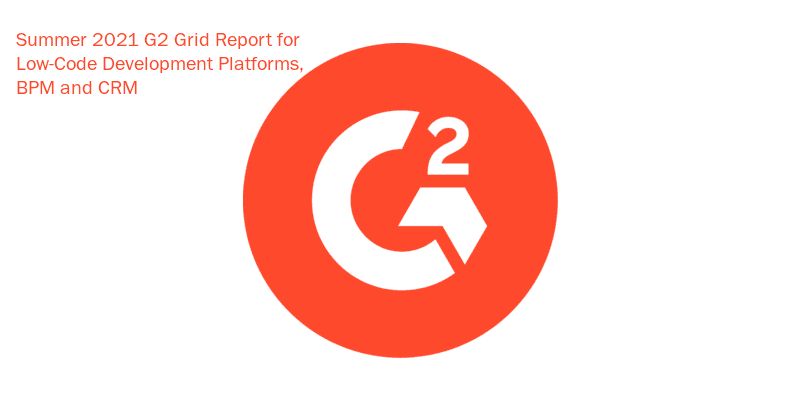 The editors at Solutions Review highlight the findings of the Summer 2021 G2 Grid Report for Low-Code Development Platforms, Business Process Management, and CRM, and pull out the key takeaways.
G2 Crowd, a peer-to-peer business solutions review platform, recently released its Summer 2021 Grid Report for Low-Code Development Platforms, Business Process Management and CRM. G2 Crowd scores products and vendors based on reviews gathered from their user community, as well as data aggregated from online sources and social networks. G2 scores solutions and vendors based on reviews gathered from their user community, as well as data aggregated from online sources and social networks. These scores are mapped onto G2's proprietary G2 Grid, which readers can use to compare products quickly.
G2 states that low-code development platforms "provide an environment for developing applications and building new processes with automated workflows, all with minimal coding. These platforms enable rapid application development by minimizing the need for extensive coding experience and streamlining the development process." Additionally, many low-code development platforms give organizations a clear path to digital transformation through business process creation and management. 
According to G2, to qualify as a low-code development platform, a platform must:
Generate source code as a base for customization,

Allow developers to customize HTML markup and source code as a primary function, and

Integrate with databases, web services, or APIs to connect to data.
The vendors listed in this Grid Report include 1C: Enterprise, AgilePoint, Airkit, Alpha Anywhere, Appery.io, Appian, Aware IM, AWS, Betty Blocks, BP Logix, Claris, cplace, Creatio, Cyclr, DronaHQ, FOEX, Formidable Forms, GeneXus, Graphite, HCL Domino, IAR, InRule, Intrexx, Joget, JRebel, Kinetic Data, Kissflow, Knack, Linx, LiveCode, Lumavate, Mendix, Microsoft, Oracle, OutSystems, Pegasystems, Pipefy, PMG, ProcessMaker, Progress OpenEdge, Progress Telerik, ProntoForms, Quixy, Retool, Salesforce, ServiceNow, Servoy, Spring Boot, Spring Roo, Thymeleaf, TrackVia, UiPath, Visual LANSA, Warewolf, WaveMaker, Xojo, Xpoda, Zoho, and Zudy.
The G2 Grid is divided into four categories: Leaders, High Performers, Niche, and Contenders. The vendors are placed on the Grid based on their market presence and G2's satisfaction rating. The leaders in this year's report, in no particular order, are OutSystems, UiPath RPA, Claris FileMaker, Spring Boot, Retool, Creatio, IAR Embedded Workbench, Pega Platform, Progress Telerik UI, Appian, Oracle Application Express, Mendix, and Salesforce Platform. UiPath and OutSystems are leading the pack in this category, earning the highest market presence and satisfaction rating.
The contenders listed this year are WaveMaker, Zoho Creator, ServiceNow Now Platform, AWS Step Functions, HCL Domino, and Azure Mobile Apps. Additionally, Spring Roo is placed directly on the X-axis between the contender and niche sections. The niche section of the grid is most densely populated near the Y-axis. The providers listed include TrackVia, cplace, Appery.io, Xojo, BP Logix, FOEX Plugin, Intrexx, InRule, Pipefy, Progress OpenEdge, Betty Blocks, JRebel, Servoy, Graphite GTC, Warewolf, and Linx. Located at the intersection of both axes is Thymeleaf.
Finally, the high performers named to this Grid are Alpha Anywhere, Livecode, 1C: Enterprise, Kissflow, Joget, Aware IM, Visual LANSA, AgilePoint NX, ProcessMaker, GeneXus, ProntoForms, Zudy, Knack, PMG Platform, Airkit, Cyclr, DronaHQ, Kinetic Data, Quixy, Formidable Forms, Lumavate, and Xpoda.
When evaluating a low-code development platform, G2 recommends starting with a large pool of vendors and clearly defining one's use cases to narrow down the options. This allows IT teams to apply further considerations for pricing, ease of integration with other systems, and security requirements, among others. This holistic approach enables buyers to make informed decisions with a focused checklist. 
If you're on the hunt for business process management solutions, specifically, consult our free Buyer's Guide for Business Process Management. This resource features full-page profiles on the top providers in the BPM space, 10 questions to ask before making a decision, and our own "Bottom Line" analysis.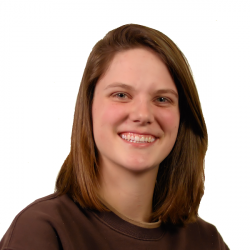 Latest posts by Tess Hanna
(see all)