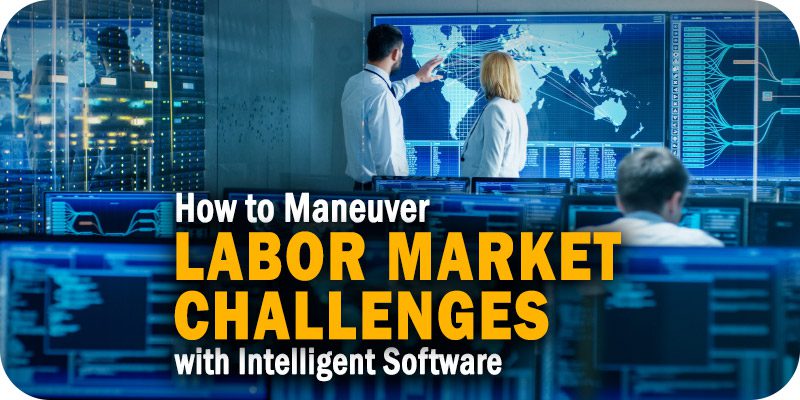 As part of Solutions Review's Premium Content Series—a collection of contributed columns written by industry experts in maturing software categories—Ali Jani, the chief product officer at Acumatica, explains how intelligent software solutions can help companies maneuver through recent challenges in the labor market.

Approximately 47 million people quit their jobs last year, resulting in a severe staffing shortage for businesses across industries. Recent data shows that we have 11.4 million job openings in the U.S.—but only 6 million unemployed workers. At the same time, cost-cutting measures are spreading in some industries, which has led to layoffs and hiring freezes. Today's complex labor market has left business leaders searching for ways to streamline and automate processes that don't require extra staff.
According to one survey, two-thirds of executives said their companies were affected by labor shortages, and nearly 80 percent said they would invest in automation to help offset the lack of workers. 
Supplement Existing Talent with Digital Technology
One solution available to businesses is cloud-based and AI-enabled technology. These technologies allow employees to focus their time on practical work instead of traditionally mundane tasks such as data entry and accounts payable. Businesses that utilize these technologies will maximize employee efficiencies by streamlining workflows. 
At the same time, companies can integrate AI to evaluate a given project's strengths, weaknesses, and profitability. AI and ML provide company leaders with information and insight into exactly where their money is going and how the business benefits. Using AI technology, decision-makers can predict future roadblocks and implement changes to ensure operations run as smoothly as possible.  
When AI tools are part of a broader business management solution, executives can thoroughly manage potential risks via a single business view while maintaining a fine-tuned visibility into budget allocation. In addition, businesses can gather and sync data from every department into a centralized database. As a result, the business can boost collaboration and automate redundant tasks. Ultimately, companies can work smarter with fewer people. 
Additive-X—a 3-D printer and additive manufacturing services provider—experienced this firsthand. By implementing an intelligent business management solution, Additive-X was able to: 
Automate traditionally time-consuming tasks

 

Increase the finance team's productivity by 10-15 percent

 

Avoid

hiring four data entry experts 

 

Foster a "promote from within" culture

 

Elevate the company's brand name and boost customer loyalty

 

Forecast ways to reduce costs

 
Additive-X employees worked more efficiently with less training. They could easily find customer information, invoices, payment history, and other data without switching disparate systems. At the same time, they were able to spend more time catering to customer needs thanks to workflow automation and self-service options. Improved data transparency has also increased staff engagement.
For example, employees now understand how their jobs fit and interconnect with the entire process: from selling a 3-D printer to manufacturing and fulfilling the order through to customer service after-sale support. In the past, team members were siloed and kept in the dark about what other departments did. Now, individuals have grown in their roles and feel confident in their contributions. 
How to Choose the Right Technology
Once a company chooses to implement AI-enabled technology, the next step is to determine what solution is the best fit. Decision makers should start by conducting a process review and analysis to understand the company's current situation and needs. Leaders can evaluate current operations against where they hope to be after implementing the technology. Once they know the business's needs, decision-makers should consider how much time and money the company can afford to invest in digital integration (including the time required to train employees on the new tools). 
Next, the company should research what solutions offer the features it needs the most. These features can be anything from data organization and consolidation to document filing and scheduling. Shop around to see what software will benefit the company the most and request demos from top contenders to see the software in action. There's no need to rush this process. Decision makers must ensure they're methodical and ask the solution providers specific questions relevant to the business's needs. 
After making a final decision on the technology and provider, it's time to prepare staff for the change. Training and tutorials can help employees acclimate to and become familiar with the technology. Implementation leaders should encourage team members to ask questions during the training to feel confident using it daily. Leaders should lean on the vendor's IT support to maximize the investment and customize it to their team's needs.  
Amidst ongoing labor market challenges, business leaders need intelligent software solutions that allow them to run efficiently and effectively. Tools such as cloud-based and AI-enabled technology enable businesses to do more with less by streamlining processes and maximizing existing talent productivity. 
---