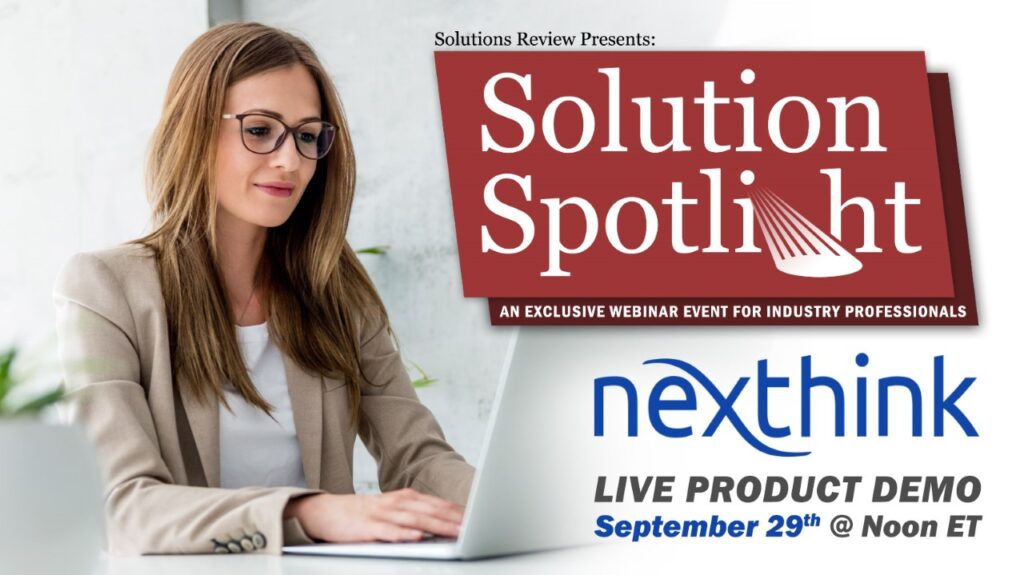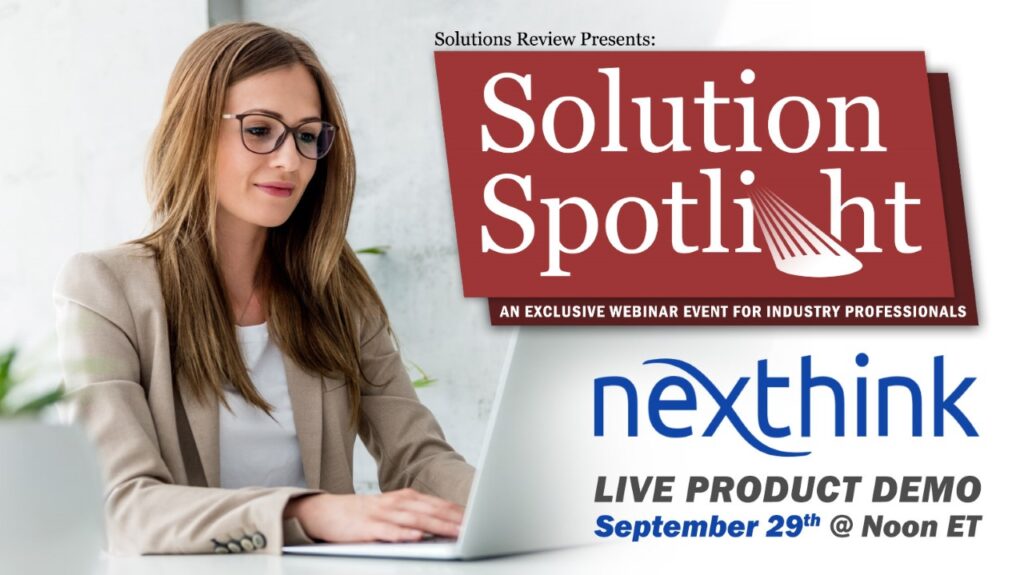 Solutions Review's Solution Spotlight with Nexthink is part of an exclusive webinar series for business software users across the enterprise.
What is a Solutions Spotlight?
Solutions Review's Solution Spotlights are exclusive webinar events for industry professionals across enterprise technology. Since its first virtual event in June 2020, Solutions Review has expanded its multimedia capabilities in response to the overwhelming demand for these kinds of events. Solutions Review's current menu of online offerings includes the Demo Day, Solution Spotlight, best practices or case study webinars, and panel discussions. And the best part about the "Spotlight" series? They are free to attend!
Why You Should Attend
Solutions Review is one of the largest communities of IT executives, directors, and decision-makers across enterprise technology marketplaces. Every year over 10 million people come to Solutions Review's collection of sites for the latest news, best practices, and insights into solving some of their most complex problems.
With the next Solution Spotlight event, the team at Solutions Review has partnered with Nexthink, a leading cloud-based analytics and automation solution for digital workplace teams. The aim is to offer a unique webinar featuring an inside look at the vendor's new platform for automation and remediation, which enables visibility across all environments so IT teams can continuously improve the digital workplace by optimizing productivity and cost. Alongside a live product demo, the Spotlight event will also feature an interview about the product with a member of Nexthink's team.
Speakers
Doug Dearing, Manager, Solutions Consulting:

Doug is a dynamic technology advocate with decades of experience in solutions engineering, technical operations, and project management.

Andy Philp, Principle Product Marketing:

Andy has worked in various roles in End-User Computing over the last 20 years ranging from consulting, presales, product management and marketing.
About Nexthink
Nexthink offers a Digital Employee Experience Management (DEX) platform called Nexthink Infinity. Kep capabilities are present for advanced analytics, automation, and remediation for end-user computing. The cloud-based platform enables users to gain visibility and analytics across any environment so that IT teams can act proactively. The solutions utilizes machine learning and benchmarking features to diagnose any issue automatically to determine the root cause and then remediate across millions of devices.
FAQ
What: Nexthink webinar: A Solution Spotlight Event
When: Thursday September 29, 2022, at 12:00 PM Eastern Time
Where: Zoom meeting (see registration page for more detail)