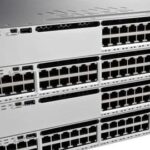 As Cisco aims to help customers handle the growing number of mobile devices accessing their networks the recent announcement of two to product release will aim to simplify and enhance network management. The two devices are the Catalyst 3850 Switch and the 5760 Wireless LAN Controller. The stackable Catalyst 3850 has wired capabilities including 48 ports, with wireless tools including support for 802.11ac, CleanAir access and a the ability to offer 30Gbit/s data transfer capabilities. Meanwhile, the 5760 Wireless LAN Controller can offer 60GBit/s data rates, a six times improvement on its previous top device, and can handle up to 1,000 access points.
BYOD and Cloud Computing are impacting they way employees and enterprises are able to access information, and the solutions that allow for that access need to be able to adapt and handle these changes. In a V3 article Padmarsee Warrior, Cisco's CTO, is quoted as saying, "We are working to prepare the network against these differentials. Our first focus is on creating a network that is secure, agile and aware to enable consistent deployment of policies all the way from the network to applications to devices."
Both of these new solutions work of the same software architecture, allowing them to work together to create the framework for optimal wired and wireless networks. Other tools that Cisco offers such as policy services, Identity Services Engine (ISE) and management tool Prime, will reportedly be upgraded in March to allow for integration into both the 3850 and 5760 releases. This integration will allow for Mobile Device Management (MDM) to be added and align with current networks in order to manage all the devices entering the enterprise and accessing the network. Click here to read more from Cisco about the new releases.