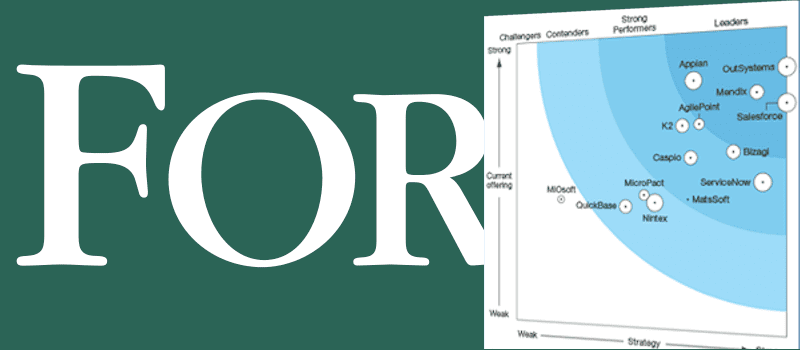 This year's Forrester Wave Report is a great read for those who love endings with a twist, and an underdog protagonist. The category of low-code development platforms tend to be labeled 'drag-and-drop toys for amateurs', but for businesses with a need for speed, and clarity, these tools are coming to the rescue. What's more, are the dynamic vendors who are situated consequentially across the low-code dev market.
"It's all about speed for today's digital business leaders who rely on low-code development platforms," says Forrester Research Inc., which recently published The Forrester Wave for Low-Code Development Platforms, in April, 2016.
Forrester Wave evaluations are driven by industry analysis of data, collected from the marketplace. With the experience of analysts, The Wave uses a transparent methodology to compare the players in a software, hardware, or services space, allowing buyers to make well-informed decisions while in market. Check out the Forrester Wave Vendor Review Policy to learn more about how analysts decide vendor placement within The Wave.
Forrester started tracking Low-Code Development platforms in 2014, officially describing them as "platforms that enable rapid delivery of business applications with a minimum of hand-coding and minimal upfront investment in setup, training and deployment." The goal of this software niche is to allow businesses without professional web developers on staff to produce their own web pages, apps and products.
Vendors are categorized in 'waves', including Challengers, Contenders, Strong Performers and Leaders, with vendor offerings, and market strategy assessed within the wave on a sliding scale from weak to strong.
The featured vendors in this story come from all walks of The Wave. Situated narrowly in the middle of this year's strong performer category,  platform vendor, Caspio, is known for it's web database applications that allow businesspeople to easily add to existing websites. Citing Caspio's record of growth and product development as strong, Caspio is know for it's seasoned public cloud platform with over 4,700 customers and growing.
Above that wave, reside low-code platform Leaders, including a vendor that makes getting started with their platform free, and easy. Vendor, OutSystems, earned Wave Leader because of their strong commitment to enterprise customers and to low-code tooling for all aspects of application development. OutSystems combines speed with 'custom' for the best of both worlds, and allows enterprises to integrate with existing systems and data sources to maintain order with built-in management and analytics.
On the outskirts of the wave known for strong integration tools, vendor, MioSoft is gaining momentum data intensive applications to big data. Forrester credits Miosoft for having a strong public cloud offering, with a range of security certifications. Miosoft's greatest strengths reside in the vendors emphasis on creating applications that manage large data collections.