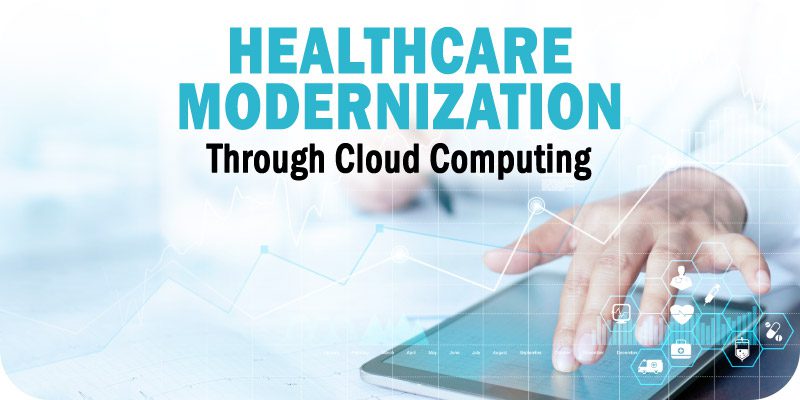 This is part of Solutions Review's Premium Content Series, a collection of contributed columns written by industry experts in maturing software categories. In this submission, Silk CTO Derek Swanson offers his take on how to modernize healthcare through the cloud computing paradigm with examples.

The Covid-19 pandemic heightened the need for healthcare organizations to aggressively adapt to a more patient-centric model for care, especially in a setting where people are often at their most vulnerable. It did not take healthcare leadership long to realize the need to expedite the existing but slow-moving upgrade initiatives around modernizing and personalizing the traditional healthcare experience.
Frankly, the change was long overdue. Fewer than one-third of patients rate their healthcare experiences highly. Factors like cost transparency and effective communication directly impact patient satisfaction, and 84 percent of patients indicate wait times are a significant factor when considering overall experience at a doctor's office. It may have taken a global pandemic, but healthcare leaders now recognize cloud platforms as the most promising pathway for overcoming the technical barriers to implementation and improving the patient experience.
Until now, healthcare has been among several industries that have lagged behind in adopting the cloud to modernize practices and deliver excellent patient care. So, how does a traditionally risk-averse industry migrate complex workloads such as databases and electronic health records (EHRs) to the cloud successfully when there's so much at stake?
Solving Sentara's Cloud Challenges
Sentara Healthcare, a not-for-profit healthcare organization, operates 12 acute care hospitals across Virginia and North Carolina. It offers an in-home managed-care plan which accounts for one million patients in the region with cancer and cardiac facilities and employs more than 30,000 people, including 3500 providers and medical staff at over 400 care facilities.
Sentara's internal IT team is responsible for overseeing the management of its significant EHR databases. An industry leader in system modernization, Sentara strives for excellence in customer experience. To take patient experience to the next level, Sentara initiated an internal campaign to establish a new digital front door to its EHR by migrating the platform to Microsoft Azure. Migrating a massive workload like an EHR to the cloud is huge, and early attempts did not achieve the vertical scale or the data performance needed to drive a transformational user experience.
Beyond modernization, Sentara sought to improve the availability of its SQL-based EHR reporting engine during the overnight database extract, transform, and load (ETL) process. On average, this took about seven to ten hours, during which time the database was inaccessible, leaving providers and patients in the dark. Outside consultants had also projected that the company's current cloud spend would grow 10 percent YoY after the migration, bloating the company's operating (OPEX) expenditure. Sentara needed a solution to provide ultra-fast performance, increase availability, and contain its OPEX budget.
Sentara explored a cloud data platform known for accelerating cloud migration and supporting complex mission-critical workloads. Using a lift and shift approach, the platform activated the power of Microsoft Azure immediately while Sentara worked behind the scenes on an eventual full refactor to cloud-native. The integration of enterprise data services like deduplication and instantaneous zero-footprint snapshots allowed the IT team to quickly copy and move big datasets instantly while reducing its cloud footprint, helping to keep cloud-spend under control.
The platform Sentara selected sits invisibly between the public cloud infrastructure and its workloads, offering maximum agility, reliability, resilience, and far greater performance to support large, complex, mission-critical workloads. Results included 3x faster performance compared to cloud-native elements. A benefit of its new data reduction capabilities, Sentara's cloud data footprint was reduced by 50 percent, driving a 20 percent decrease in costs. By taking advantage of the platform's rich data snapshot capabilities, Sentara reduced downtime from over seven hours per night to less than 15 minutes, giving providers consistent access to patient data, even during the nightly ETL process.
Sentara is one of the first large-scale healthcare organizations to embrace a complete cloud transformation, implementing a fully cloud-based program and practice workflow. The promise of real-time patient responsiveness and improved provider collaboration can potentially alter the current patient care paradigm completely. The universal availability of data offers providers and frontline workers the real-time data needed to deliver a truly compelling patient-centric experience, underscoring the value of migrating previously "untouchable workloads" to the cloud.
Challenges and Best Practices
New forecasts expect digital transformation projects will exceed $79 billion in the next five years. The CDC has initiated a new multi-year collaboration with the U.S. Digital Service (USDS) to strengthen data quality and information technology systems in state and local health departments to ensure pandemic‑ready IT systems should the need arise. Not all data is created equal, and IT leaders realize that cloud migration is more straightforward for some workloads than others, as a one-size-fits-all solution often causes more problems than it promises to solve.
The effort is worthwhile: a successful migration translates to improved operational performance and agility, reduced risk, increasingly sound post-migration monitoring and upkeep, and minimal interruption. Risk, particularly in an industry that leaves little room for error, is enough to pause the idea of a fundamental shift of its legacy data infrastructure. The real risk, however, is the implications of inaction. It's time to capitalize on the momentum generated by the pandemic and speed up implementations of valuable technology and operational upgrades. From patients to providers, everyone across the organization benefits from the peace of mind knowing that critical workloads are operating on the best platforms and achieving optimum performance.
Latest posts by Derek Swanson
(see all)