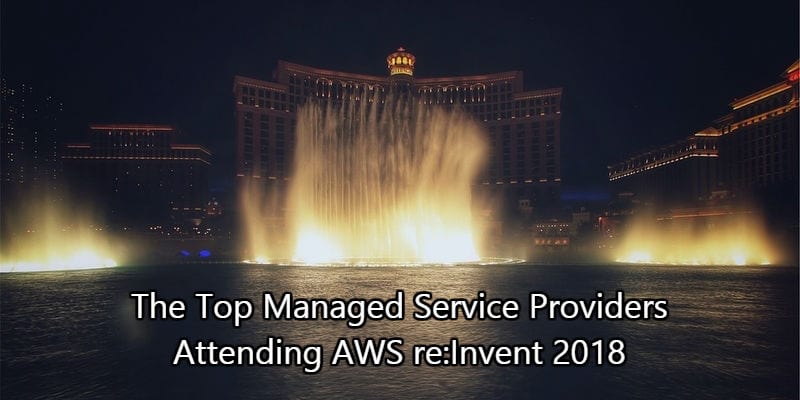 AWS re:Invent is the world's most prestigious cloud computing conference. It brings top industry insights and news to enterprise IT professionals from across the world. The event takes place from Sunday, November 25th to Friday, November 30th.
Considering how extensively we cover managed service providers, let's take a look at the top providers attending this year's AWS re:Invent.
Emerald Sponsors 

Accenture offers a range of MSP options to help solve business challenges for clients through industry knowledge and innovation; offering cloud services and cloud-based solutions involving strategy, consulting, and operations. They provide help with security, scalability, migration, and agility. Accenture defines support roles and uses automation to infuse intelligence into IT delivery. 

Deloitte helps clients that need full support designing, building, and running their cloud. They offer hands-on support as well as the re-engineering of existing IT processes to add automation of traditional managed services. Deloitte also offers SaaS products that emphasize their core expertise elsewhere, such as payroll management, global tax services, and supply chain planning. 
Diamond Sponsors 

Cognizant is a worldwide professional services company that simplifies the cloud experience for enterprises looking to migrate, modernize, or adopt DevOps. Their cloud services are broad and include consulting, operations, migration, security, and ERP. The company's cloud management services help define the optimal cloud operations framework for continuous delivery across a combination of private, public, or hybrid cloud models.
Platinum Sponsors 

2nd Watch is a cloud-native MSP with an emphasis on managed and professional services for AWS. Client engagement is a focus, as they work directly with IT teams to help them accomplish their goals. Their weekly operational reviews for workload optimization compliments this. The company avoids unnecessary complexity and directly helps customers if a part of their service is difficult to understand. 

Capgemini recognizes that technology alone cannot create business value. The company works directly with clients to help them find the ideal path to success. They support enterprises making the switch to the cloud, and those looking to manage their cloud. With a specific interest in modernization, Capgemini helps integrate DevOps practices and methodologies. This includes CI/CD, containers, microservices, and even some serverless functionality.  

Cloudreach has a high number of AWS certified engineers that can provide support for anyone using the platform. They provide help with a wide range of projects, such as adding automation capabilities, or a smaller scale project like reducing cloud costs. Their experience has helped them become one of just 3 leaders in Gartner's Magic Quadrant for Managed Service Providers. 
Gold Sponsors

Logicworks was founded in 1993 and has a history of managed hosting predating the cloud. The company helps enterprises integrate DevOps with containers, continuous delivery, automation and more. A notable strength is their ability to help with complex security requirements. Specifically, they provide infrastructure services for industries that have security and compliance requirements. 

REAN Cloud is an MSP founded in 2013 and started offering services for AWS in 2014. The company is particularly capable of managing clouds for regulated industries like education, financial services, and the public sector. This proficiency comes from their ability to automate the deployment and management of workloads. Enterprises won't be overwhelmed with an entire kit of new tools, as REAN helps IT teams integrate their own assets.  

A Global IT vendor, Tata Consultancy Services has a background in various areas like managed services and consulting. It offers a variety of services and solutions for enterprises working in the cloud. Although they're relatively new to the managed service space (audited AWS since 2016), their offerings are bold and it's clear they want to perfect their MSP options. 

Wipro Limited is a global IT services company with a focus on emerging technologies. They work on providing solutions in areas like hyper-automation, robotics, cognitive computing, and more. The company has a lot of experience creating applications for enterprises on any of the hyperscale cloud providers.
Silver Sponsors  

Candid Partners offer strategic consulting services for organizations. They work with clients directly to ensure projects are personalized and completed faster. The company offers their trademarked "cloud accelerators," Cloud Factory and CloudOps

Recently created, Mission is the amalgamation of Reliam, Stratalux, and G2 Tech Group. They highlight each company's strengths, such as Reliam's cloud infrastructure management with security and cost optimization. Their hybrid options simplify migration, as you don't have to immediately dedicate to a full move to the cloud. The company's automation tools make them a solid partner for implementing DevOps and maintaining compliance. 

Despite being relatively new to the MSP space, Rackspace has found themselves listed as one of three leaders in the latest Gartner Magic Quadrant for Public Cloud Infrastructure Managed Service Providers. Rackspace offers public, private, hybrid, and multi cloud management. The company provides unique offerings for each of the hyperscale cloud infrastructures. Their services leverage the power of each individually, instead of copying and pasting solutions.   

Smartronix is an IT and engineering solutions provider that offers end-to-end managed services. The company has close relationships with defense organizations in the US, so compliance and security are noteworthy strengths. These are often done through custom automation tools and incident response. 
Latest posts by Doug Atkinson
(see all)