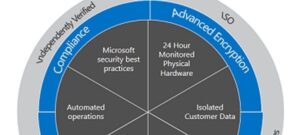 Recently Microsoft announced some improvements around service level capabilities and consumer controls for Office 360 focusing largely on security. Their announcement rolled up a number of advancements in Office 360 including advanced encryption technology being added to their current encryption features like S/MIME, Office 365 Messaging encryption, and data loss prevention (DLP) fingerprinting to Office 365 for business users.
"The technology moves beyond a single encryption key per disk to deliver a unique encryption key per file. With advanced encryption technology, every file stored in SharePoint Online and OneDrive for Business is encrypted with its own key, and subsequent updates to a file are encrypted with their own unique key as well.  This makes OneDrive for Business and SharePoint Online highly secure content storage for your data," Microsoft explained.
Our main interest in this announcement lies with their focus on offering better Mobile Device Management (MDM). With their new offer of Office and OWA for mobile devices more and more employees will be able to access and work on those everyday Office documents across word, Excel, PowerPoint, OneDrive for Business, and OWA on the move and in this vulnerable manner. This new level of MDM and protection will allow IT to define policy and use parameters through Windows Intune.
"Existing data loss prevention capability (already available in Exchange) will be expanded to include documents store in SharePoint Online and OneDrive for Business (Office 365 Enterprise E3 customers). This will begin in June as well,"… "Our work here is not done. We will continue to add security, privacy, and compliance capabilities to Office 365, while we continue to be transparent about what we do and how we do it through the Office 365 Trust Center," Microsoft added.
Click here to read more on the MDM and encryption announcements from Microsoft.