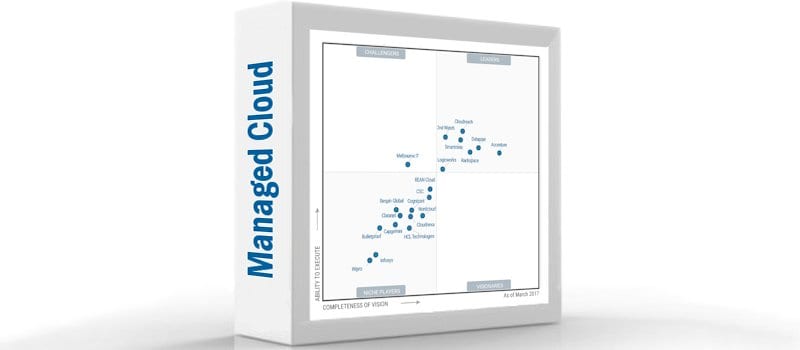 Tech research giant Gartner recently released a Magic Quadrant report for Public Cloud Infrastructure. The report analyzed 20 vendors that provide managed and professional services that are connected to infrastructure operations for hyperscale integrated Infrastructure-as-a-Service (IaaS) and Platform-as-a-Service (PaaS) providers.
The report defines a public cloud infrastructure managed service provider, in the context of this quadrant, as "an MSP that offers managed services and professional services related to infrastructure and platform operations for one or more hyperscale integrated IaaS+PaaS providers — specifically, Amazon Web Services (AWS), Microsoft Azure and Google Cloud Platform (GCP)."
The report goes on to say, "The term 'hyperscale providers' will be used to collectively and specifically refer to AWS, Azure and GCP throughout this Magic Quadrant. The term 'hyperscale cloud MSPs' will be used to refer to the MSPs that deliver services on these hyperscale providers."
Gartner researched and analyzed the vendors in the space and then plotted them on the quadrant based on their own criteria, which includes the ability to execute and completeness of vision.
The tech giant didn't place any vendors in the visionaries category, and Australia-based Melbourne IT stood alone in the challengers bucket.
Widget not in any sidebars
Most of the vendors highlighted were categorized as leaders or niche players; the following vendors make up the ladder:
REAN Cloud
CSC
Cognizant
Nordcloud
Cloudnexa
HCL Technologies
Capgemini
Claranet
Bespin Global
Bulletproof
Infosys
Wipro
And Accenture, Datapipe, Rackspace, Smartonix, Cloudreach, 2nd Watch, and Logicworks were all named leaders.
Gartner plotted Accenture furthest along the completeness of vision axis, which the vendor says, "assesses market understanding, market strategy, sales strategy, offering (product) strategy, vertical/industry strategy, innovation, geographic strategy and business model."
According to Accenture's website, they aim to help their clients "embrace cloud to become liquid, scalable and flexible real-time enterprises."
"We believe being recognized as a leader for public cloud infrastructure managed services shows that our continued investments in this strategy are successful," Jack Sepple, senior managing director, Accenture Cloud and Accenture Operations group technology officer said. "We help clients on their Journey to Cloud throughout the planning, migration and optimization phases of cloud transformation. Our managed services help clients continually optimize their cloud estate for maximum results."