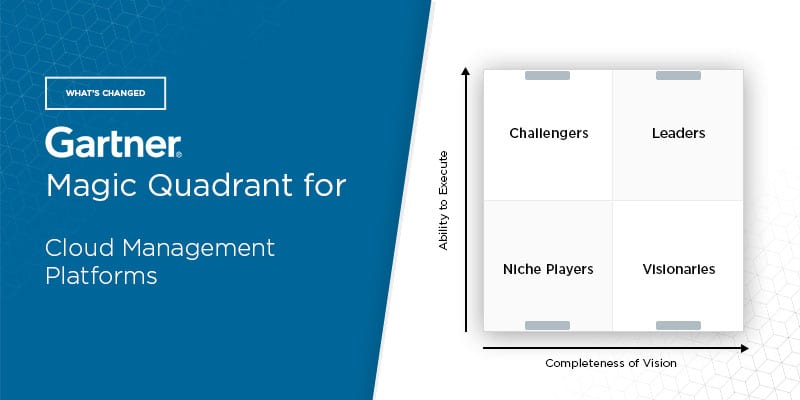 The editors at Solutions Review highlight what's changed since the last iteration of Gartner's Magic Quadrant for Cloud Management Platforms and provide an analysis of the new report.
Analyst house Gartner, Inc. recently released the 2020 version of its Magic Quadrant for Cloud Management Platforms. Gartner defines this software space as platforms that "enable organizations to manage multicloud (private and public cloud) services and resources [… including] providing governance, life cycle management, brokering and automation for managed cloud infrastructure resources." The researchers predict that over 70% of enterprises will have deployed tools for multifaceted cloud governance by 2025; this figure is compared to less than 10% in 2020.
Gartner's requirements for cloud management platforms (CMPs) include support for Amazon Web Services (AWS) and Microsoft Azure, private cloud deployments, and what Gartner calls "cloud-inspired deployments" — including virtualized VMware environments and Kubernetes. The market is currently focusing on cost management and cloud security and consists of independent third-party tools that are not connected to other software or solutions as part of a management suite.
As cloud environments and deployments become more complex, solutions designed to help enterprises manage their cloud infrastructure need to ensure they can address any problem a customer faces. Previously, CMPs provided limited functionality, usually focusing on either a single public cloud provider. However, in order to survive in the CMP market, vendors must provide a broader set of management capabilities while being both easy-to-use and cost-effective.
For the inaugural Magic Quadrant for Cloud Management Platforms last year, Gartner analyzed nine CMP vendors: CloudBolt, Embotics, Flexera, HyperGrid, Micro Focus, Morpheus Data, Scalr, ServiceNow, and VMware. This year, Gartner did not add any new vendors, but both Micro Focus and ServiceNow — previously named Niche Players by Gartner — were dropped from the report (though Gartner still gave them an honorable mention). According to Gartner's research, Micro Focus is re-engineering its CMP offerings and ServiceNow focuses on macro CMP services rather than delivering a third-party tool.
Flexera was once again recognized as a Leader in the CMP market, as Gartner highlighted their wide breadth of cloud management functionality and successful evolution through acquisition and in-house development. As Gartner points out, their SaaS-based platform delivers a full range of management capabilities, centered around orchestration, access control, and policy. Gartner also pointed out Morpheus Data's strong cloud management features, as well as complimenting their infrastructure-agnostic mindset. While the company focuses primarily on DevOps, cloud operations, and business teams, Morpheus Data's broader CMP offerings makes them a fierce competitor in the Leader Quadrant.
Embotics was acquired by Snow Software in December 2019, and the combined company supports both cloud management and software asset management. Gartner commented on Snow Software-Embotics' customer focus, service, and support as being well-regarded by Gartner clients. The fourth Leader, Scalr, also received praise from Gartner for their support as well as their wide range of functionality, though the company's growth has overall been slower than its competitors.
For Challengers, Gartner once again named CloudBolt and VMware. CloudBolt primarily focuses on cloud provisioning and orchestration, which goes against the chief market focus of security and cost management; however, deployment, configuration, and integration of CloudBolt is cited by Gartner as easy and quick. VMware requires more products to unlock full cloud management capabilities and Gartner mentioned the vendor's lagging functionality, though VMware's core tool (CloudHealth) was praised by Gartner clients for its cost management and workload optimization features. The sole Visionary in the report, HyperGrid, is still a largely unknown player in the CMP space — Gartner researches discovered that few reference customers had evaluated them. However, as the company transitions from a full cloud management suite provider to delivering a modular set of cloud management functions, it's possible that HyperGrid will gain more traction among CMP compeitiors.
---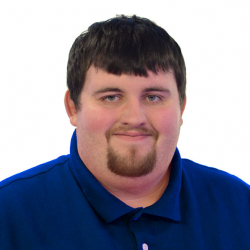 Latest posts by Daniel Hein
(see all)