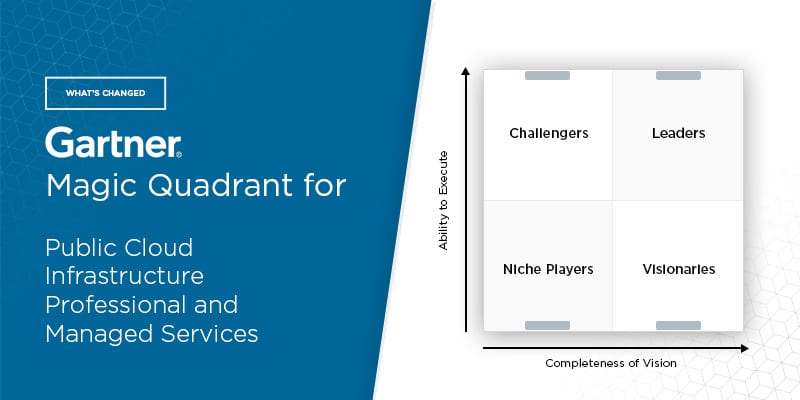 The editors at Solutions Review highlight what's changed since the last iteration of the Gartner Magic Quadrant for Public Cloud Infrastructure Professional and Managed Services, Worldwide and provide an analysis of the new report.
Analyst house Gartner, Inc. recently released its 2020 Magic Quadrant for Public Cloud Infrastructure Professional and Managed Services, Worldwide. This report looks at 20 leading public cloud managed service providers (MSPs): Accenture, Atos, Bespin Global, Capgemini, CenturyLink, Cognizant, Deloitte, DXC Technology, Fujitsu, HCL Technologies, Infosys, Logicworks, Nordcloud, NTT DATA, Progressive Infotech, Rackspace, Smartronix, Taos, Tata Consultancy Services, and Wipro.
Gartner defines public cloud infrastructure as a service (IaaS) vendors as providers that deliver "compute, storage and network resources in a self-service, highly automated fashion. The leading public cloud IaaS providers also offer platform as a service (PaaS) capabilities and other cloud software infrastructure services as part of a cloud infrastructure and platform services (CIPS, previously referred to by Gartner as integrated IaaS+PaaS) offering." Gartner further defines a public cloud infrastructure MSP as "a provider that offers both professional and managed services related to infrastructure and platform operations for one or more hyperscale CIPS providers. These providers include, specifically, Alibaba Cloud, Amazon Web Services (AWS), Google Cloud, IBM Cloud, Microsoft Azure and Oracle Cloud."
At Solutions Review, we read the report, available here, and pulled out the key takeaways.
10 of the vendors listed in this Magic Quadrant were positioned in the Leaders segment, representing half of the total providers Gartner analyzed. Leading the charge is Deloitte, who began offering public cloud managed services in 2017 through key acquisitions. The vendor has a strong focus on cybersecurity integrated into its base MSP offerings, and its cloud management platform OpenCloud helps provide a comprehensive suite of services. The India-based vendor Wipro is focusing on delivering innovative cloud solutions, co-funding labs with hyperscale cloud vendors to develop new industry solutions. Accenture, one of the early trailblazers in public cloud managed services, has continued to grow its customer base; in particular, through its acquisition of Cirruseo, the provider has boosted its Google Cloud capabilities.
Capgemini's recent strategy has been to invest in tooling and intellectual property to provide better management and operational support for global customer environments. As a vendor that focuses on large enterprises over small-to-midsize businesses, Cognizant continues to deliver its third-party cloud management and IT modernization capabilities. Though Rackspace only services four of the six major cloud service providers, its acquisition of Onica in 2019 and its bountiful resources as a privately-held company have given it a major foothold among its customer base.
Tata Consultancy Services has been investing heavily in training its staff on the leading public cloud platforms, indicating that the vendor is looking to commit to cloud deployments that exceed current MSP needs. Logicworks only provides services for Amazon Web Services and Microsoft Azure, but unlike other vendors in the Magic Quadrant, it solely focuses on cloud managed services — which has narrowed its dedication to solid MSP capabilities. The midsize MSP Smartronix is a top choice for organizations who prioritize security and regulatory compliance, with an extensive history in managing public cloud resources and a high degree of customer satisfaction. Finally, offering managed services for five hyperscale providers, Bespin Global has shown an increasing ability to help large enterprises that have notable agile and application requirements.
For the Challengers quadrant, Gartner lists three vendors: Nordcloud, DXC Technology, and NTT Data. While Nordcloud has predominantly focused on the European market, it continues to grow in global markets and expand the number of certified Google Cloud users it employs. DXC Technology delivers strong migration features and has more experience with traditional legacy applications, but its public cloud service offerings aren't as wide as other providers. The Japan-based vendor NTT DATA closed its acquisition of Flux7 in January of this year, and while Gartner noted its lack of standout innovation compared to the Leaders, the company still delivers for a wide range of MSP use cases. The sole Visionary of the report, HCL Technologies, is powerful and rich with features that will appeal to enterprises with a cloud adoption strategy, though its self-service operations appear complex.
Finally, the Magic Quadrant is rounded out with six Niche Players. Taos is a small vendor, only having a sales presence in North America, but it has a significant background in delivering high customized professional and managed cloud services. Conversely, Progressive Infotech offers varying (but unbalanced) support for different regions and has a strong articulation of its value proposition and service offerings. Infosys isn't as focused on basic managed cloud services as other vendors and primarily deals with AWS and Azure, but the company is building up visible expertise on large, complex deals.
Japanese vendor Fujitsu has a broad IT portfolio that has scaled up its MSP offerings since 2018, but has not put as much investments in its managed cloud business. Atos acquired Google Cloud-focused manage service provider Maven Wave, boosting its already-strong partnership with Google Cloud, even if it still has yet to become a certified Google Cloud MSP. Finally, CenturyLink has a relatively small managed cloud services business thanks to key acquisitions in 2016 and 2017, with heavy support for network-centric hybrid cloud solutions.
---
Looking for a managed service provider for your cloud solutions? Our MSP Buyer's Guide contains profiles on the top cloud managed service providers for AWS, Azure, and Google Cloud, as well as questions you should ask vendors and yourself before buying. We also offer an MSP Vendor Map that outlines those vendors in a Venn diagram to make it easy for you to select potential providers.
Check us out on Twitter for the latest in Enterprise Cloud news and developments!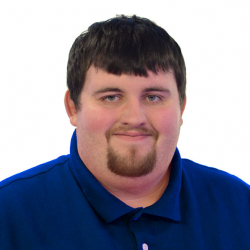 Latest posts by Daniel Hein
(see all)