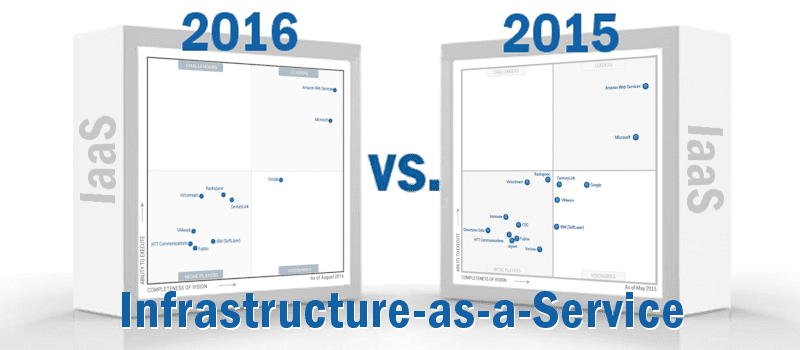 Last week, IT research and analysis firm Gartner Inc., released the latest iteration of the highly influential yearly report: The Magic Quadrant for Cloud Infrastructure as a Service (IaaS), Worldwide.
IaaS cloud computing accounts for one of the fastest growing segments of corporate IT spending, and when people think of cloud computing, they usually think of compute Infrastructure as a service. Gartner reports this year that because the IaaS market has consolidated around just two market leaders, many of the other competitors now face, "significant business challenges, and the customers of those competitors now face significant supplier-related risks", and now many of the world's largest tech companies are in fierce competition over the consolidating market.
Gartner takes care to focus specifically on IaaS platforms, so if you're looking for a broad range of -aaS offerings or IaaS support check out our 2016 Cloud Platform Solutions Buyer's Guide for more information.
"Only cloud compute IaaS is evaluated in this Magic Quadrant; it does not cover cloud storage providers, platform as a service (PaaS) providers, SaaS providers, cloud service brokerages (CSBs) or any other type of cloud service provider, nor does it cover the hardware and software vendors that may be used to build cloud infrastructure." 
This Year's MQ evaluates the strengths and weaknesses of what it considers leading vendors in the compute IaaS market, and provides readers with a graph (the 'Magic Quadrant') plotting the vendors based on their ability to execute, and completeness of vision. The graph is divided into four quadrants: niche players, challengers, visionaries, and leaders. Gartner maintains that they do not endorse any vendor, product, or service depicted in its research publications.
Reflected in this year's Magic Quadrant report, and as you might expect, are significant shifts in the ever-evolving cloud computing market. In the last year we've seen a considerable market consolidation, which has caused some interesting shifts in vendor positioning, and some vendors have been dropped from the report completely.
At Solutions Review, We read the 38 page report, and pulled a few of what we consider key takeaways and changes since the 2015 iteration.
Gartner's IaaS Scope  
Cloud infrastructure as a service, Gartner describes, is the 'compute' In cloud computing. An IaaS solution is a cloud service that provides compute, storage and network resources, delivered on-demand, in real-time (or as close as possible), as a service.
For the purposes of this report, Gartner has focused specifically on  Cloud Compute IaaS, which the company defines as "standardized, highly automated offerings, where compute resources, complemented by storage and networking capabilities, are owned by a service provider and offered to the customer on demand." Gartner did not include cloud storage services, platform as a service (PaaS) or managed services in the 2015 IaaS Magic Quadrant.

Widget not in any sidebars

Identifying Mode 1 and Mode 2 IaaS
One recent change in Gartner's evaluation methodology is the inclusion of two categories for applications introduced in 2015: Mode 1 and Mode 2. According to Gartner, IT organizations are either focused on, "maintaining existing stuff" (Mode 1) or "building new stuff", in particular, cloud-native applications (Mode 2). In the new IaaS Magic Quadrant, Gartner recommends use cases for each vendor, based on these categories. According to Gartner, most IaaS is bought for mode 2, but cloud IaaS is increasingly being purchased for Mode 1 traditional IT purposes as well.
How Has the Market Changed?
In many ways, the past year verified that cloud IaaS has consolidated significantly around two leading service providers. The future of other service providers is increasingly uncertain and customers must carefully manage provider-related risks, according to Gartner. Here are some of the major market trends we picked up from the 2016 IaaS Magic Quadrant report.
Competition = Market Share Consolidation 
Despite a massive growth in IT spending and increasing competition, market share continued to become more heavily concentrated since 2015. Though 10 vendors feature in this IaaS Magic Quadrant report, a majority of the market is dominated by the three largest IaaS providers. Gartner explains the trend:
"The market consolidated dramatically over the course of 2015. Just two providers — AWS and Microsoft Azure — account for almost all of the IaaS-related infrastructure consumption in cloud IaaS, and their dominance is even more thorough if their PaaS-related infrastructure consumption is included as well. Furthermore, AWS is many times the size of Microsoft Azure, further skewing the market structure. Infrastructure consumption is not equivalent to revenue; these market leaders have less market share in terms of revenue, due to the higher prices charged by competing vendors, as well as the fact that many competitors bundle cloud IaaS with managed services."
This is leaving the majority of vendors to reside within the Niche quadrant–this corner of the quadrant say the most action, and the influential vendors selected for it have made this year's MQ the official year of the Niche player. Gartner describes Niche player activity:
"Some Niche Players may be excellent providers for the use cases in which they specialize, but do not serve a broad range of use cases well or have a broadly ambitious road map. Some may have solid leadership positions in markets adjacent to this market, but have only developed limited capabilities in cloud IaaS. Providers that specialize in managed services on top of a "good enough" IaaS platform may be in this category. Finally, some Niche Players have weak offerings, or have cloud IaaS businesses with uncertain futures, and should only be chosen with careful attention to managing vendor-related risks."
Vendors selected for Niche include:  CenturyLink Inc., Fujitsu Ltd., IBM Softlayer, NTT Communications Co. Ltd., Rackspace Inc., Virtustream and VMware.
IaaS and PaaS Join Forces 
Typically within an IaaS solution,  the provider manages everything from data center facilities, to hardware and virtualization, leaving everything above the hypervisor, including the operating system, middleware and application is crafted by the user, or as a completely separate offering, an add-on managed service, from the provider or a completely different solution provider. Garter explains how the inclusion of both SaaS and IaaS offerings are streamlining the process.
"This market is wholly separate and distinct from cloud SaaS, but is increasingly entangled with the PaaS market. Cloud IaaS providers are increasingly offering middleware and other software infrastructure capabilities as a service, as well as services that provision and orchestrate application containers (particularly Docker containers). Customers want to develop, deploy and manage applications efficiently, and will choose the combination of IaaS and PaaS capabilities that best suits their needs — and often, neither customers nor providers will make a definitional distinction between IaaS and PaaS."
 A Word to the Wise Buyer
 Many major vendors are launching new cloud IaaS offerings, but Gartner warns that buyers should treat new cloud IaaS platforms with caution, explaining that some vendors believe they need a different platform to compete successfully; others are new entrants to the market. While it's easy to get caught up in the hype buyers should be investigative of these new offerings as are marketed as being 'competitive against the market leaders'. Below the surface, users will find that these products may have significant technical deficiencies. Gartner explains:  "It takes considerable time to build the breadth and depth of a feature set, and to learn to operate and scale such offerings. Beware of vendor promises of future features that do not come with firm commitments as to when those features will become generally available."
AWS Leading the Pack
Amazon Web Services has what Gartner calls, "a multiyear competitive advantage" in cloud IaaS, but Microsoft and Google have proven themselves to be tough competitors and have made major gains in market share and on the Magic Quadrant both in 2015 and 16.
Gartner praises AWS for a, "diverse customer base and the broadest range of use cases, including enterprise and mission-critical applications. It has the largest share of compute capacity in use by paying customers — many times the aggregate size of all other providers in the market". However, the research firm also warns buyers that, "Organizations that cannot quickly take advantage of new capabilities will not receive the full benefits of AWS's rapid introduction of new services and expanded capabilities for existing services. A customer's best practices may become outdated as better or more cost-effective capabilities are introduced."
Microsoft, according to Gartner, is growing rapidly as the company's Azure product is in second place for IaaS market share. This year, Microsoft has pledged to maintain AWS-comparable basic cloud IaaS pricing for the general public and on a practical level, customers with Microsoft Enterprise Agreement discounts obtain a price/performance ratio that is comparable to AWS.
Trailing behind with a slightly lower rank in, 'ability to execute' Google's IaaS offering, Google Compute Engine, made positioning on this year's Visionary quadrant, dropping from the leaders category since last year. However, google offers a host of services through the Google Cloud Platform, which combines an IaaS offering (Compute Engine), an aPaaS offering (App Engine) and a range of complementary IaaS and PaaS capabilities, including object storage and a Docker container service (Container Engine).
Though Gartner identifies market leaders, they are careful to point out that large market leaders are not always the right choice for a business. "A focused, smaller vendor can provide excellent support and commitment to individual customers," according to the report.
For more Gartner news, check out our key takeaways from the 2016 aPaaS Magic Quadrant or for more reviews of cloud platform solutions, check out our 2016 Cloud Platform Solutions Buyer's Guide, and our Solutions Directory.