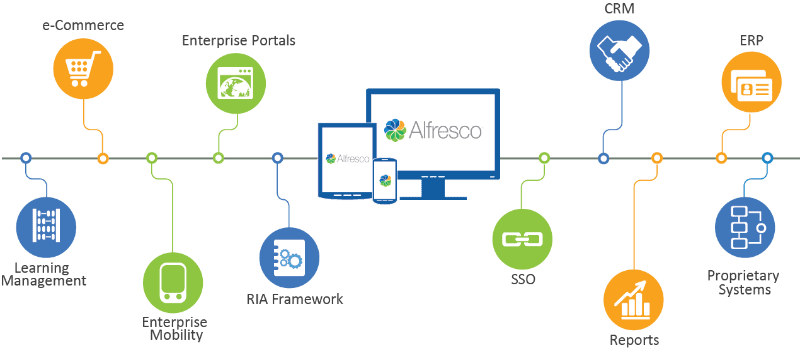 For years, Alfresco Software's open source technology has enabled global organizations to collaborate more effectively across cloud, hybrid and on-premise environments, with modern enterprise content management (ECM) and business process management (BPM) software.
This week, Alfresco is giving government and enterprise organizations the ability to customize access to content by creating their own security access system. The new Alfresco Records Management 2.5, which allows content administrators, records managers or security personnel to secure content by easily assigning highly granular security classifications and marks.
Digitally generated records are on the rise, and according to Forrester Inc., records are increasingly public and private and RM decision-makers are nearly equally challenged by,  "the volume of unmanaged digital documents that sit outside of records and information management programs."
Mature records and information management programs are now looking more strategically at data and documents across their entire life cycle because of increasing regulatory compliance requirements such as the Managing Government Records Directive for the US Government,  the U.S. Navy, and other government agencies worldwide. By offering a simple, user-centric interface that encourages faster, appropriate content classification, Alfresco Records Management 2.5 is heeding the call to increased security for business critical data.
"Increasing regulatory compliance obligations and modern ways of collaborating require a new way of managing the complete lifecycle of information. Managing sensitive data is a key part of this, but users struggle to deal with the ever-greater complexity of the classification process," said John Iball, Alfresco's Senior Product Manager. "If the classification process is too difficult or time consuming, users will often over-classify files, preventing some people who need to use the files from accessing them. Alfresco Records Management 2.5 allows for more simplified and granular control of content."
Features:
Alfresco recognized the need for a more manageable and scalable way of controlling the management of information and ensuring privacy with the following updates:
Built-in Security Classification: allows authorized users to define the security clearance level needed to access a file, document or record.
Custom Security Marks: support a range of security scenarios and applied to files to restrict access of certain content to the appropriate users or groups of users.
Built on Open Source and Open Standards for Global Flexibility: Unlike legacy, proprietary systems that were not designed to manage today's explosion of digital content, Alfresco's open platform offers the most flexible way to configure and deploy content, business process and records management.
Supports an Extensive List of World Wide and Regulatory Standards: In addition to meeting U.S. Navy requirements, Alfresco Records Management 2.5 has been validated for use by other government agencies, including JITC as well as HMGCC in the UK to ensure wide application to public sector organizations. It also meets regulatory compliance standards such as UK government's National Archives Electronic Records Management Systems certification, 2002 requirements, Australian Victorian Electronic Records Strategy, VERS (specs 1-5), ISO 15489 and MoReq2010.
For more information, please visit Alfresco at https://www.alfresco.com.